Agra and the Taj Mahal
Friday, March 3rd, 2017
We arrived in Agra after a 19-hour train ride that was six hours late. We had slept on a hard mattress and every man around us except Roberto had been snoring loudly all through the night. On the side of the tracks we had witnessed poverty at its worst, people living in dirt, looking through piles of plastic for any leftover food, children begging for food instead of money, lakes of contaminated water full of garbage with children playing in them. So we were pretty tired and worn out when we arrived, not only for the ride, also for the awareness that came with it.
As soon as the train stopped, two men got themselves right outside our window. I thought they wanted to reserve the seat, as the train was going on for another few hundred kilometers, but then they started fighting very aggressively. I thought, "wow, they really want to get this spot", but no, they weren't fighting about the seats, they were fighting about who would "take us", four juicy new tourists.
When we got off the train they both approached us, the one wearing white was the most aggressive and took my dad as if he was kettle, showing him the way to his car. Fortunately my dad wasn't taking it, he said we didn't need him and that he could leave. The man got very angry with my dad, because "we were his business" he said. He sent us a bunch of curses and left. We eventually took an electric tuk tuk that could barely take our weight, but slowly and surely we got to the hotel just near the Taj Mahal.
It was a Thursday afternoon, and we needed to go visit the Taj Mahal that day, since on Friday it's closed. We got to the entrance, where we paid the ticket and got a bottle of water and some covers for our shoes. Soon we were inside the gates. My dad had told me about the majesty of this building, he had been looking forward to see it for years and he was really excited. I must say I had no expectations, but what I saw trumped all the expectation I could have had. It was beautiful.
You walk through the first gate and there it is, so symmetric and perfect. The colour of the building is amazing; it's an ivory white that has been caused by the air and the sand. The floral decorations along with the beautifully written Arabic adorned the entrance and the sides. It was just beautiful and al I can do is showing you the pictures and tell you to go there if you can.
Unfortunately, Roberto and I got sick in Agra, so the other two days we were staying there we were locked up in our room. So we weren't able to visit the fort or any of the other places to see in Agra.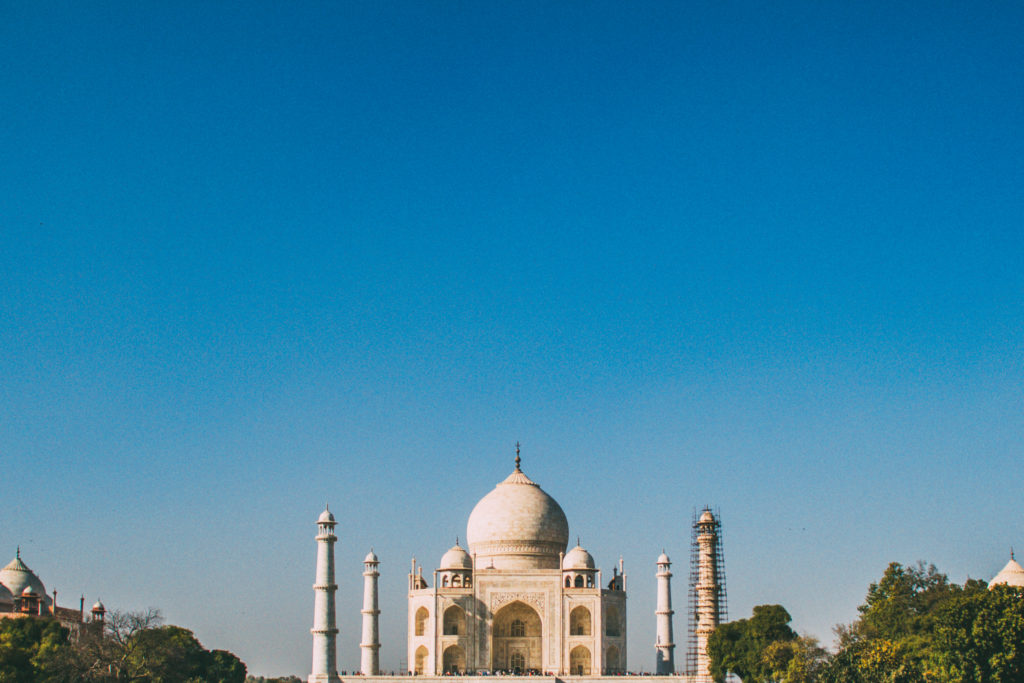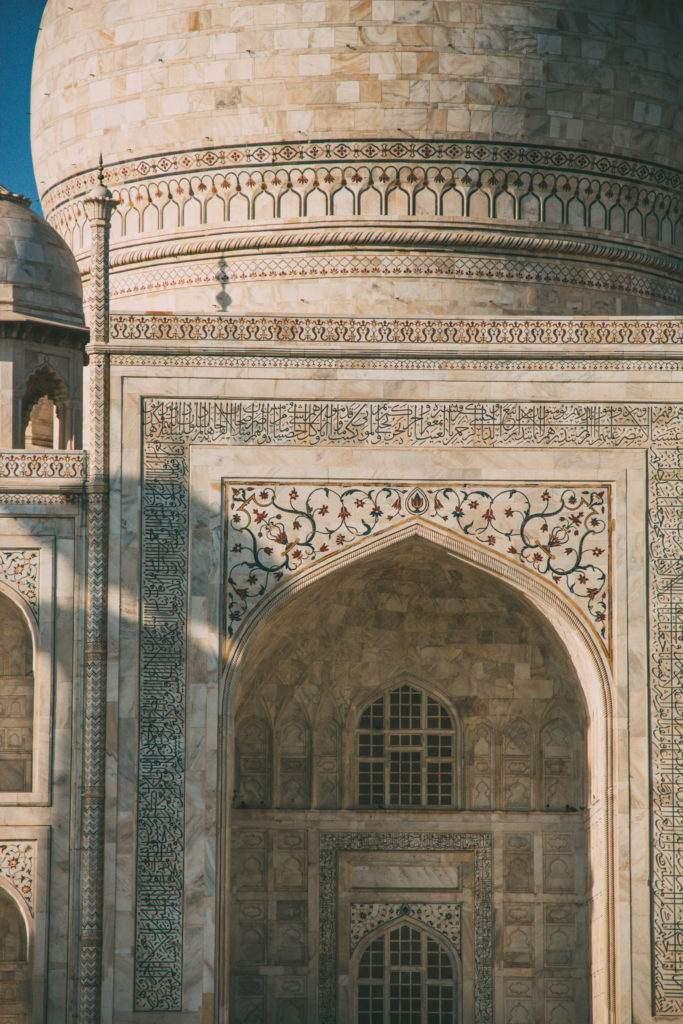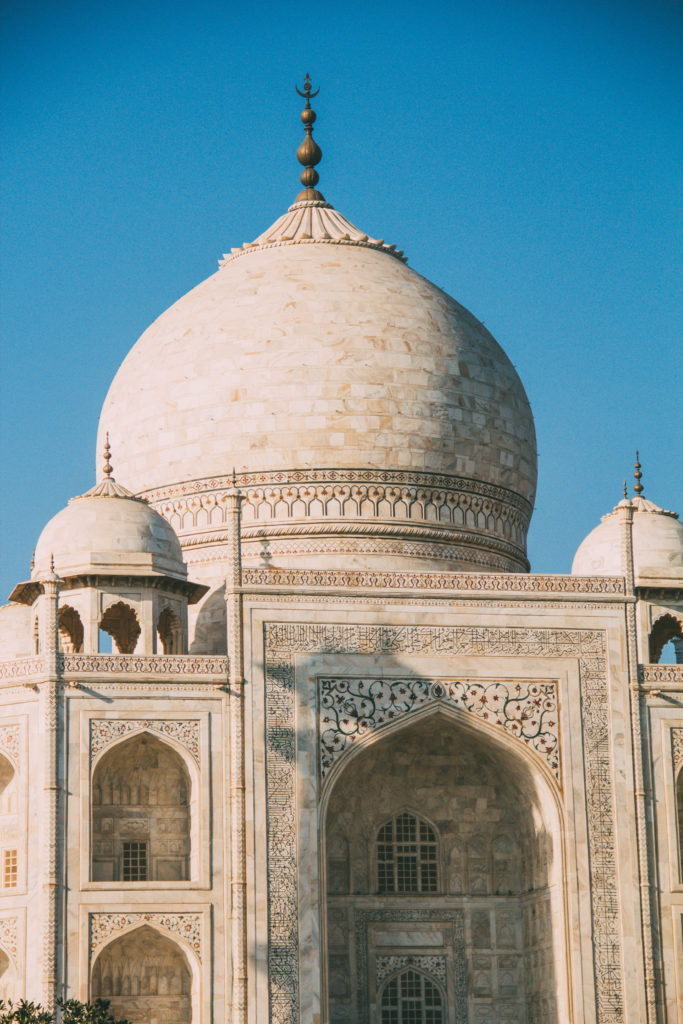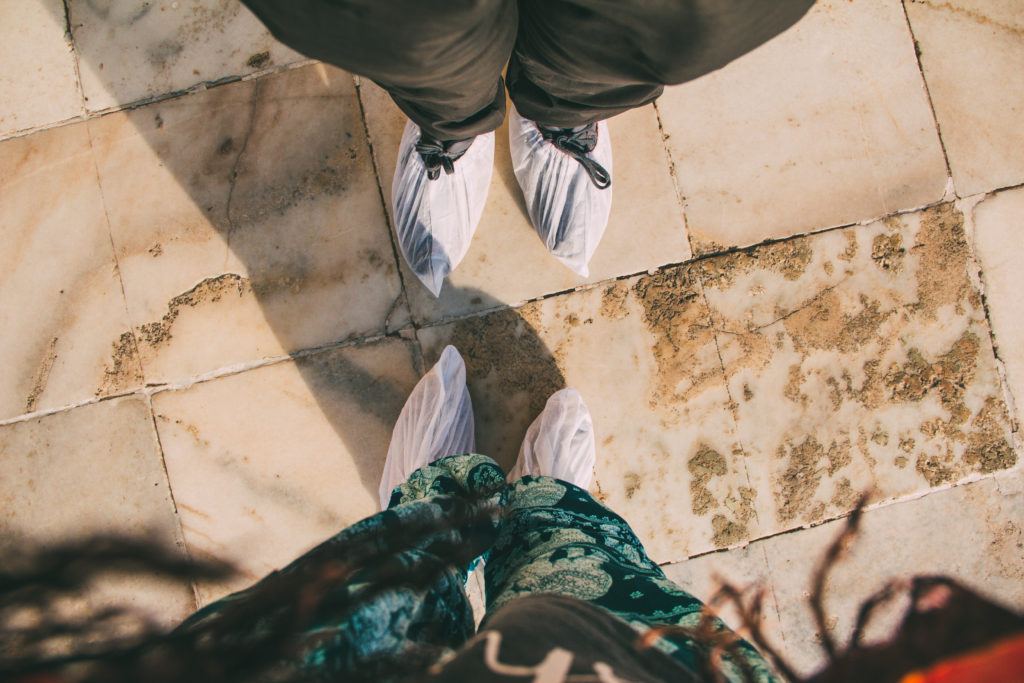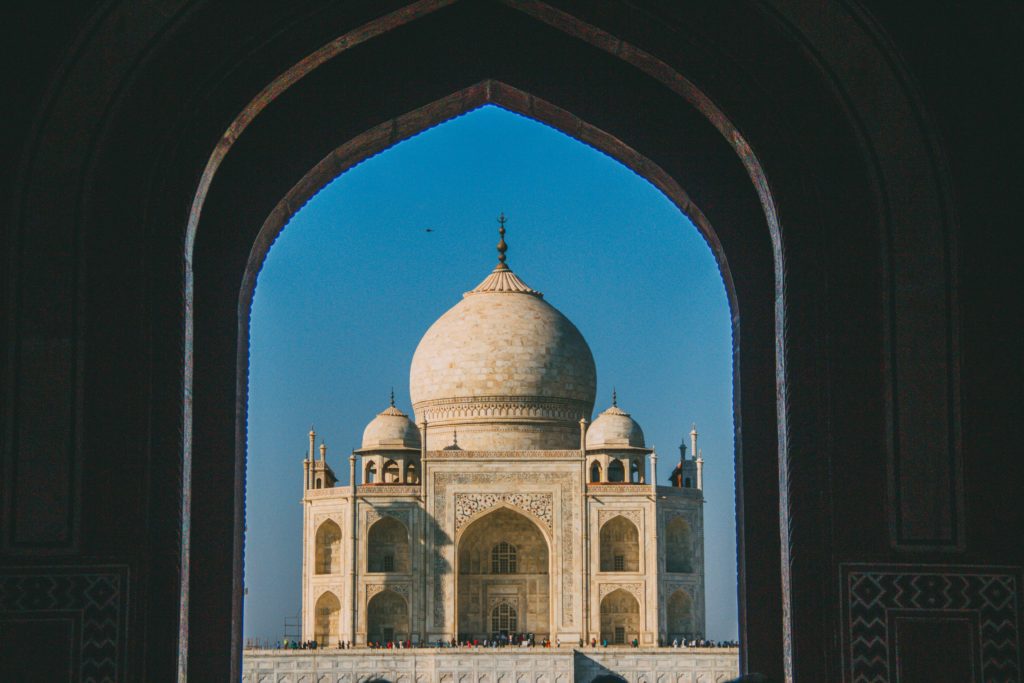 Taj Mahal
 The Taj Mahal has been built by a Mughal emperor to house the tomb of his wife, whom he loved so much. When he died he wanted to be buried in a similar building, the colour should have been black. That unfortunately never happened, otherwise we would be able to see two Tajs.
The entrance for foreigners costs 1000 rupees. They will give you a small bottle of water and covers for your shoes you will need to put on when walking on the marble. Locals pay way less, but they will also be standing in a longer queue (also, we probably can pay that amount, and many of the locals would never be able to).
It is closed on Fridays; otherwise it's open from sunrise to sunset.
How we got there & where we slept
We arrived by night train from Varanasi. The trains had left Varanasi at 5.50 pm and was scheduled to arrive around 6.05 am, but we arrived at around 1 pm. We had booked a sleeper class bed, this is between the first and the normal sitting class.
We stayed at Hotel Siddharta, a quite inexpensive and nice hotel, with nice staff and a restaurant. The hotel is just outside the western gates of the Taj Mahal, so extremely nice if you are in Agra just to see the Taj Mahal and the fort.
---
Varanasi, India's most sacred city
Tuesday, February 28th, 2017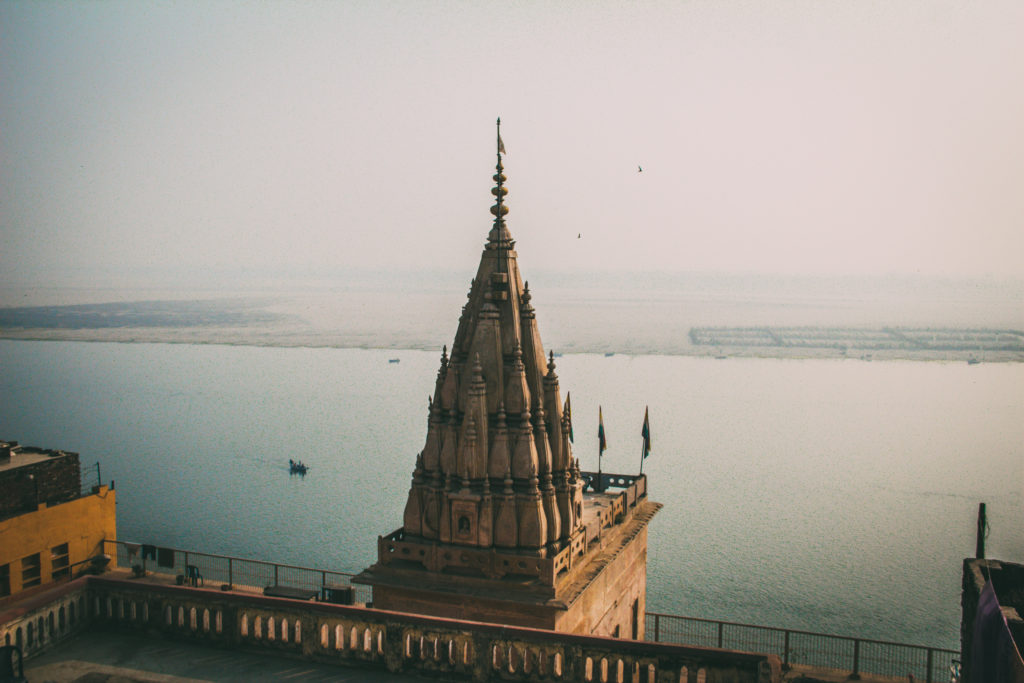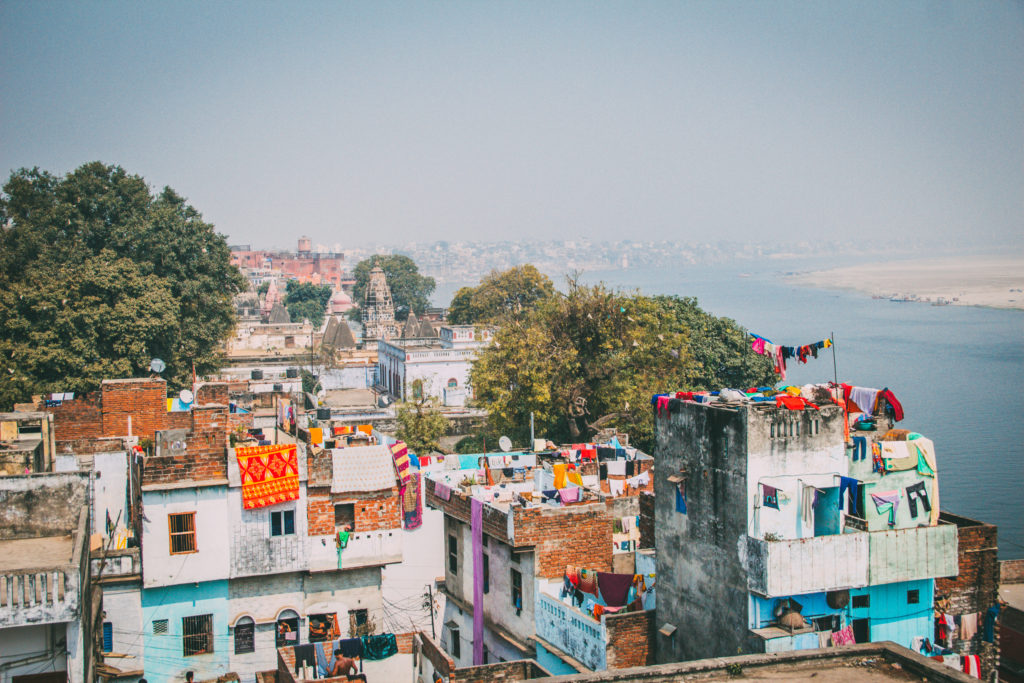 We were introduced to Varanasi with a memorable taxi ride. The airport of Varanasi is at about 30 km distance from the city, so we had arranged a taxi beforehand. Much to my surprise, since my dad had booked the trip, the driver was waiting for us with a piece of paper with my name written on it. The road was one big 30 km long building area, but how the new rules were, I guess no one knew. The sun was setting and all we could see was a red dust cloud and some blinding lights from the cars coming towards us. All we could hear was cars horning. All we could smell was dirt and dust. But we arrived in Varanasi safely, after a two-hour drive.
From the balcony of our room near Assi Ghat we could see a Jinduist temple, the Ganges and many houses with colourful clothes hanging to dry. People come from to Varanasi from all over India. It's the most sacred city for the hindus, they come here to bathe in the Ganges and wash their sins away, and to die and be burnt here means to release the soul from the circle of transmigration.
We then went to the Ghat, the steps along the river bank, to walk along the Ganges towards the burning ghats, were people who died are burnt after having been bathed in the Ganges. Everyone is doing his/her thing on and near the ghats. People are bathing, fishing, walking, playing, praying, and even burning a loved one who just passed away. There are so many things to see it's almost overwhelming. There are cows and goats, children, tourists, beggars, salesmen, fishermen,.. Everyone is busy, everyone looks content, and almost everyone will smile at you if you will give them a smile.
In the evening we went to take a boat. There's something calming about being on a small boat, and being in such a magical city makes it unique. We headed towards the evening ceremony, the Ganga Aarti, which celebrates Shiva, the river Ganga, the sun and fire. Masses of people go to watch the ceremony by boat, but it's not hectic. Everyone is calm and many smile. We passed a burning ghat, and we saw a dead man being bathed in the river. I am really fascinated by their way of dealing with death, it's so open and there's no taboos like in our Western world.
In the morning we went on a walk through the city. Varanasi is probably the most dirty, polluted and populous city I have ever visited. It certainly isn't for the faint of heart. We walked past piles of wood for the dead to be burnt in, tiny shops made in parts of people's houses, many holy cows, dogs and goats. Streets are covered with red stains, it's the betel nut that many are chewing and are addicted to. They chew a mixture of tobacco, betel nut, and some spices, wrapped in a leaf, and then they spit it out, and it's red like blood. Beggars follow you through the streets to ask for milk for their babies, soldiers tend to look down on you, people call you to go in their shops,.. Sometimes it's all very surreal, the contrasts, the colours, the noise, the smells and fragrances all make it so difficult to grasp.
I wish I knew more about their beautiful fairytale-like stories about the gods and about how you should do good. The few I heard are so magical and mystic. So many images and impressions in our minds that we all fell asleep in the afternoon.
The morning after, we woke up before sunrise to go on another boat trip. Life in Varanasi was already vibrant, but temperatures were cooler. People were bathing, bodies were still burning, and we observed with respect. I can't help but wonder what I would think if a group of tourists would see a loved one's funeral. I don't know if I would be pleased. Men and women were already washing their clothes, smashing them on a flat rock to clean them well, just in time to lay them on the ghat's stairs lo let them dry in the sun.
I met people who stayed in Varanasi one day and then left because they couldn't stand the smells, dirt and traffic, and I've met people who considered it a holy place. I am intensely grateful to have been able to visit its contrasts and its colours, the ceremonies, the devotion, the smiles, and the smells, the noise, the attention of the locals.
What to do in Varanasi
Walk along the Ghats and just observe. You'll see the locals praying, playing, working, fishing, bathing,.. you'll see holy cows, kids playing cricket, sadhus, goats and dogs, you'll see ceremonies and rituals.
Go on a boat trip at sunrise. The sunrise is beautiful in Varanasi and you will watch the city waking up.
Ganga Aari. The daily ceremony that celebrates Shiva, the Ganges, the sun and fire, which is held on Dashashwamedh Ghat at 6.45 pm. You can walk to the ghat or go by boat. Either way, you won't be the only one.
Walk around the alleys. The old city is intense, as I said it's not for the faint of heart, but it's mesmerising, and you certainly won't ever forget it. The small shops, the cows, the monkeys, the traffic even in the small alleys, there are so many things happening in every corner, it's overwhelming.
Where to eat and sleep.
We stayed at P.G. on Ganges, a hotel near Assi Ghat. I wouldn't specifically recommend it (it was nice, but not clean at all). What I can recommend though, is staying near Assi Ghat. It's quite calm and you can get a pretty good sleep. I have seen hostels just above the burning ghats for example, and others on the main road. I am happy we picked a hotel far from both.
We ate well at Vegan and Raw  and their other restaurant Brown Bread Bakery.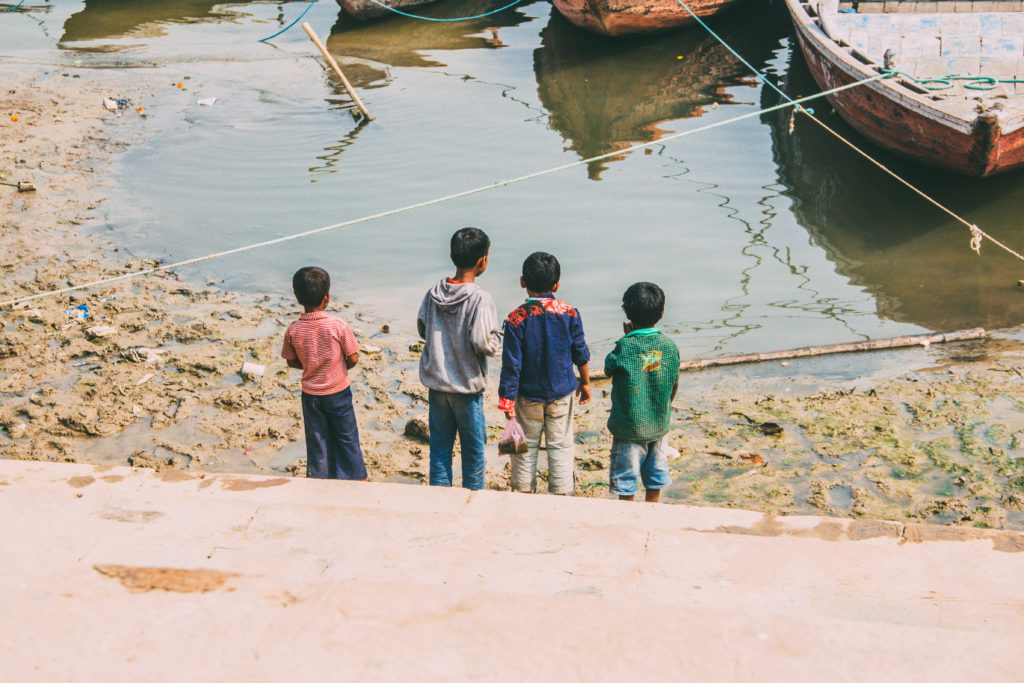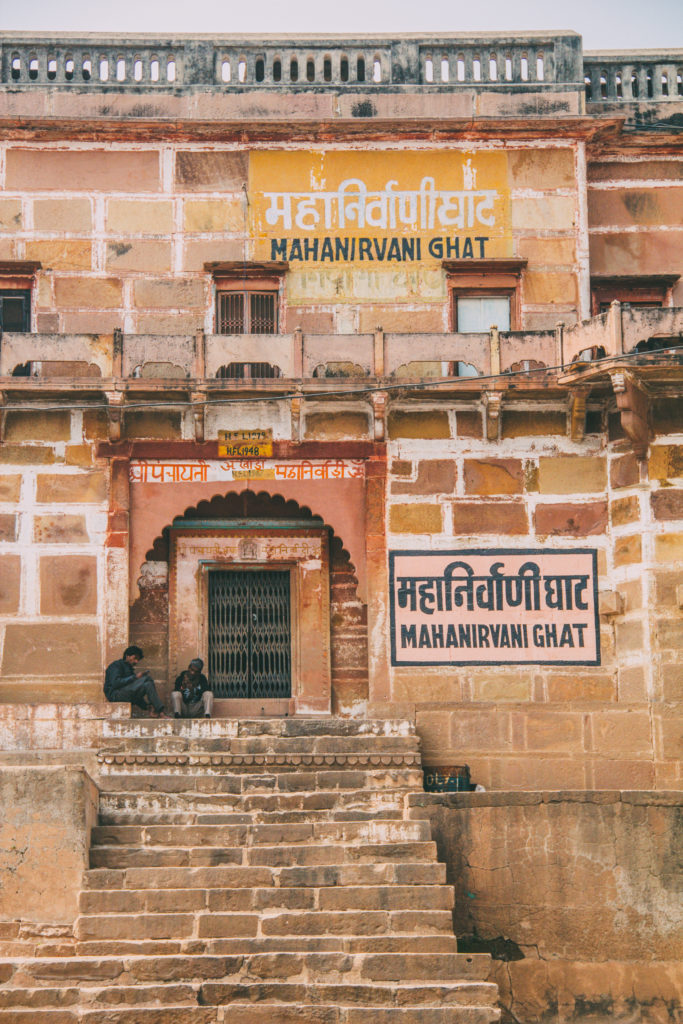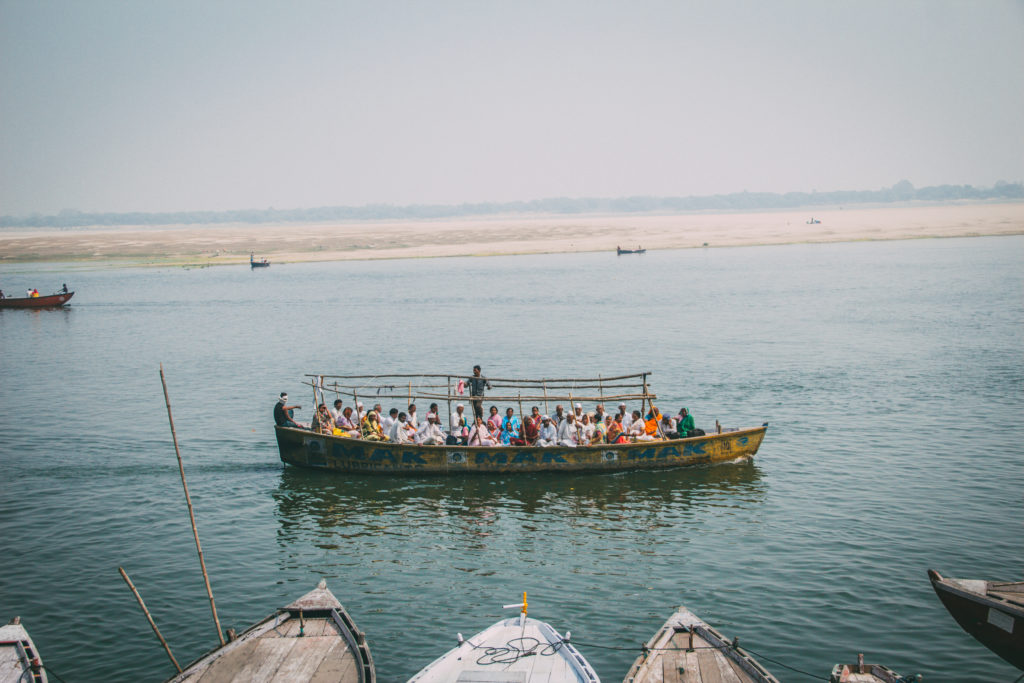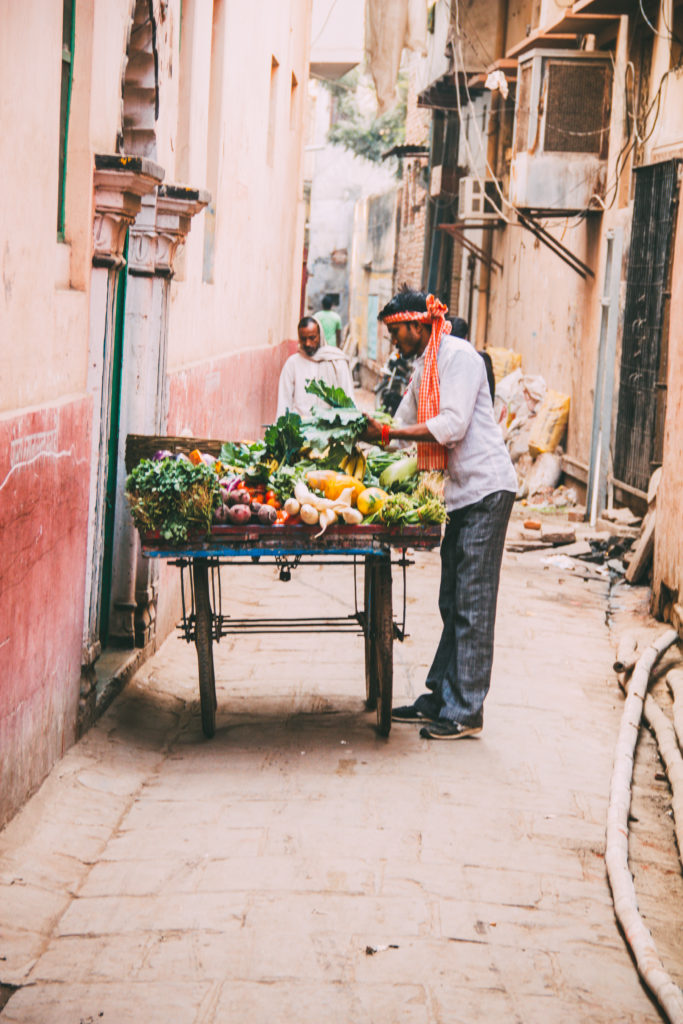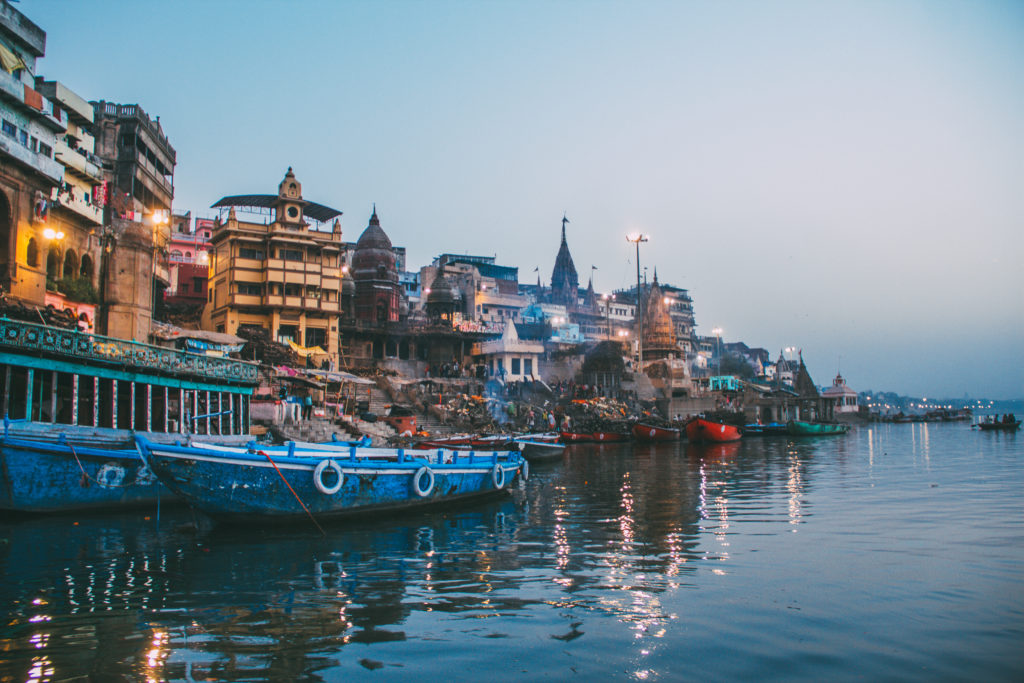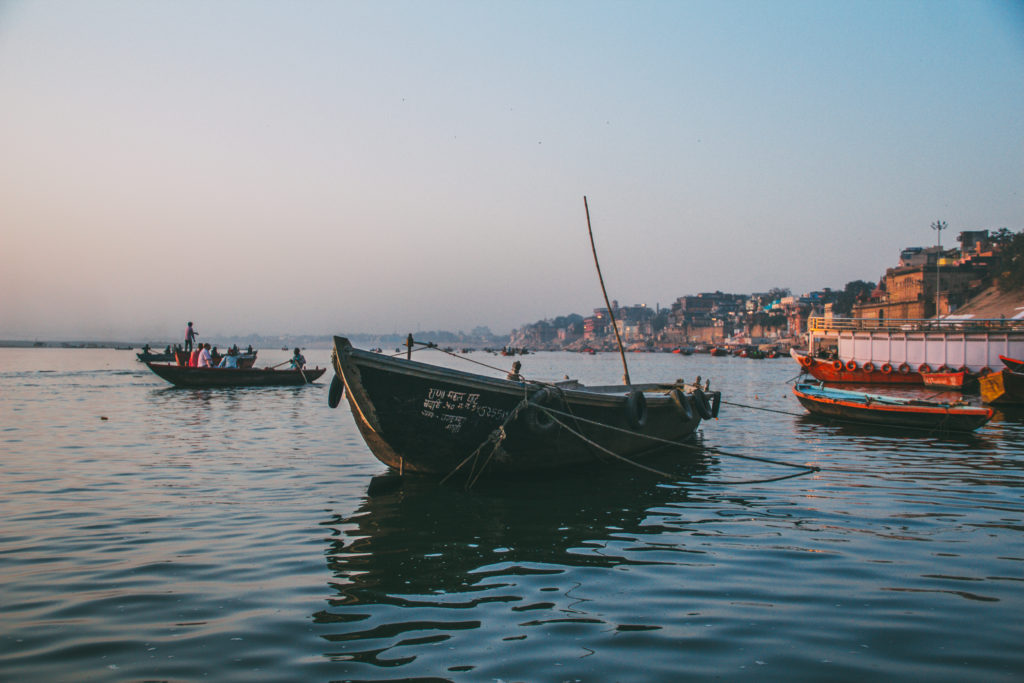 ---
Mumbai and Elephanta Island
Thursday, February 16th, 2017
We arrived in Mumbai late last night. We will travel with my parents for the first two weeks of this trip. It's something we have been wanting to do for a long time now, and I am grateful that we made it come true in the end.
This morning we woke up pretty late. My dad was already ready to go, while the rest of us was struggling to get up. It wasn't so much the jetlag, as the few hours we slept that kept me comfortably lying in bed. But the not too hot night made me happy and a fresh shower was all I needed to start the day off fine, despite the lack of sleep.
We walked from our hotel to the Gateway of India, on the very end of the peninsula. On our way there, there wasn't much architecture or monuments to see, just normal Indian life going on; and I honestly can value that more than any statue or plaque.
Along the way I noticed quite a few references to recycling and keeping waste to a minimum. Mumbai is the most populous city in India, so that's a wonderful thing! I also saw quite a few bins around, nonetheless much trash is also just thrown on the ground.
We arrived at the beautiful Gateway of India, from where boats to Elephants Island depart (1 hour, 180 r per person). We sat a bit on the long and sunny wall, then proceeded to take the first ferry. On the boat, many locals for whom Elephanta Island is a day trip too, were feeding the seagulls chips, and beautifully adorned children were playing along the deck.
Just after docking, we took a small train from the pier to the actual island for just 10 r. We were welcomed by a few holy cows, whom, if you know me, I was very much intrigued by. I wondered how they live, and survive? Are they treated well? I guess they are since they're considered holy. They're also quite unabashed. I saw one wanting to steal a corn cob from a young man, and the guy was quite scared and just gave her the cob.
We walked up the stairs which bring to the upper part of the island, stopping for a watermelon juice on the way up. Roberto and I went all the way to the top, finding beautiful tall trees and a pretty hazy sight. We were met by a group of monkeys who in my eyes weren't very happy of seeing us there.
The boat back to the mainland was refreshing. The fresh breeze kept us company while the sun was beginning to set. The Mumbai that a few hours before was just smoggy, was now surrounded by a halo of golden light.
Just next to the Gateway to India stands the Taj Mahal, a high end hotel whose history is worth to read. My father had cited this building many times before, but just now he was looking at it I saw how much admiration he had for it. He had read a book about it many years ago and dreamed of visiting it one day. He asked us to go have dinner there, and of course we gladly accepted, so we pretended to mix well in the fancy surroundings. It was amazing seeing the contrast between what happens on the streets, the colours, smells, noise, and that what happens when you enter the revolving doors of the hotel, the music, the light, the frills.
The food was amazing, and so was the service. After a unusually fancy evening we came home by taxi. Taking in all we see from the car's window. Ready for a good night of sleep, and ready for another beautiful day too.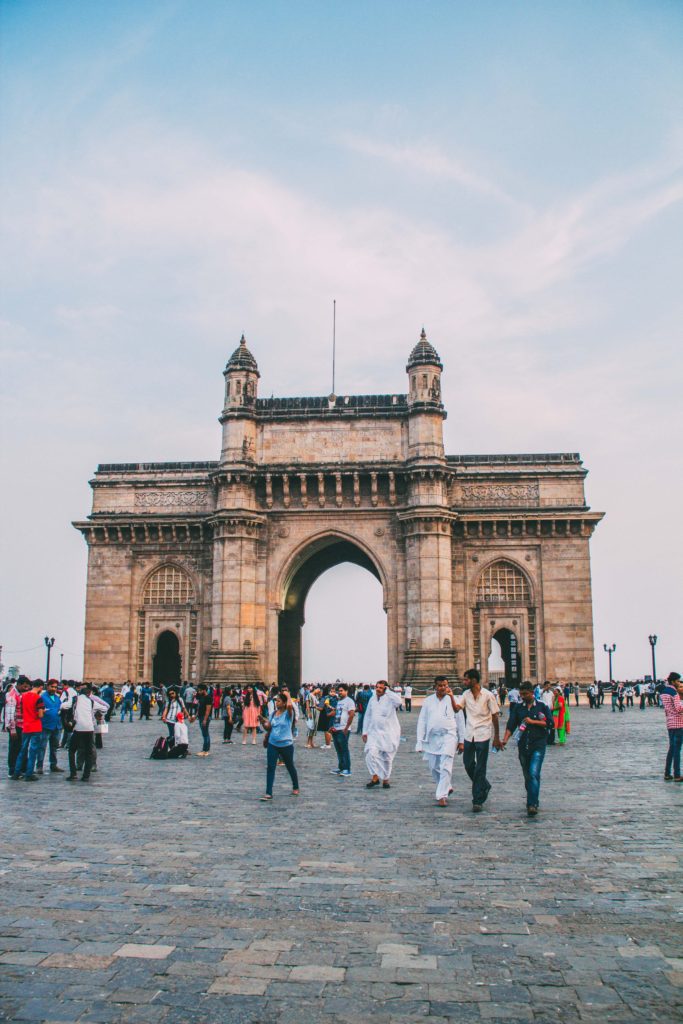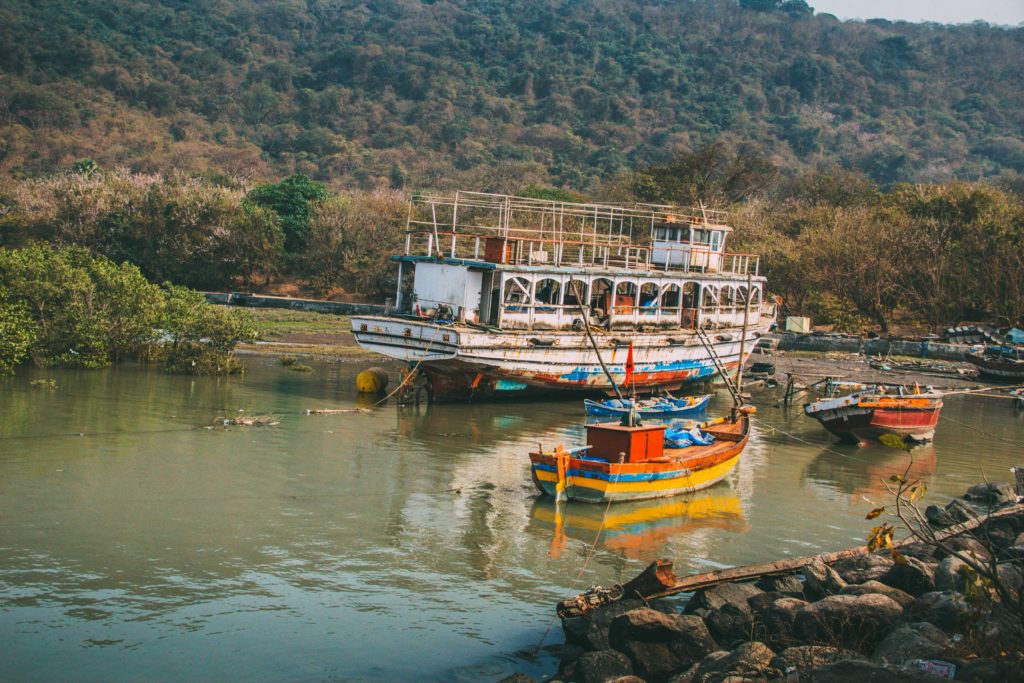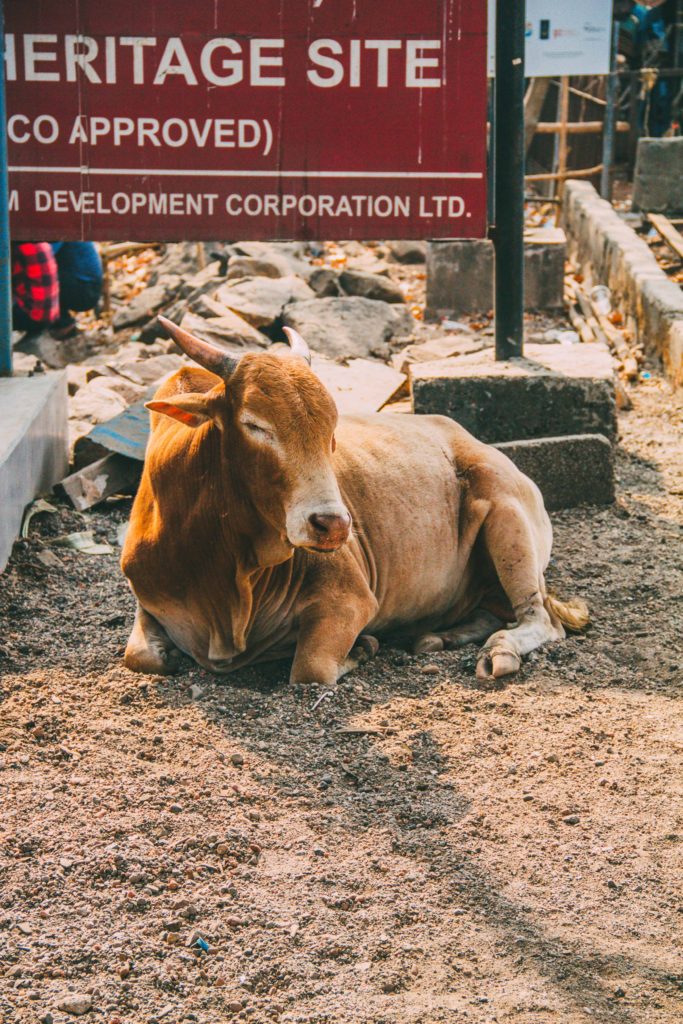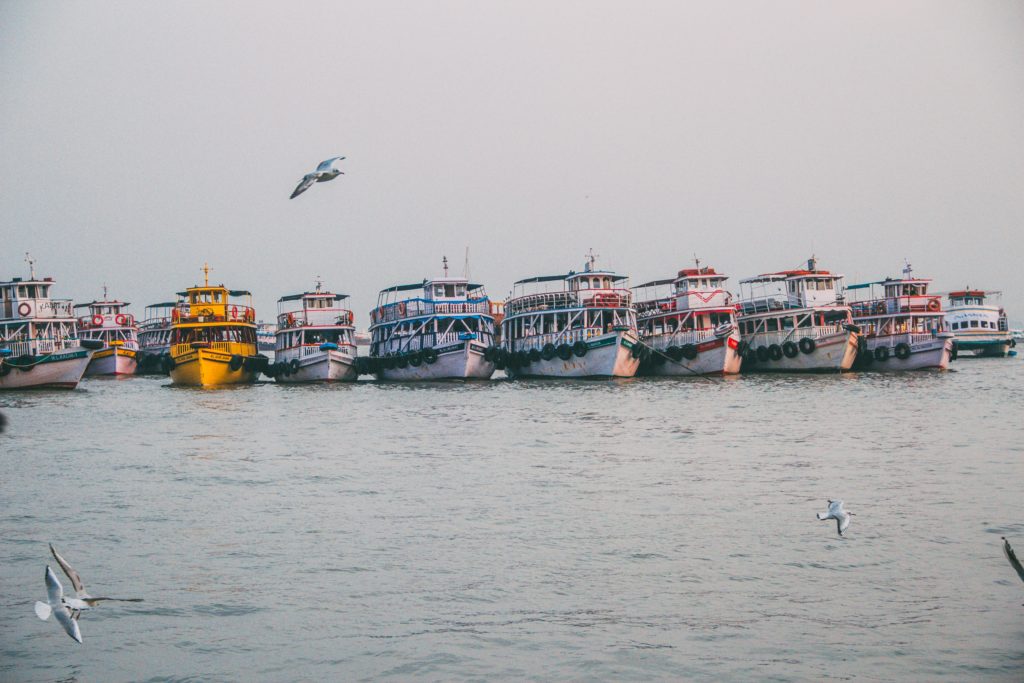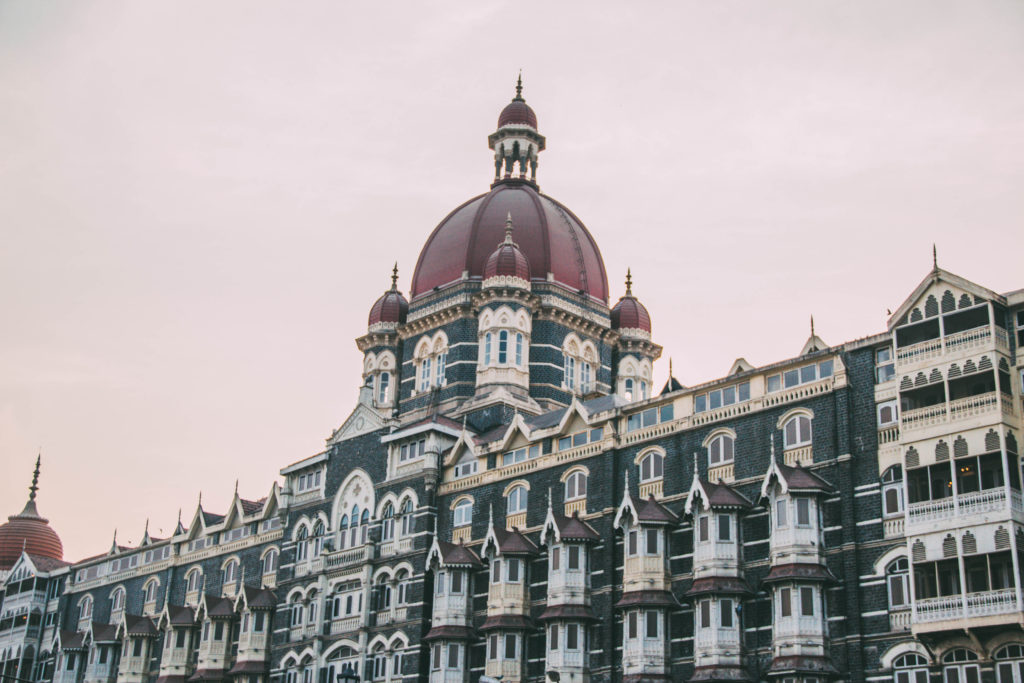 ---
Chocolate Granola Recipe
Tuesday, February 7th, 2017
We have good news! We've already rented a house for when we're coming back from our travels. We're leaving in eight days and when we'll be back there'll be a beautiful house waiting for us, in the middle of nature and with plenty of space to be creative. Just wait to see all the delicious vegan food we'll be able to make there, all the photos I'll be able to shoot. I genuinely can't wait!
But for now, we're very happy to have an oven at our disposal. We haven't used a proper oven since we've moved to the Netherlands, and that is over five years ago! So now we're baking everything we can: potatoes, vegetables, bread, cakes, and this granola.
I wanted to spice up the regular granola you buy at the shop a bit by adding dark chocolate, mixed nuts, cocoa and cinnamon. That makes it a super wintery combination of flavours to enjoy on these cold mornings. You can store this granola for quite a while in a jar, but I am sure this batch will be gone before leaving for India.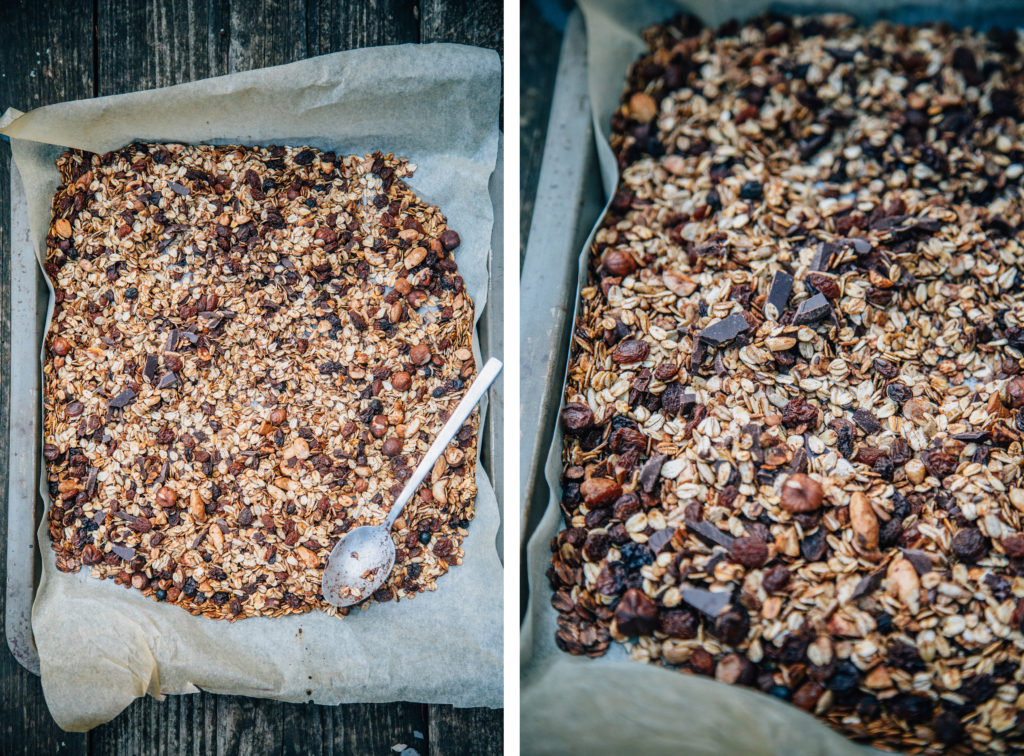 Chocolate (& Cinnamon) Granola
(for about 800 gr, see photos)
350 g oats
150 g mixed nuts (cashews, walnuts, hazelnuts)
200 g raisins
1 cup flaxseed
30 g dark chocolate (vegan)
1/2 cup coconut oil (or sunflower oil)
2 tbsp cinnamon
2 tbsp cocoa powder
3 tbsp dark agave nectar
Soak the raisins for at least 10 minutes; drain and set aside.
Preheat the oven at 160 C.
Cut the nuts in smaller pieces on a cutting board and with a chef knife.
In a big bowl mix together oats, nuts, flaxseed, cinnamon and cocoa powder.
Make sure the coconut oil is melted; if it's not you can quickly put in in a small pan on low heat until it's liquid, or place the jar on a heater for a few minutes.
Add coconut oil (we had to use sunflower oil because we haven't found coconut oil in Italy just yet) and agave nectar to the mixture and mix well.
Line a large oven tray with parchment paper and spread the mixture out.
Put in the oven but make sure to check and mix every five minutes to avoid it burning.
After 15 minutes you can add the raisins by mixing them into the mixture.
Allow to bake for another five minutes.
Meanwhile you can cut the dark chocolate into small pieces.
Take the tray out of the oven and allow the mixture to cool.
When it's cooled down you can add the chocolate.
Make sure it's completely cold before putting it into jars.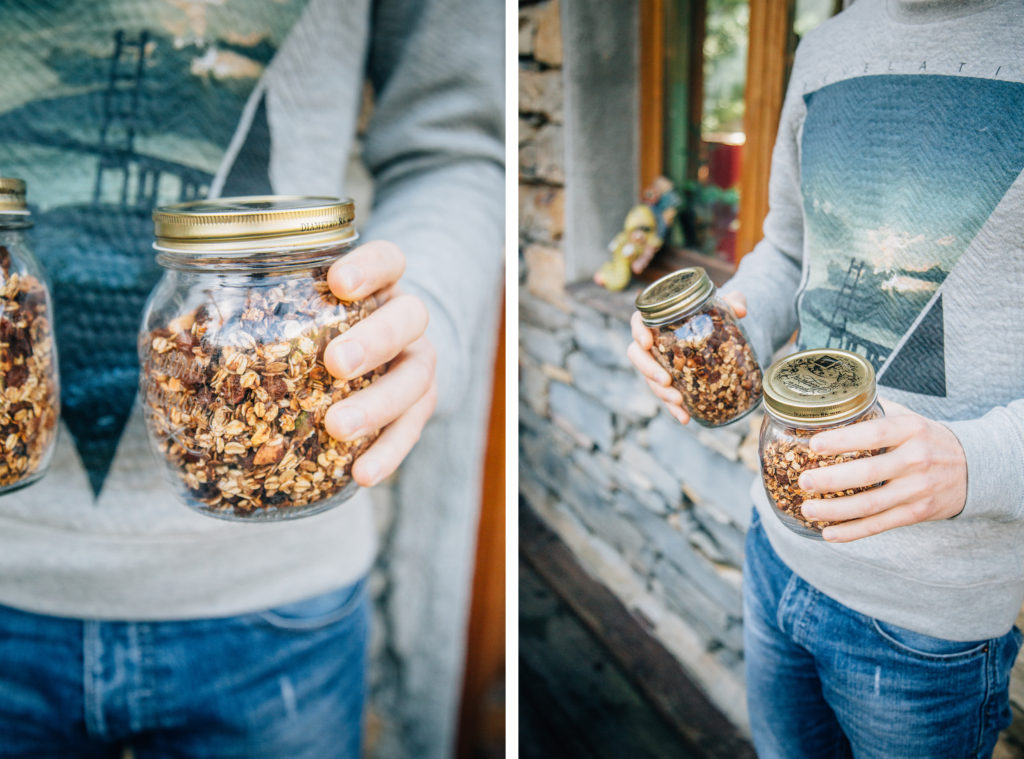 ---
Sage, thyme and ginger tea
Sunday, February 5th, 2017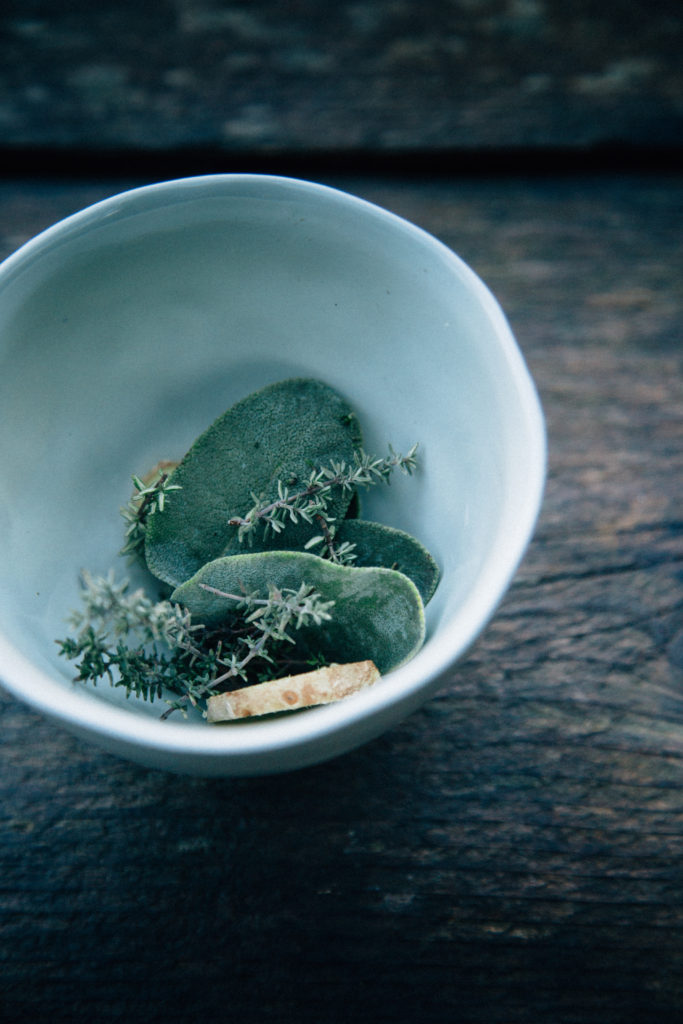 It's been cold these past few weeks. I am cool with it because we're leaving for India in ten days, but I guess our bodies haven't realised that. Roberto got a crazy sore throat that has been keeping him awake for several nights in a row; and I think I might start feeling something too.
Yesterday, my mum suggested we tried making sage and thyme tea, so I went outside to pick some. I picked about ten sage leaves and a bunch of thyme and then saw we had some ginger left, so I added that as well. I just added boiling water and let it sit for five minutes. Then I served it with a teaspoon of dark agave nectar.
First of all, it's just really good. Secondly and most importantly, it really helped! I will make a few more mugs today, since the whole family is still feeling quite poorly. Hoping it will bring everyone back to life.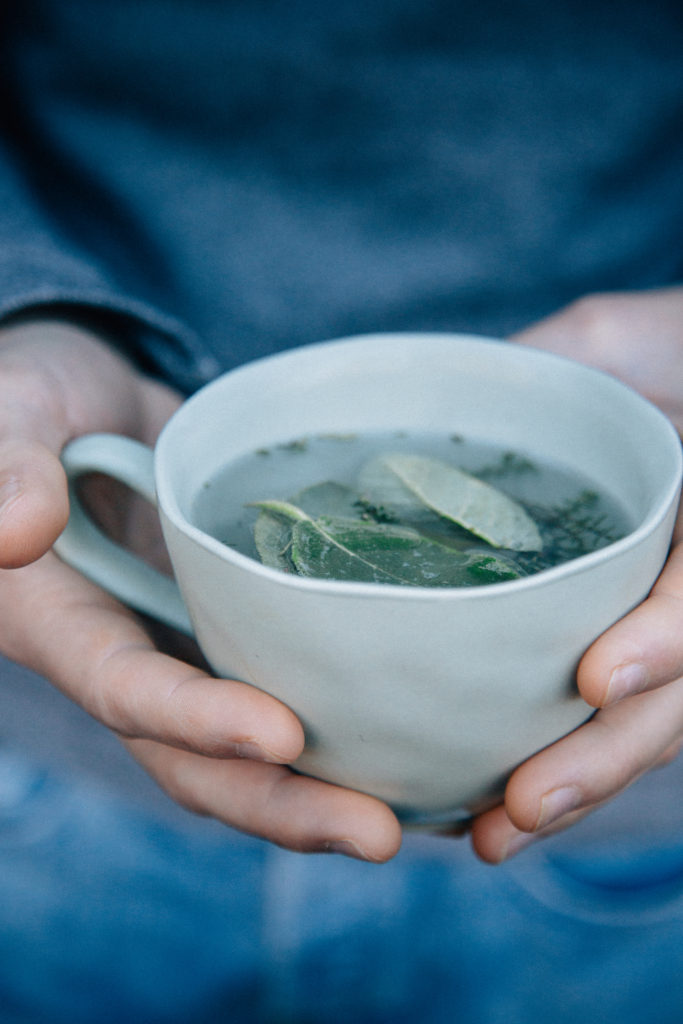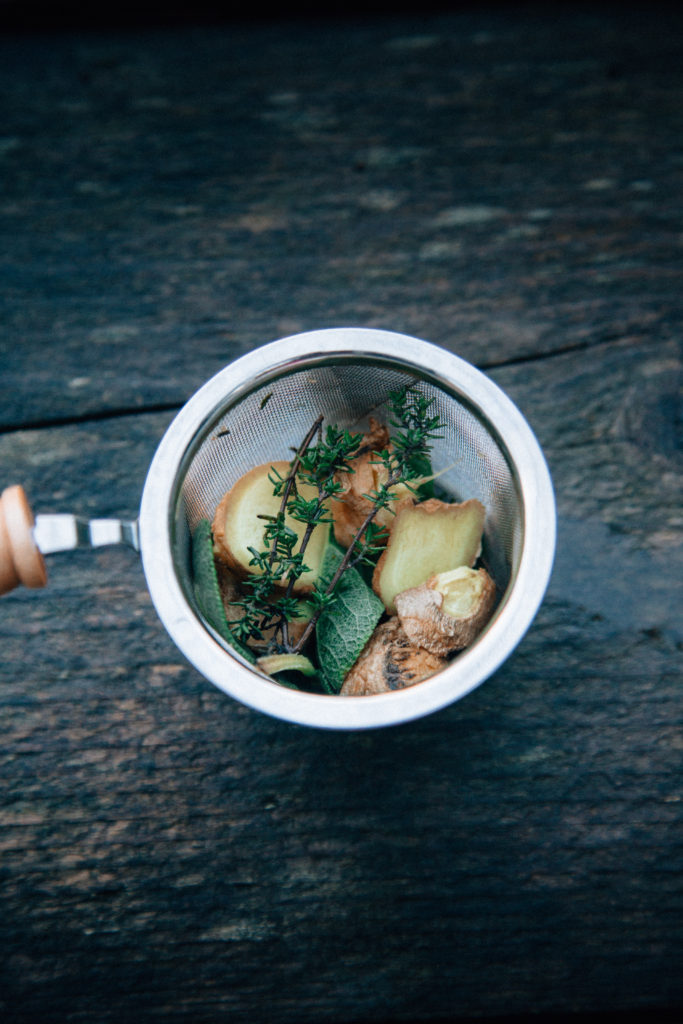 ---
Beet and berries smoothie – Recipe
Tuesday, January 17th, 2017
We've arrived in Italy two days ago after a long long drive. We've settled in my old room and are slowly unpacking our stuff and finding our way here. We'll be staying at my parent's this month before traveling to Asia. When we'll be back from our travels we'll look for a new place for ourselves.
It's been incredibly windy and cold since we've arrived, but that hasn't kept us from going outside and enjoying the fresh mountain air. Around mid-afternoon, we come back inside because the cold gets into our bones and that's when we need energy. Roberto decided to make us this beautiful purple smoothie and it was exactly what I needed. Look at it, it's gorgeous!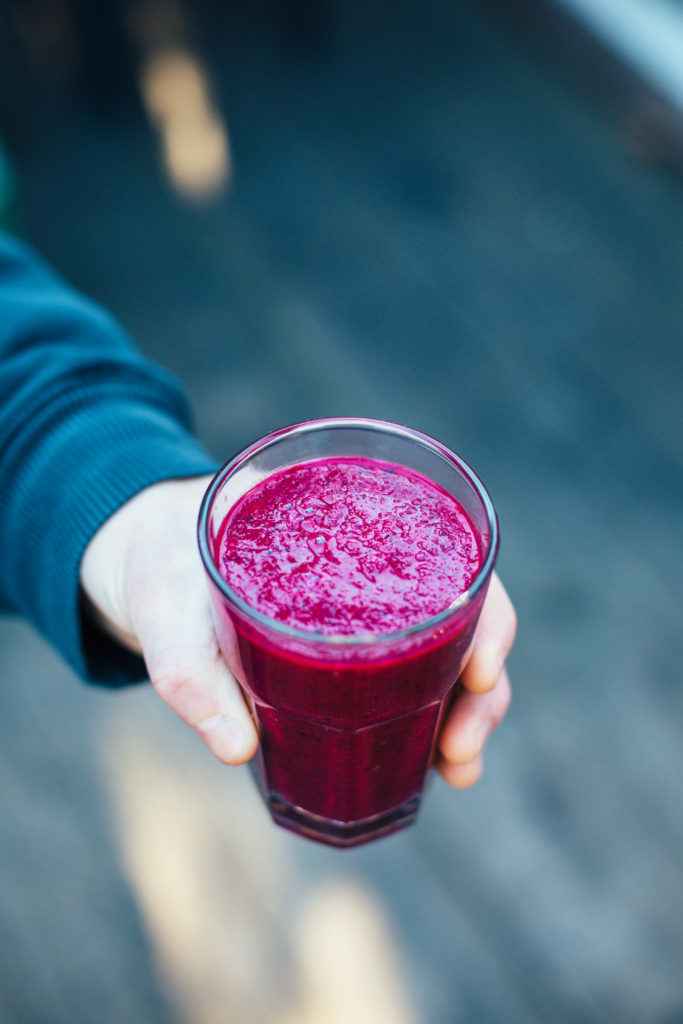 Beet & Berries Smoothie
(for four glasses)
1 cup of cooked beets
2 cup of mixed frozen berries (red currant, strawberry, raspberry, blueberry and blackberry)
2 bananas
2 cups of unsweetened oat milk
Mix everything in a blender until smooth. Add water or oat milk if the consistency is too thick. If you'd like to sweeten it up a little, add a tablespoon of agave nectar.
---
Last moments in the Netherlands
Thursday, January 12th, 2017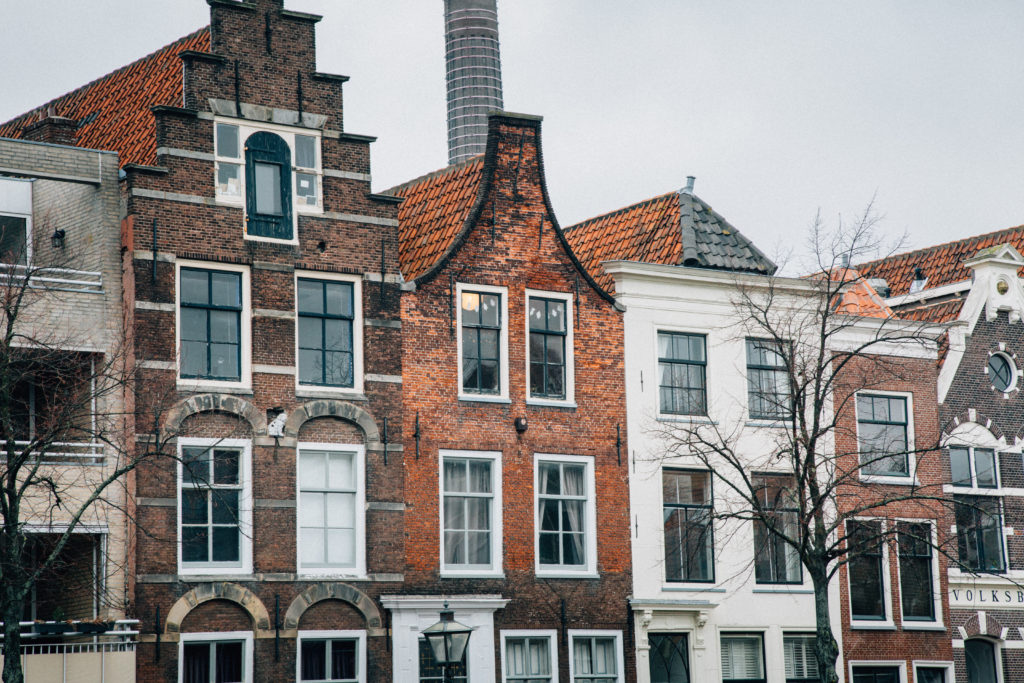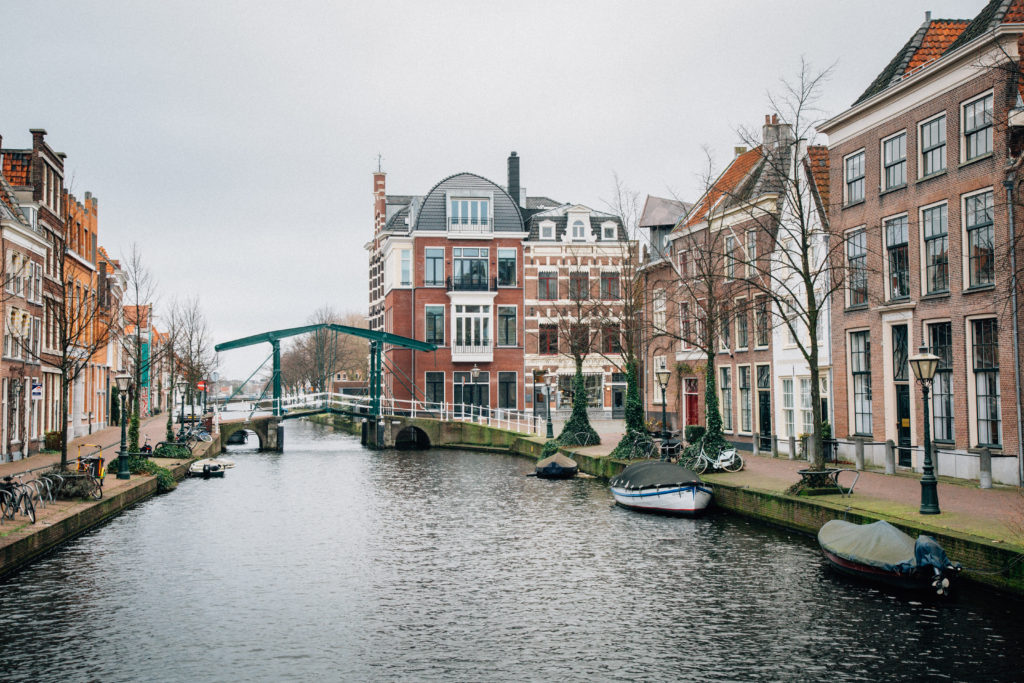 I am sitting on a mattress on the floor. Besides the table and office chair we are bringing to their new owners today, this is the only piece of furniture we have left. Every other piece has been sold or given away in the past ten days. It downs on me just now that we are not going to live in the Netherlands anymore, if everything goes as planned.
Things are scattered everywhere. Clothes on the floor in the bedroom, boxes in the living room, the only thing really still doing its job is the coffee pot on the stove. We haven't had a fridge these past three days, so we're living on bananas, nuts, and take away food. Which is nothing we do regularly (except for the bananas part).
I just called the municipality to make an appointment to make our moving away official. But the only spot available is on Monday, and we're supposed to be in Italy on Monday. Also, Roberto's visum for our trip to India is currently being handled, but it's not back yet. These things make these a little less of a romantic few days, but nonetheless, I am sure we will remember these days for ever. Like I will never forget the first few days in the Netherlands.
When we moved here, we could stay at my brother's place for the first month. He had one room in a huge house full of very random people, the most loving and lovely people I have met. When we arrived we couldn't get the heater to function, we were so cold and tired. But when we managed we were the happiest people on earth.
Soon we'll be driving through Europe in our small car packed with all our belongings. But first we need to get this apartment ready for the next resident. Clean it, get all our stuff in the car and go!
---
2016 in review
Saturday, December 31st, 2016
2016 is almost over and it's time to look back at this wonderful year we had. So, without further ado, this is our 2016 in review.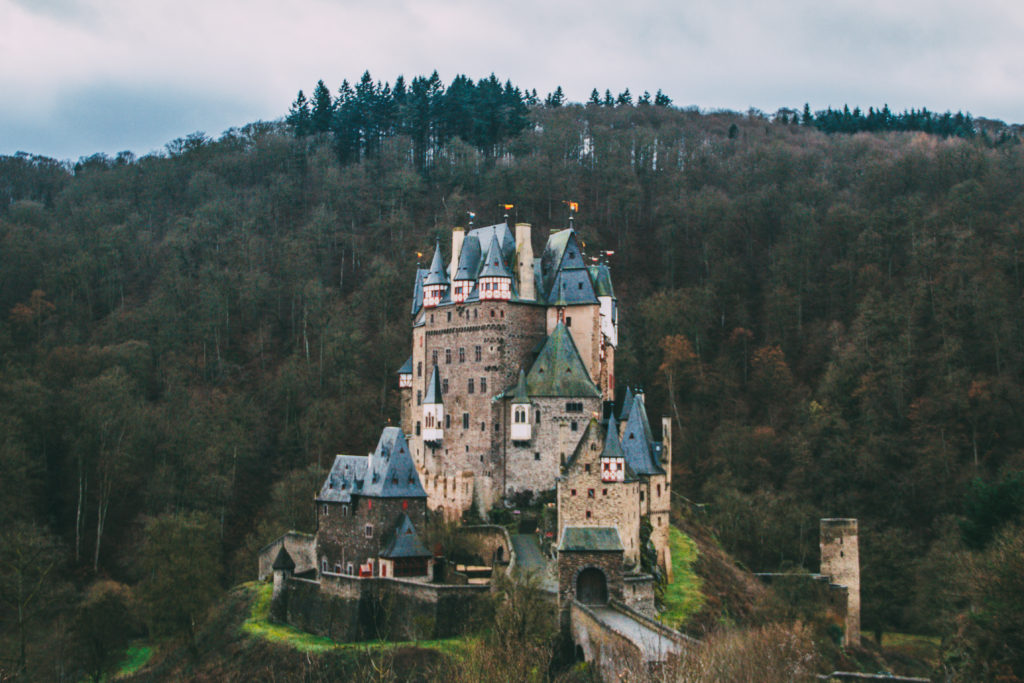 JANUARY – After a few months of transitioning to a vegan diet I finally went for it and became 100% plant-based (after five or six years of being a vegetarian). It was the best decision ever, but I won't be talking about that now. The transition to a vegan lifestyle became the next step, I donated everything I owned that was made of leather and I switched to beauty products and household products that are not tested on animals and do not contain animal ingredients.
We drove to Germany right in the beginning of the year and we found ourselves into a fairytale.
We committed fully to the decision of moving back to Italy. After discussing for a while we set a date: January 2017, we first needed to save up some money and I needed to see one of my dreams come true: photographing a cookbook and see it in every bookshop.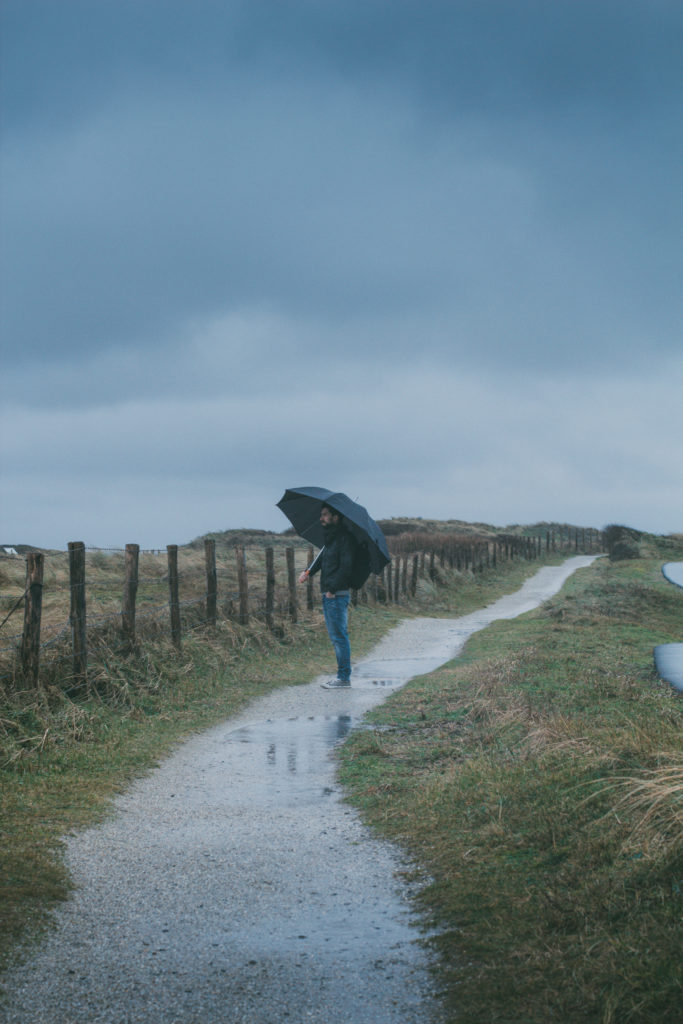 FEBRUARY – I worked for my own business a lot this month: photo shoots for the cookbook, recipe videos for a client every week, website maintenance, etc. I loved every part of it, even though combined with my job it didn't leave as much time to explore.
We went to see Jeremy Loops live at the end of the month. That guy gives you such energy! The day after we flew to Italy for a few days with our parents.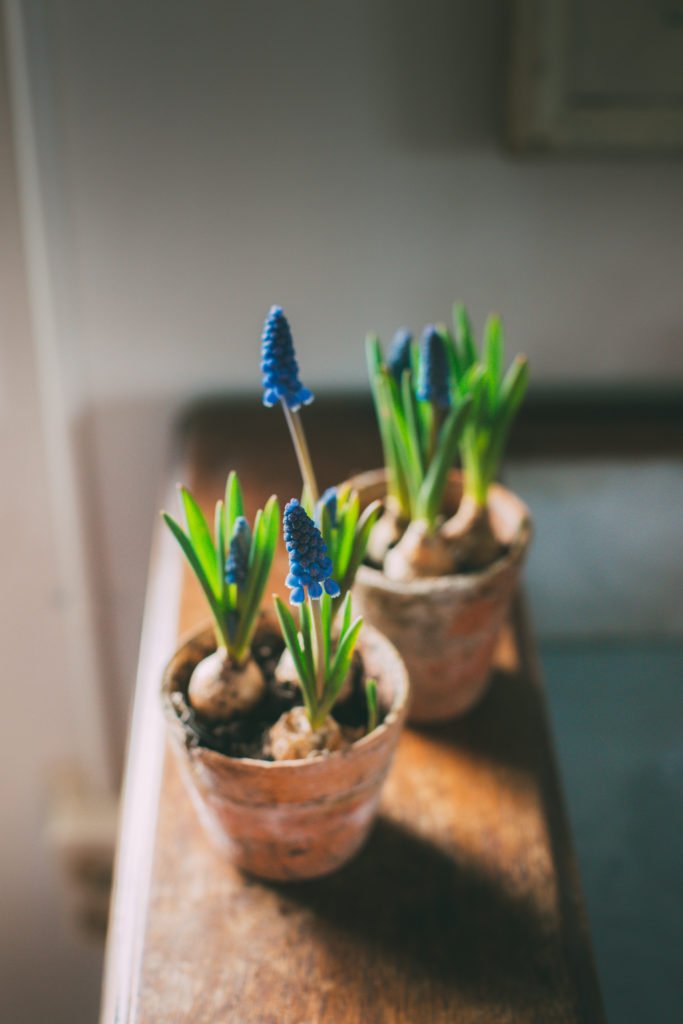 MARCH – Back in Holland, Roberto started working at ROOS, the best lunchroom in town, which also happens to be next-door to the shop I work in. It also meant he would start coming home at night, instead of working through it. I cherished and enjoyed every single evening together watching series and talking about life. And I still do every day.
We went to Hoge Veluwe, the most beautiful national park in the Netherlands. An incredibly big and diverse park where you'll find woods, meadows and desert within a few kilometers.
I flew to Vienna for a photo shoot and I was surprised by how beautiful that city is. I only spent two days there, so I am definitely hoping to be able to go back someday.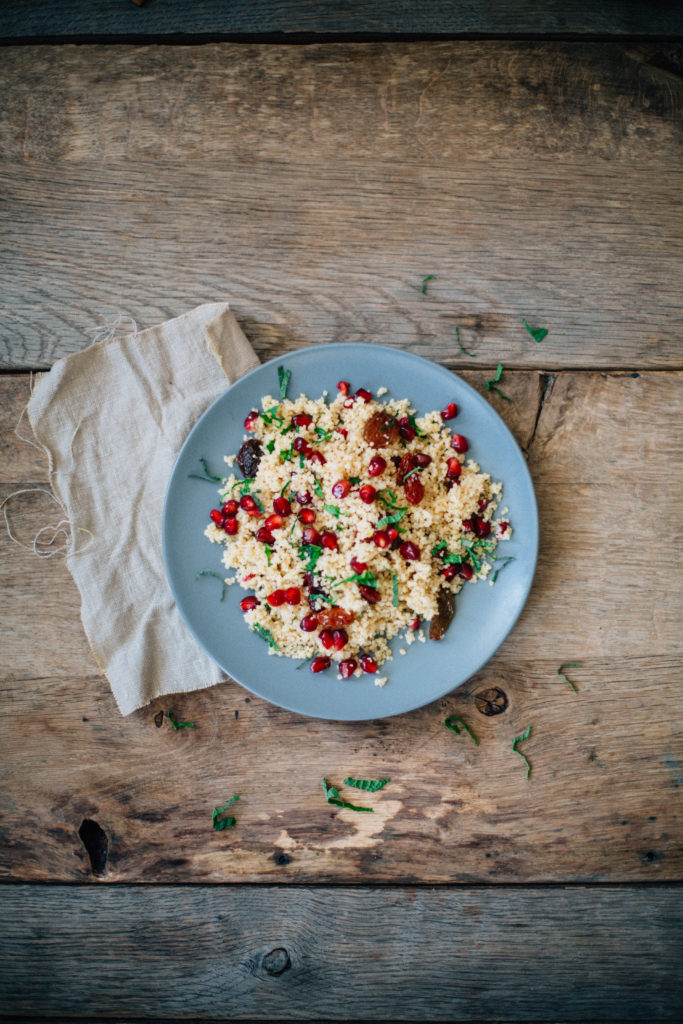 APRIL – I started working in the shop again after a few month at the HQ. I love this place with my whole heart and I have never felt at home like this. I love helping people and seeing them leave with a smile, I love being a team-leader to the younger girls and encouraging them. I love every aspect of this job.
My childhood best friend's baby boy was born! I still can't believe we're adults and we are able to produce such cuteness.
We went to see Radical Face live. This guy's music gives me goosebumps!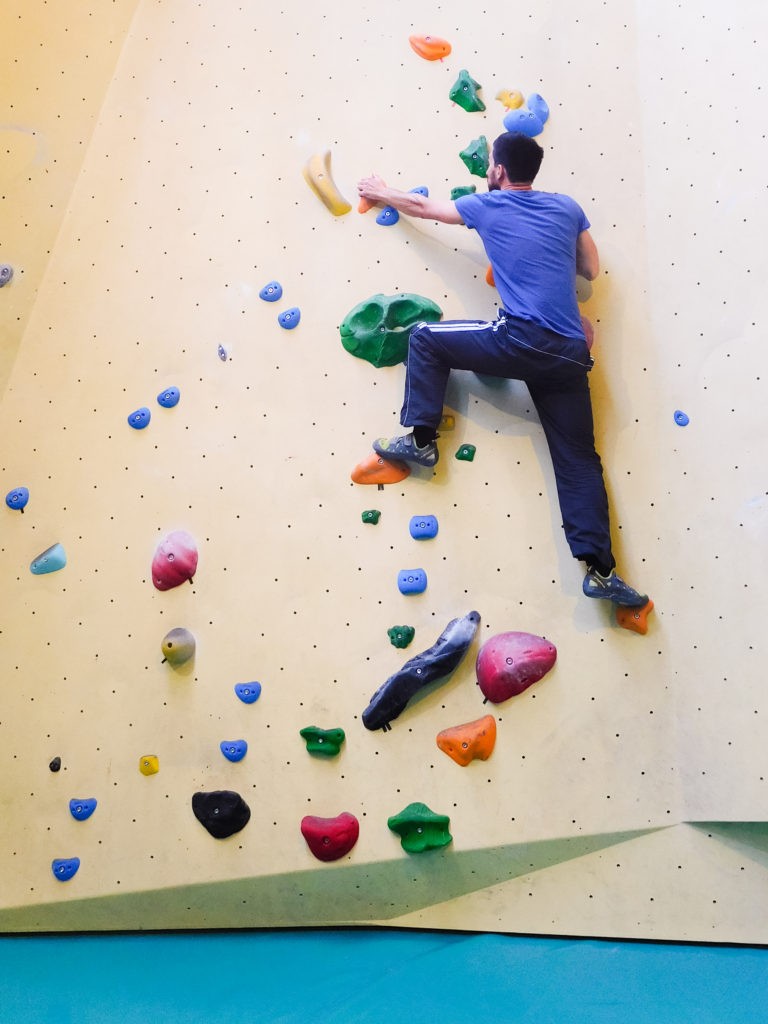 MAY  – It was the month I found out climbing is actually amazing. Roberto had been going for almost a year and kept telling me how cool ik was, but my fear of heights kept me from trying. The day I tried for the first time I immediately signed off from the gym and started a membership at the climbing gym.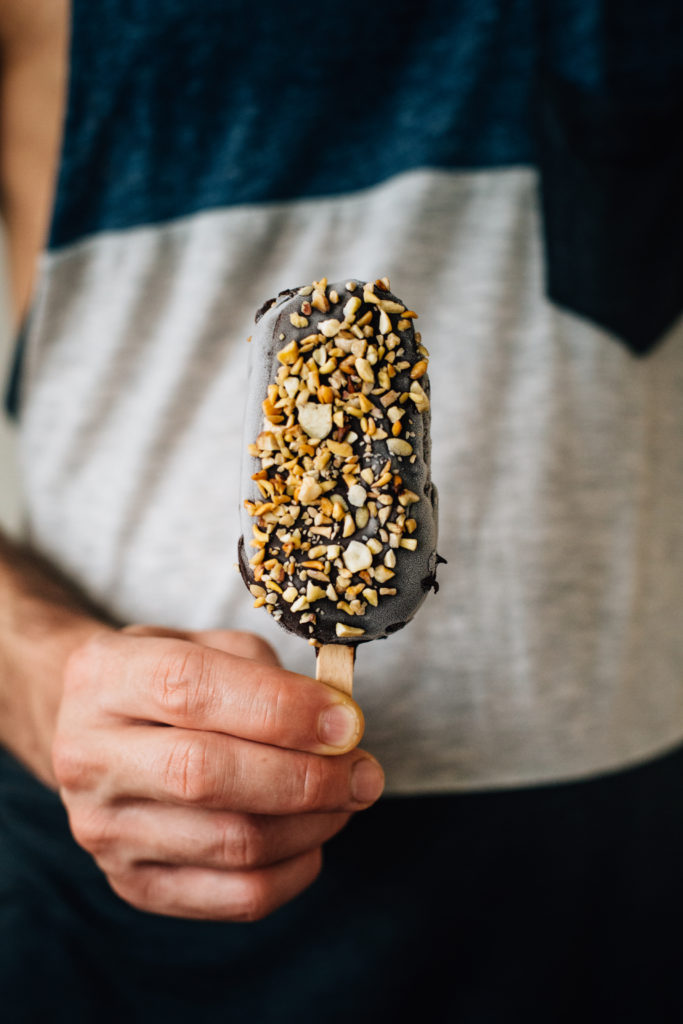 JUNE – We would go climbing 5 days a week in June. We were there every day and started getting to know people there. I got a little obsessed, as I loved seeing that I actually improved.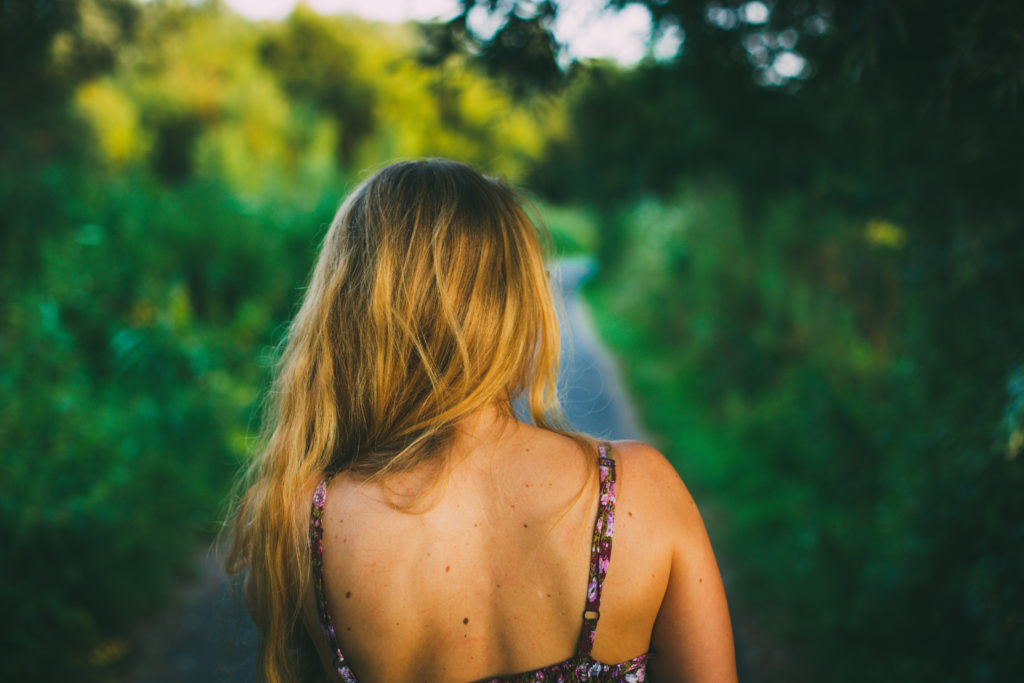 JULY – We started telling people we would leave. Everyone was happy for us and understood, no harmed feeling.
We kept a garden inside our house and we picked the first tomatoes, they were delicious. We also managed to grow cucumbers, basil, thyme, rosemary, ..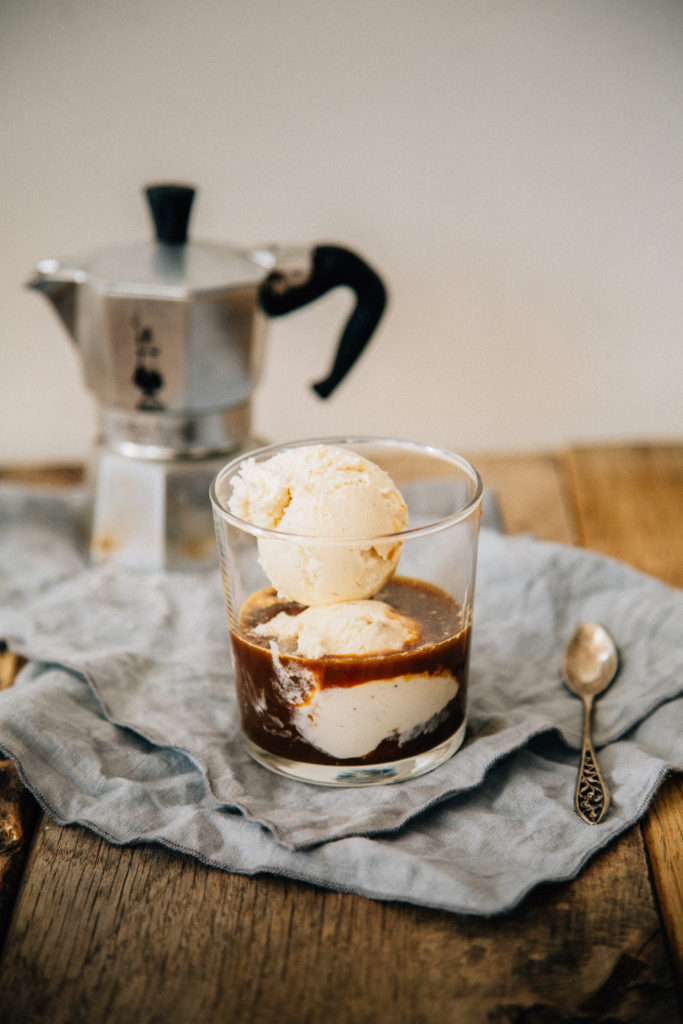 AUGUST – Roberto and I celebrated 9 years together and my brother told me his wife is pregnant. I am so happy to be an aunt to a precious little girl!
We also kept climbing every other day. In my days off I enjoyed trying to make new vegan desserts.
Roberto'm mum and brother came to visit us. We explored with them and it was great to see how much they loved this country.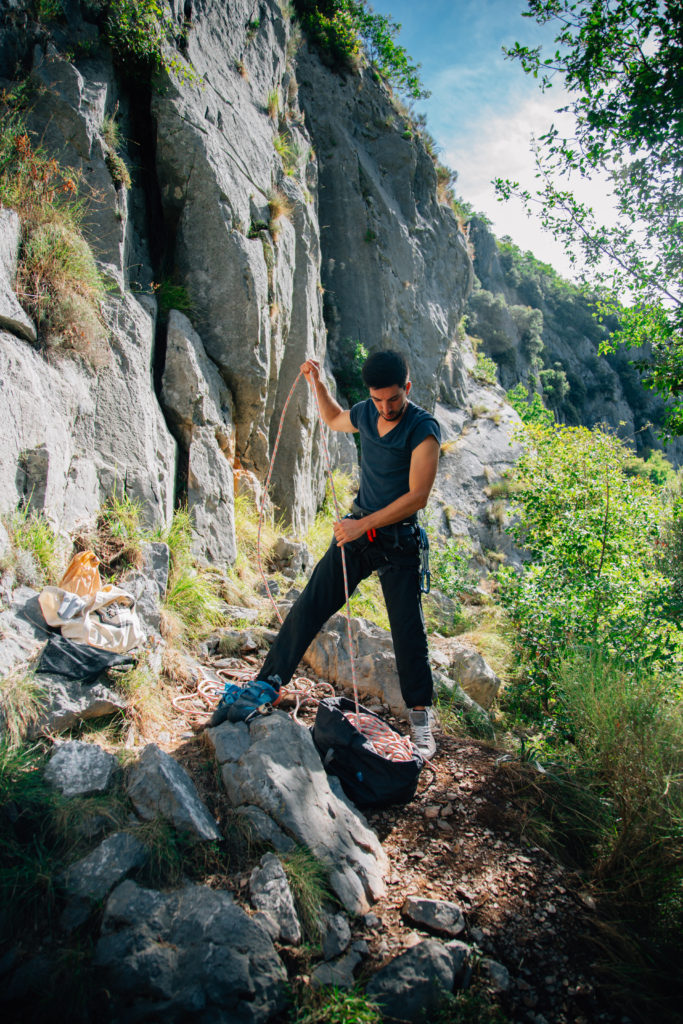 SEPTEMBER – We drove to Italy, but we first stopped in Fontainebleau, France, where we went climbing on a very hot day. We stayed at a local camping and it was just as magical as we excepted it to be. Two weeks home were all we needed to recharge. We loved every second we had in nature and knew it was the right decision to move back soon.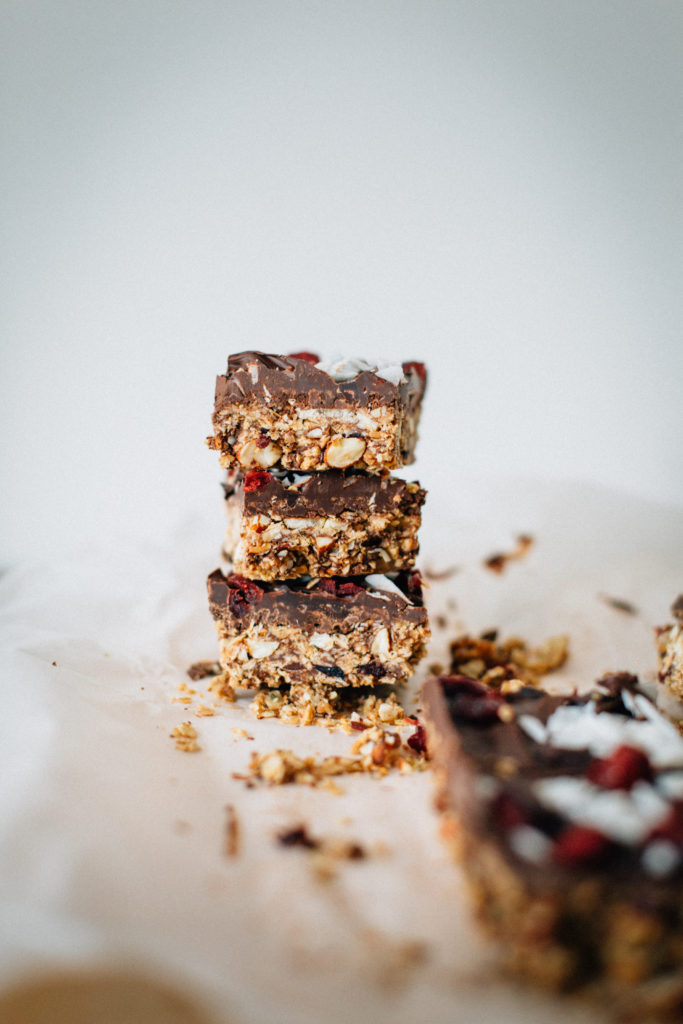 OCTOBER – It was the month of the launch of "Share", the first cookbook entirely photographed by me. I loved working with the author, Natascha, and I couldn't believe it was over.
We went to see Passenger live at the Ziggo Dome in Amsterdam. What an amazing guy that is! Just a normal guy in from of 60.000 people playing his guitar like a legend.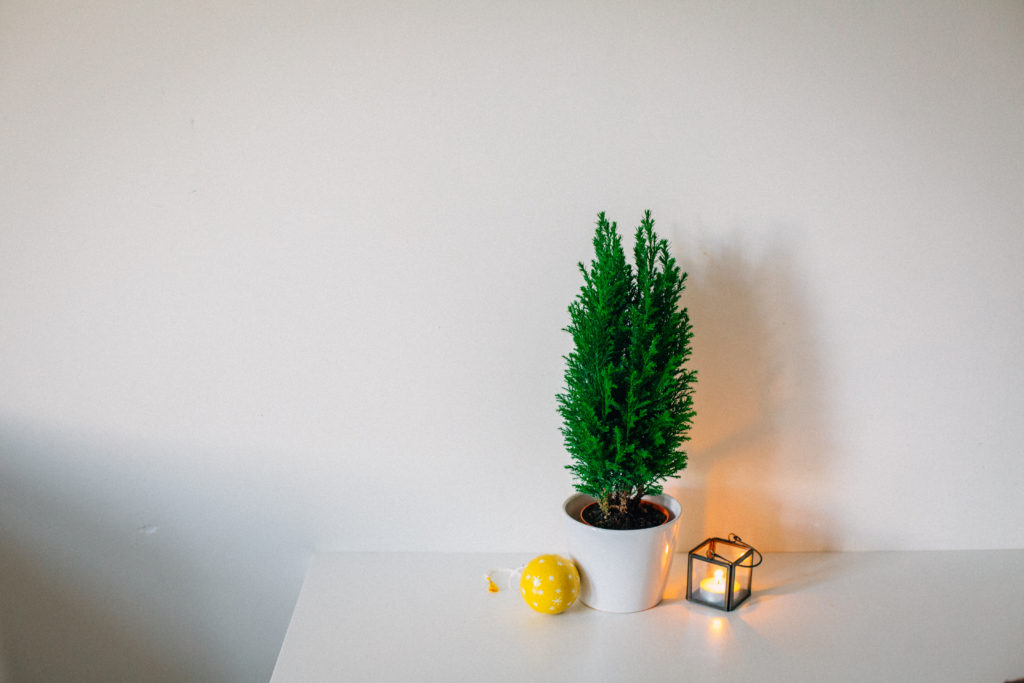 NOVEMBER – The feeling I want to do something for the environment got more and more vivid. I started really paying attention to the amount of plastic I use. It was too much, so I started switching to durable alternatives.
Roberto and I start watching a series of documentaries on Netflix. We both are stuck with a feeling that we have to be more aware. Being vegan is not enough. We need to make other people aware too, they need to see what is happening.
After years of fear for this day, my crazily grown wisdom tooth has finally been taken out. I survived and it was much less terrible than I expected it to be.
We also booked our flight to India in February 2017!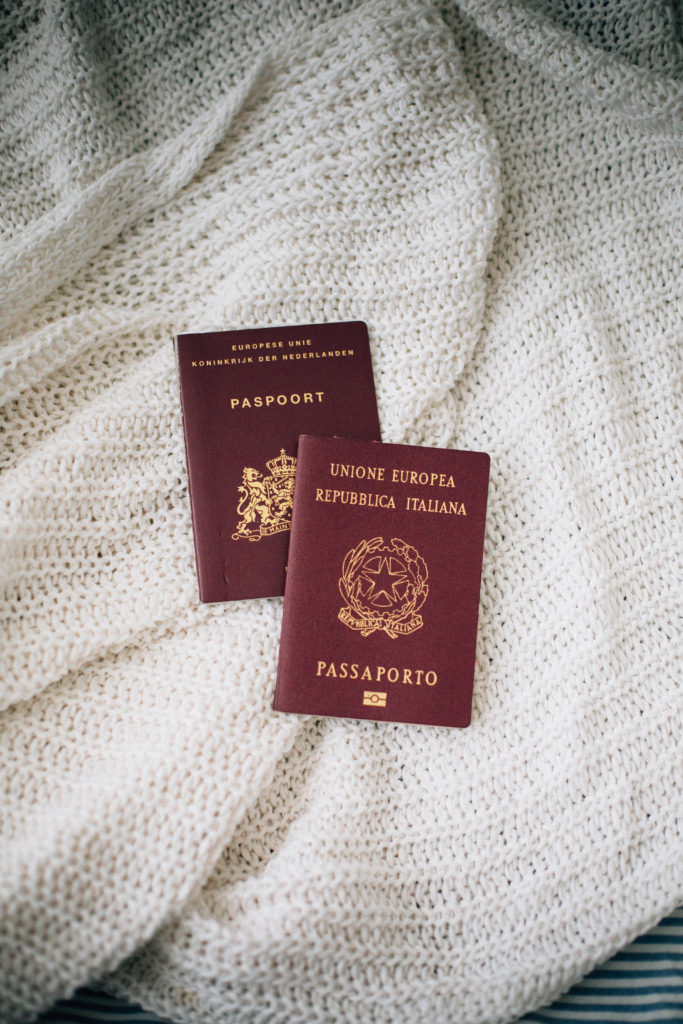 DECEMBER – We worked like crazy people, day in and day out. December means wrapping presents, dozens, hundreds of presents a day at the shop.
I had the most amazing and simple birthday with Roberto and my dad. We went to Amsterdam, had something to eat there and came back to play games. It's so good to be a grown-up!
My second wisdom tooth was taken out and left me with a ping pong ball of a cheek as result. My Christmas was spent eating soup and smoothies.
The hardest part was leaving work. My colleagues gave me presents, and I gave them a little something too. But the best part was that they made a book signed by all the people I hold dear: all of my colleagues, Roberto's colleagues, the cat that comes to visit us at work every other day, the guy that brings us herbs and spices on Friday, the girl I met at the shop and with whom I sometimes go grab a coffee, even the guy that brings us our stuff for the shop on Monday. Everyone was there with their sweet messages of love. I am not an openly emotional person, but I cried a little and I spotted a little tear in Roberto's eyes too.
We spent this month getting ready, selling the first furniture, donating stuff and putting things in boxes. I guess we will start off 2017 by doing the same. But then the time has come to say goodbye for real. I can't wait to share our next adventures with you guys.
---
Getting rid of our stuff & moving to Italy
Friday, December 23rd, 2016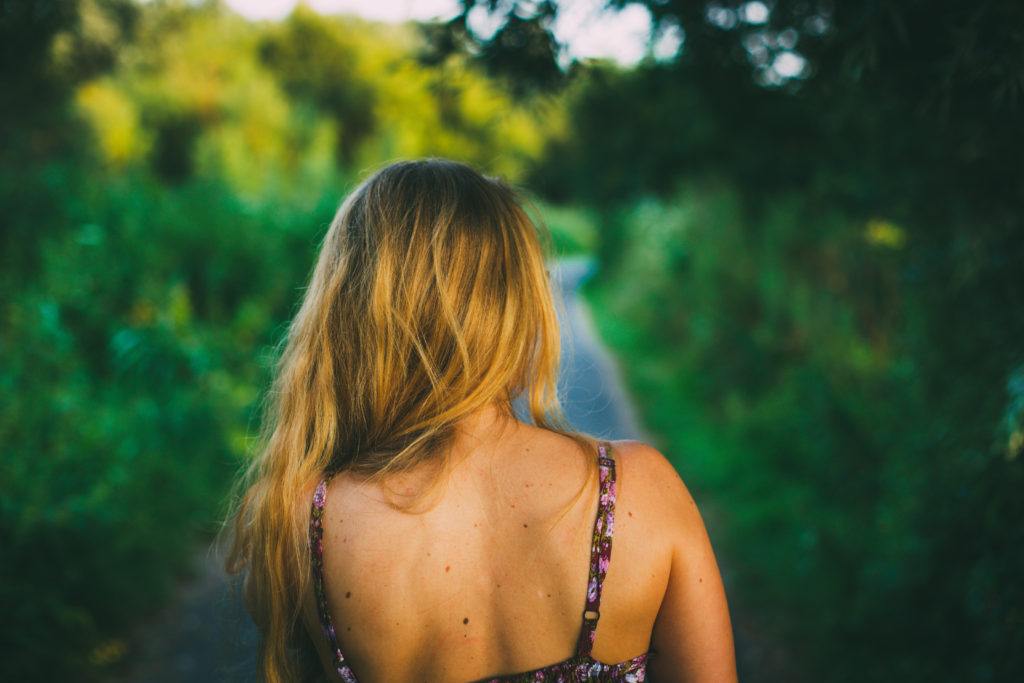 We will kick of the new year by moving 1400 km away. We have one week left at work and that means just one salary left and then every cent we will spend will come from our savings. But we are so excited to discover what this year ahead of us will bring and we cannot wait to start travelling again.
We can't really afford a moving company to bring our stuff to Italy, so we're left with our own little car; all our belongings need to fit into our Yaris. We were considering of travelling back and forth twice, but that would be so energy draining and quite dangerous (mainly for the car), so we won't do that. Instead, we decided to get rid of all the stuff we don't really need and to keep just the essentials.
How did we do that? Each of us has sorted his/her stuff into three piles: throw away, keep, and donate. We established one rule of thumb: donate as much as possible, throw away and keep as little as possible. We did one round a few months back, then another one last month and we're doing a third round now. You really need to do this: at first you will think you need that cute dress that you never put on or that bowl you bought in your favourite shop, but then you notice you actually never use this stuff in the next round and you probably never will. This stuff is superfluous, you can donate it.
I have no idea how many things we have left, there is still stuff all over the place; but we have donated and sold so much already that I feel lighter, as if the weight of those things has been lifted off my shoulders.
Maybe we are becoming minimalists, I don't know; I mean, I would like that, but I also doubt it. We both enjoy having little, but we both go through periods of splurging on new stuff. We both have our own niche: Roberto loves to buy cd's and climbing related things, I like to buy photography and styling related stuff. Secretly, I kind of hope we will be able to keep it to a minimum, it feels so good to be able to pack your belongings into a few boxes.
I am thinking of starting a little vlog/video channel to show what we do starting January, 1st, with no job, no place to stay, moving from the Netherlands to Italy, traveling through Asia, etc. I think there will be plenty of images, thoughts and content to share with you and I am really excited to give this a try. Maybe I will be able to show you our belongings in one of those videos. For now we have three boxes filled: kitchen and styling stuff, shoes and accessories (which is not filled that much yet), and bed and bath linnen. I foresee a few more boxes: bathroom accessories and clothes for example, but then I think we will be quite set and ready to go. We just need to sell all of our furniture..
---
A life with less plastic – a few tips
Saturday, December 17th, 2016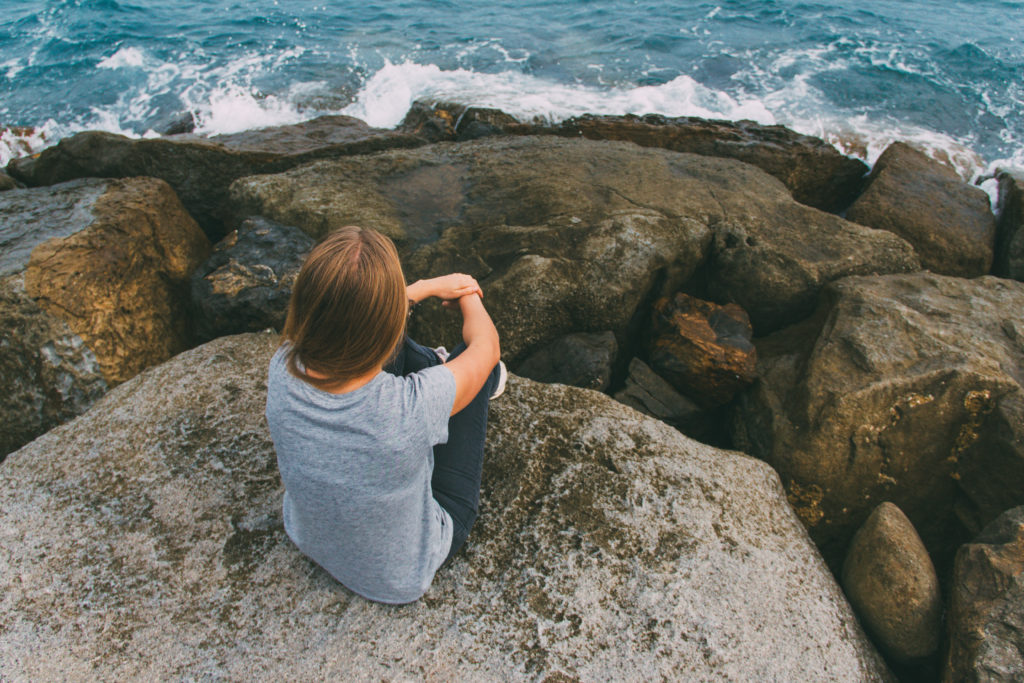 Simple living to me entails a critic view towards the products that are on the shelves of the shops and consciousness of what you buy and bring into your house. This includes the packaging these products come in. I started really taking this into consideration a few weeks ago.
Have you ever wondered how much plastic you use in one day? I had the idea one day of tracking how much my quite "environmentally-friendly" life looked like in the plastic department. The result were scary. Although I never use a plastic bag, never buy bottled water and never eat from plastic plates and with plastic cutlery, incredibly many of the things we buy at the supermarket is either wrapped in of packed in a nice and thick layer of plastic. Most of the times it's pure madness: plastic around cucumbers, peppers, plastic around salad and herbs..
I decided to monitor myself and try to see how I could reduce the amount of plastic I buy. In a few weeks I certainly learned a few things, which  I decided to list below, together with what I already did to reduce my plastic footprint.
Try to count how many plastic things (bags, wrappings, containers, ..) you use during one week.
Use a reusable bottle (or cup) – for water, juice, coffee to-go.
I used to have a reusable water bottle, but now I use another one for juice as well, since we now make juice ourselves at home. I personally avoid to-go coffee, but if you normally buy it, make sure to have one of those super cool reusable to-go mugs with you.
Always bring a cloth bag (or multiple bags) with you –
There are many kinds of reusable bags and most of them take up a tiny space in your normal bag. I work in a shop and I see more and more people bringing their own very colourful bags, and I love it (I always sneak in a compliment or two for them). You will eventually save money.
Also, when grocery shopping, do not use the plastic bags for the produce. Either put everything naked and free in the cart or buy some cotton reusable produce bags. Even at the farmers' market, when they put every item in a separate bag, just tell them "don't worry, I have my own bag, I'll put it in here", you'll save a lot of plastic doing like this.
Avoid using plastic plates, cups, cutlery and straws – at home and in restaurant, bars, etc.
Stop using plastic plates and cutlery when you go out to the park for a picnic (enamel plates and wooden cutlery looks way better on your picnic plaid). Don't use plastic plates at home for convenience, I swear washing the dishes is worth it. Try avoiding taking a straw for your drink. I know sometimes you just get the plastic cup and you roll with it, but do your best to avoid it.
Find a bulk shop in your area.
A shop where you can bring your own containers to fill with many of the basic things we all need daily. In Italy they have NegozioLeggero, where you can literally buy everything you need, from food, to detergents, shampoos, etc. I'd love if that would become normal in every city.
If you can chose between a bottle and a (cardboard) box, buy the box.
Many things, from laundry detergent to frozen fruit, either come in a plastic container (bag or bottle) or in a cardboard box. Choose cardboard as it will be easier to decompose than plastic.
Make you own smoothies and juices.
To save packaging materials. I make smoothies every morning and that's pretty well blended into my routine now. But we just started making our own orange juice. It's a relaxing and satisfying thing to do, and it's so delicious and good for you, since it hasn't been pasteurised.
I hope this list will give you a starting point or some inspiration for a life with less plastic. If you have more tips, I will be glad to read them! In the meantime, I will keep on looking for alternatives and ways to lessen my use of plastic, because when I look into the bin at the end of the day, it's still too much.
---