Pumpkin & carrot soup with coconut cream and thyme
Monday, October 24th, 2016
Last week we finally got to hold "Share" in our hands. "Share" is a cookbook I have styled and photographed with author Natascha Boudewijn. We have been working on this book for far over a year and we have been starting to kind of consider it our little jewel by now.
Every week we would meet to cook, style and photograph a few of her vegetarian/vegan recipes. Sometimes we would shoot the photo within a few minutes, other times we would argue about the styling for some time, then we would find a good way to make both of us happy. It has been a great year, and experience I will never forget, that taught me so much about photography, styling, but also about collaborating with someone and trusting someone.
I thought I would share with you one of the recipes from "Share". However, like I always do, I changed it completely while I was making it. So here you have a new recipe for an autumnal soup crated by me, very much inspired by Natascha's recipe from the cookbook "Share".
Dutchies out there, you'll find the book from next week in all bookshops (click here to see where to order it online)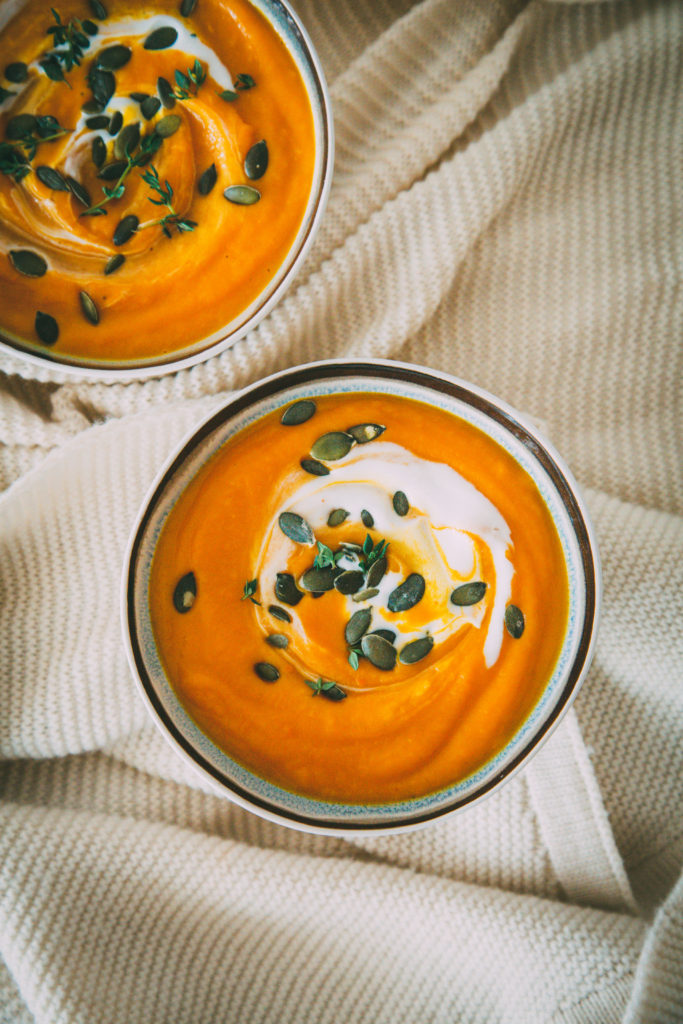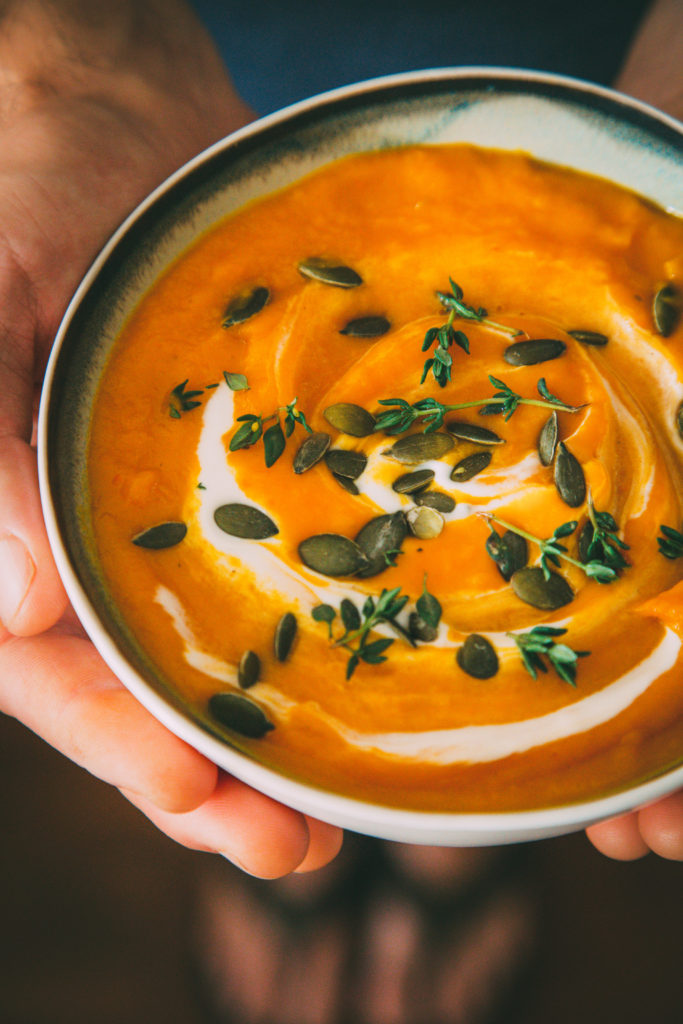 Pumpkin and Carrot Soup
with coconut cream, thyme and pumpkin seeds
(for four bowls)
800 g pumpkin, diced
250 g carrots, sliced
one onion, sliced
one liter of vegetable stock
one tsp ground cilantro
1/4 tsp ground cumin
3 cm fresh ginger, grated
a bunch of thyme
half a cup of coconut cream
2 tbsp olive oil
black pepper, ground
pumpkin seeds
Pour the olive oil in a big pan on medium heat, wait for it to heat up and throw in the sliced onion to caramelise. Add diced pumpkin, sliced carrots and grated ginger. Add ground cumin and cilantro. Stir often until the vegetables softened up a bit. Slowly add the vegetable stock. Tie the bunch of thyme with a piece of cooking twine, put the thyme in the pan keeping the other end on the twine outside the pan, in order to pull it out easily later on. Allow to cook for about half an hour, depending on the size of your diced vegetables. Check if the pumpkin is soft, when it is, turn off the heat, take out the thyme and allow to cool down a little. With a (hand) blender mix everything until smooth. Heat the coup a bit if needed. Add salt and pepper to taste. Pour in four bowls and top with coconut cream, black pepper and pumpkin seeds.
---
Mixed nuts chocolate power bars
Monday, October 10th, 2016
A week ago we got back from Italy, where we were climbing, hiking and enjoying the summer leftovers all day long. We somehow were a bit surprised by this cold autumn weather, as if we didn't know it's October, as if we didn't know we live in the Netherlands. I must have been dreaming of a year-round summer, but no, our planet needs the cold, and unknowingly I think we need it too.
So I started eating porridge instead of smoothie bowls for breakfast, and we started making soup for dinner more often, and in between we sometimes need a snack that isn't just fruit. I looked a bit around and found a recipe for delicious-looking oat bars, so I decided to try them and give them a twist (basically, I changed the whole recipe, as always).
What caught my eye, apart from the photos, honestly was the "No-bake" part of the title. We have, in fact maybe a bit too early, thrown out our tiny oven. We thought "we're moving soon anyway, and it's not like it works that well", but we hand't thought about the cold, and about the cravings that come with it (*hint* roasted potatoes, veggie lasagne, cake, and everything that's comfort food).
But now I know how to make these bars, which are filling and satisfying. So I am set for the winter, and actually, after lighting a few candles and making some tea, I don't mind that it's coming that much after all.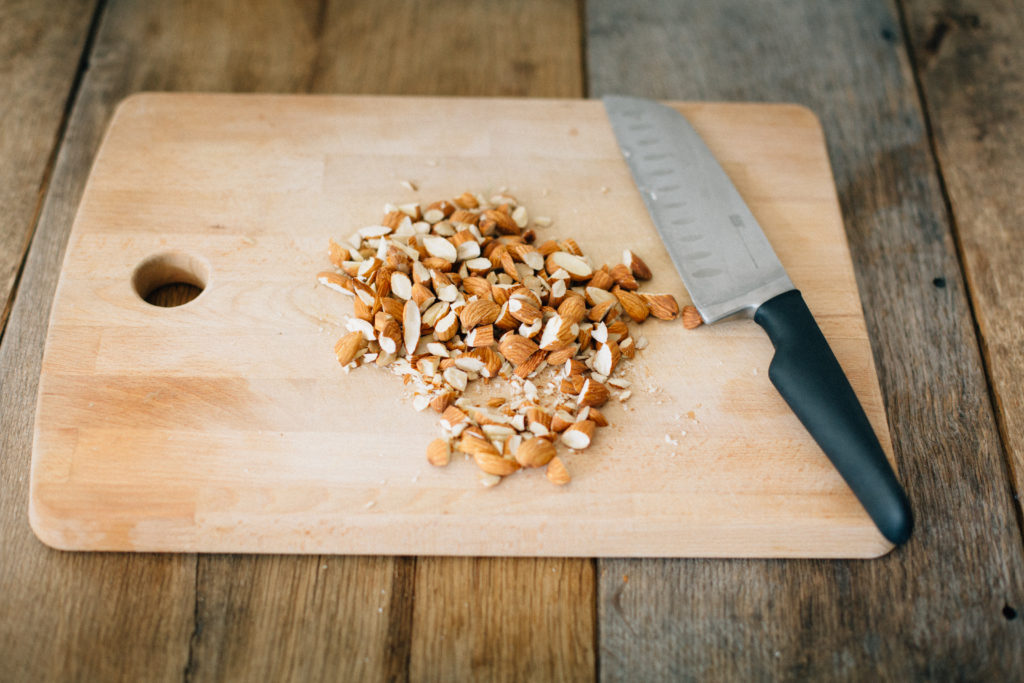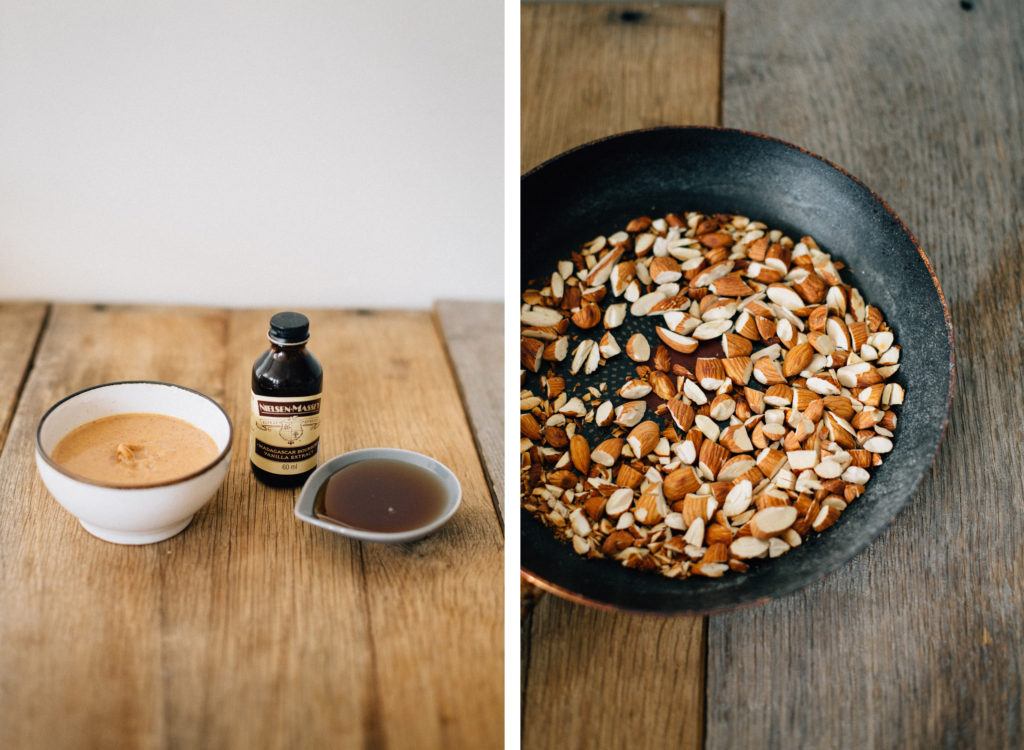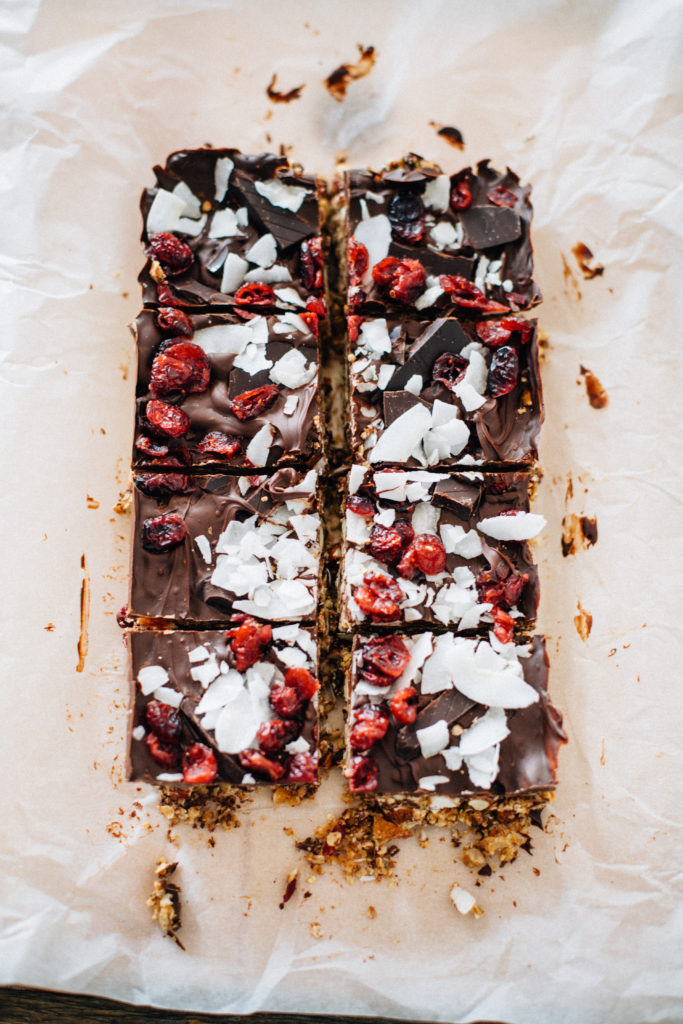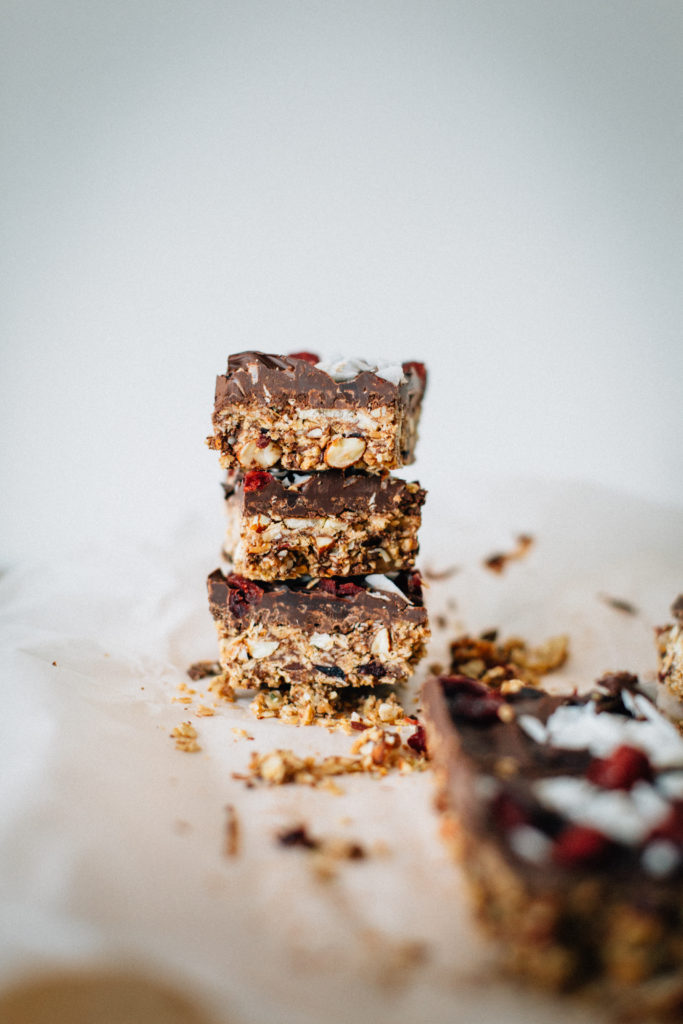 POWER BARS (makes 8 6x6cm bars)
(inspired by Alternative Baker's Oat bars)
90 g unsalted mixed nuts butter*
1/3 cup agave nectar
1 tsp pure vanilla extract
a pinch of sea salt
2 1/2 cup rolled oats
1/2 cup whole almonds, natural and unsalted
50 g mixed dried fruit (I used cranberries, bananas and coconut)
1/4 cup hemp seeds
1/4 cup dark cacao nibs, vegan
TOPPING
1 cup dark cacao nibs or dark chocolate
a handful coconut flakes
a handful dried cranberries
*peanut, cashew, hazelnut or almond butter will do the job as well
In a large bowl mix nut butter, agave, vanilla extract and sea sal until well incorporated.
Cut the almonds roughly with a good chef knife and set aside.
Toast oats in a skillet over low heat for a few minutes, stirring often, until you can smell them and feel they're hot. Pour into the bowl with the mixture of nut butter, agave and vanilla.
Toast the almonds you had previously set aside as well until golden-brown.
Pour the almonds in the mixture as well, add hemp seeds, cacao nibs, and dried fruit, and mix preferably using your (clean) hands.
Line a small baking pan with parchment paper (I used a 15x25cm one, but don't worry if the measurements are a little different). Spread the mixture evenly in the pan and press down very well.
Melt the cacao nibs for the topping au bain marie. Pour over the mature in the baking pan, spread evenly and top with coconut flakes and cranberries.
---
Moving to Italy
Monday, October 3rd, 2016
We drove into town at exactly 12 am last night, squinting our eyes to see the road through the heavy rain. Sixteen hours earlier we had said goodbye to our families, promising them we would stop along the way to rest a bit and maybe stay at a motel overnight. But we didn't. When a holiday is over there's no need to keep pretending: it has been fun, but come on, let's go, we have a lot to do. So we drove and drove, through Italy, France, Luxembourg and Belgium, singing, almost screaming on purpose to keep each other awake, coming up with the craziest questions about the world, nature and its ways, and playing a game consisting in counting hawks (I swear, there were a lot).
Three weeks ago we left for Italy with a fully loaded car, so full I barely fit in it next to Roberto. This time the purpose of the trip was different. We didn't want to just see our families, relax, see some friends and eat good food, we were there to feel if we still belong there and if the answer was yes, look for a place to call home soon.
The first days I felt unsettled. So much at one point I was crying in the car out of desperation; "If I don't feel at home here, and I don't feel at home in the Netherlands, where will I ever feel at home?", I thought. But then we drove towards the mountains, we spent days in nature, hiking, swimming, climbing, and it all fell in place. I wanted to be there, and Roberto wanted it too.
One day we were walking up the highest mountain we could see, wondering about all it had witnessed last century and silently watching nature do its thing; the other we were dipping our feet in the freezing waters of the river, talking about how it is all so messy, but so beautiful. Italy, nature, and life.
Soon after we were driving around through fields, mountains and along the coastline, asking people if they knew who we could ask to rent a house. Because that's how it works in Italy, Internet is for the rich, for everyone else there's word-of-mouth.
Happiness and uncertainty make for great adventures, right? We have no clue wether we'll find jobs in Italy, the main reason why everyone there asks us why we do it, if it's a smart move. We don't have an answer. We just know we both want to live and feel deeply (I've been told I am a dreamer and a romantic, but I don't see that as criticism).
I will be documenting our Italian life here, along with our travels and vegan recipe in between.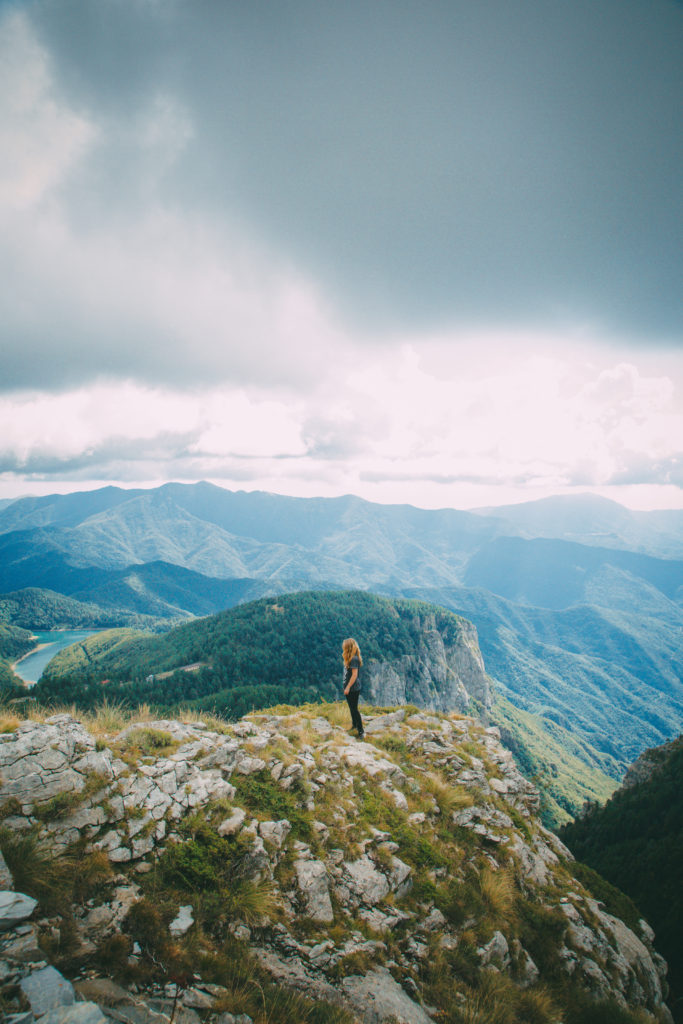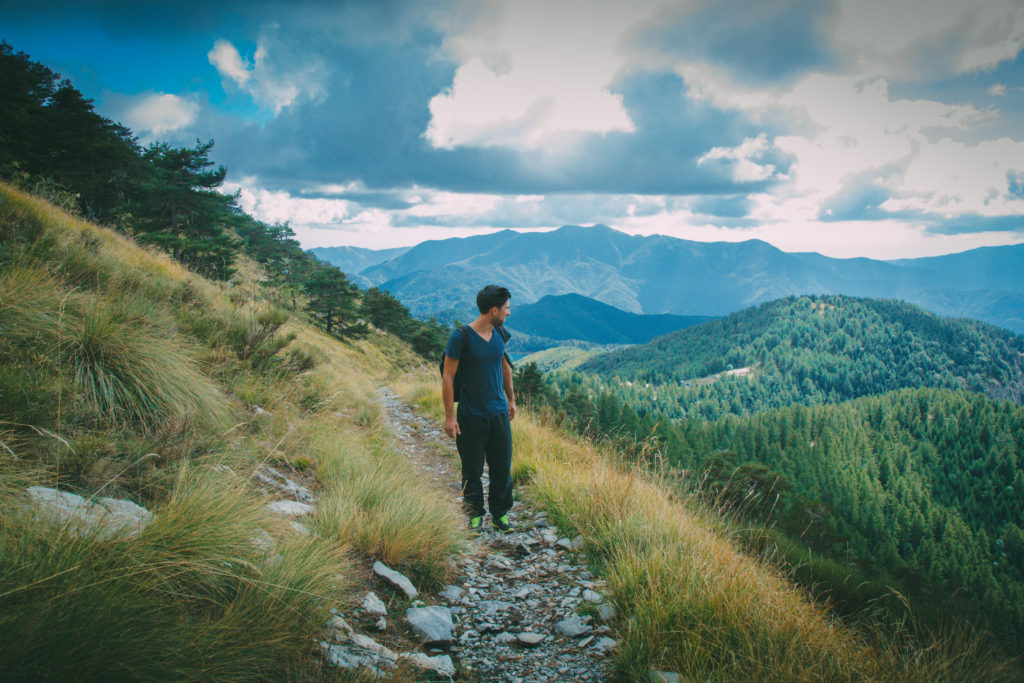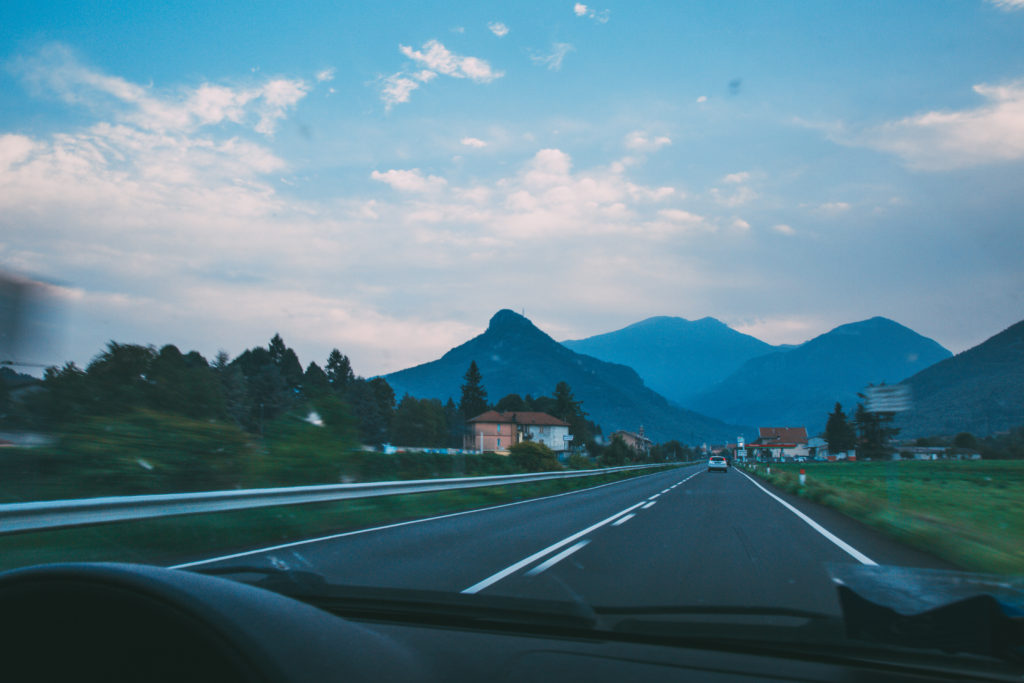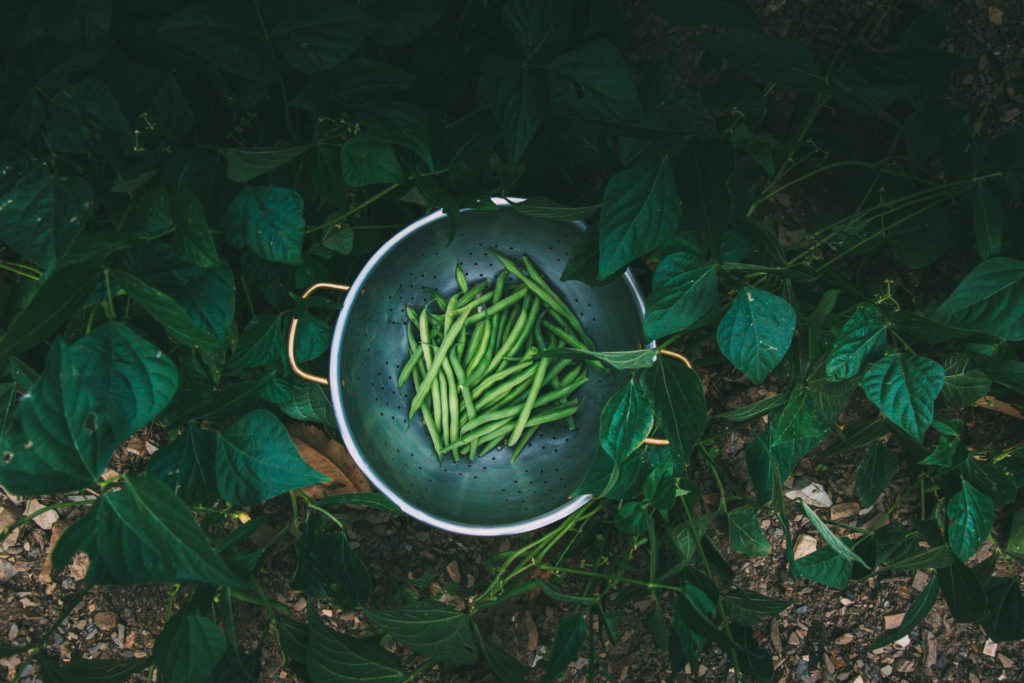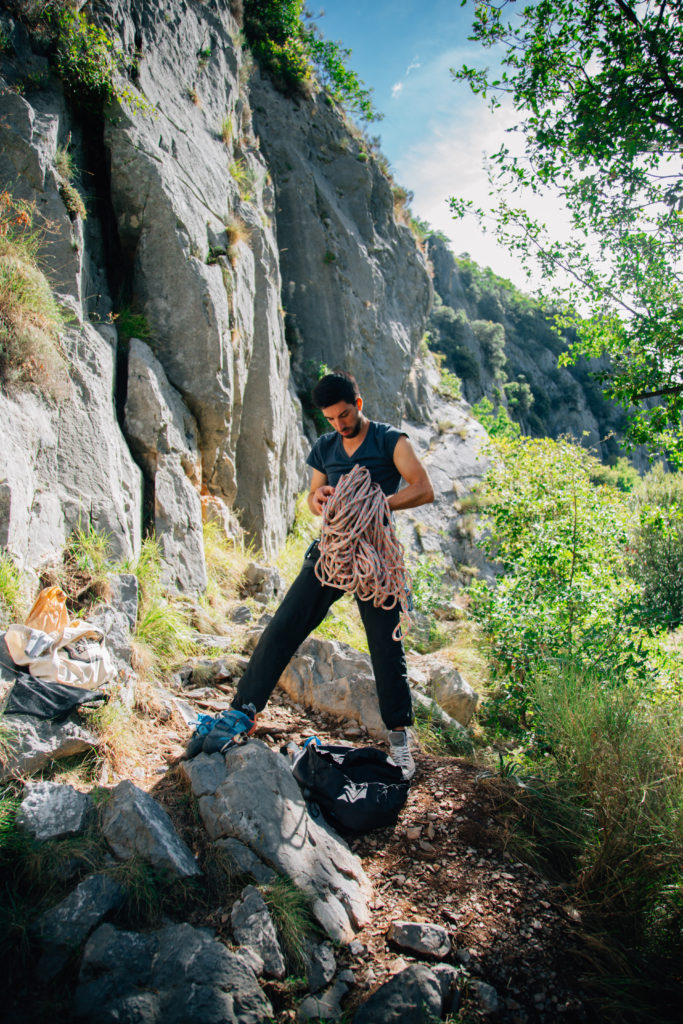 ---
Three layered vanilla and chocolate cake
Saturday, September 3rd, 2016
A few days ago someone commented on one of my posts "you cannot live without milk, eggs, meat, fish and cake". And he was damn right, I cannot live without cake. Vegan cake that is.
Aside from this guy's *fail* moment, which both made me laugh hysterically and cringe because I cannot believe some people criticise without actually even knowing what veganism is, I actually really can't live without cake.
So to celebrate being alive that day I made cake, a three layered vanilla and chocolate cake that, my dears, will make you dream. It's creamy, it's soft and so good I can't wait to celebrate my next few dozen birthdays by making one.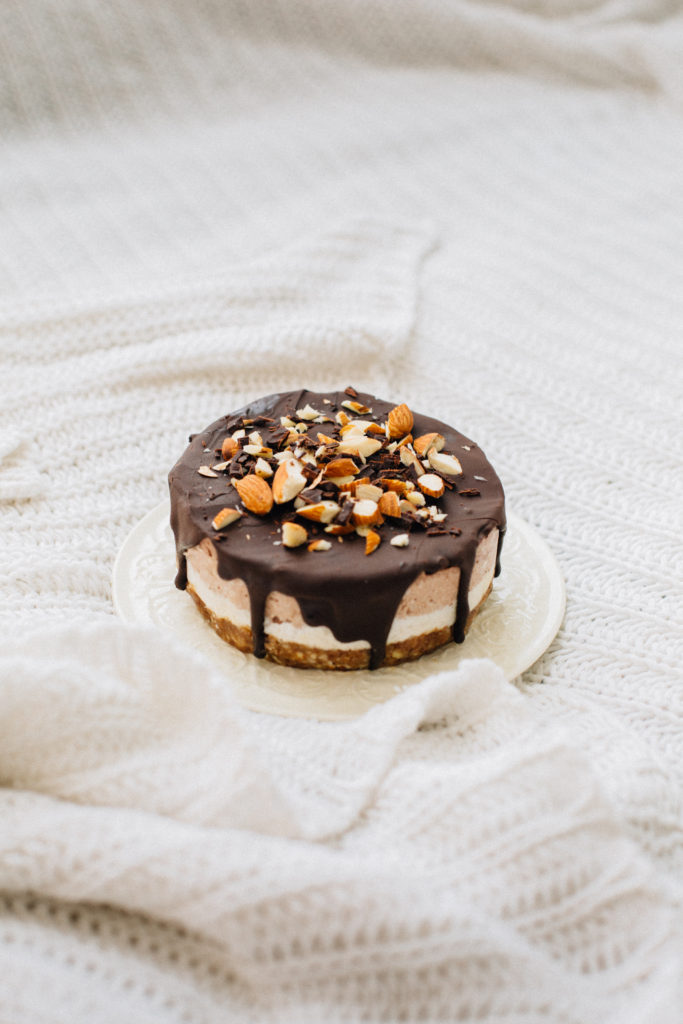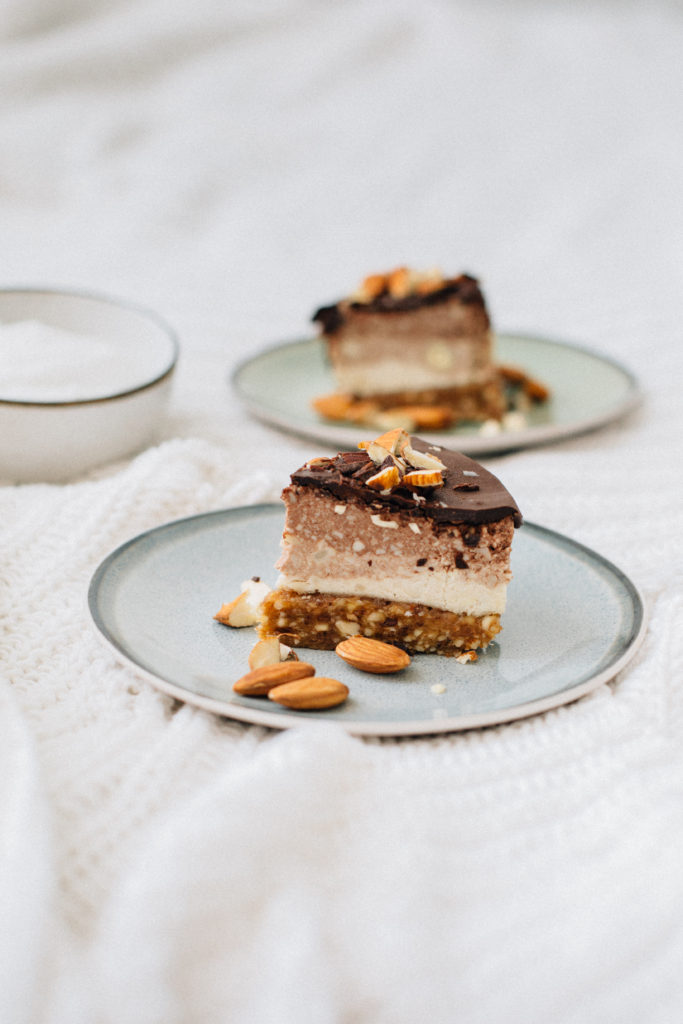 Three layered vanilla chocolate cake
(makes one 16cm / 6,3 inch springform pan)
Bottom layer
150 g almonds, natural
10 medjool dates
Top layers
250 g raw cashew nuts
150 ml coconut cream
2 tbsp agave nectar
1 tsp vanilla extract
4 tbsp cocoa powder
Toppings
150 g dark vegan chocolate
50 g almonds, natural
Soak cashew nuts overnight or at least for four hours. Rinse well and drain.
To make the crust, mix almonds in a blender (roughly if you want a more crispy crust), add medjool dates and mix until doughy.
Line a 16 cm springform pan with parchment paper (note: you can use a bigger pan, but your cake will be flatter). Press the date and almond mixture into it, press well and flatten it, then set aside.
In the blender mix all the cashew nuts with the coconut cream, agave nectar and vanilla extract. Mix until smooth and pour in a bowl. Take one third of the mixture and pour over the date and almond layer of the cake.
Pour the mixture back into the blender. Add two tablespoons of cocoa powder. Blend and pour in a bowl. Take half of the mixture and pour over the first white layer of the cake.
Pour left mixture back into the blender and add two more tablespoons of cocoa powder. Blend and pour on top of the second layer.
Put the cake tin in the freezer for at least two hours.
Take out of the freezer one hour before serving. Wait until the cake gets to room temperature (or at least until it's not frozen anymore) to take our of the pan, otherwise it will break.
To decorate, melt the dark chocolate au bain marie. Chop almonds roughly.Pour the chocolate over the cake and top with almonds.
---
Affogato al caffè – vegan dessert
Tuesday, August 30th, 2016
Whenever I visit my parents in Italy, my mum always likes to take one afternoon just for the two of us and go to our favourite gelato place. Imagine this place, just near the beach, with a view on the sea, where you can sit outside in the hot summer days; it's just perfect to spend some time together with mum and talk about the everythings and nothings on our minds.
The past few years I've been ordering some sorbet or something not containing dairy or eggs, while she has been ordering these huge, amazing-looking, affogato al cioccolato or affogato al caffé. It looks like she's just won a prize when this big cup in coffee "drowned" ice cream arrives and honestly, although I don't feel the urge to have one as well, I feel like it's a shame they don't make a vegan version.
But veganism is not very popular in Italy just yet, and since today marks T – 2 weeks to our next trip to the land of pasta and gelato, I decided to make my own affogato al caffé, to celebrate summer and the fact that in a little over two weeks I'll see my parents again.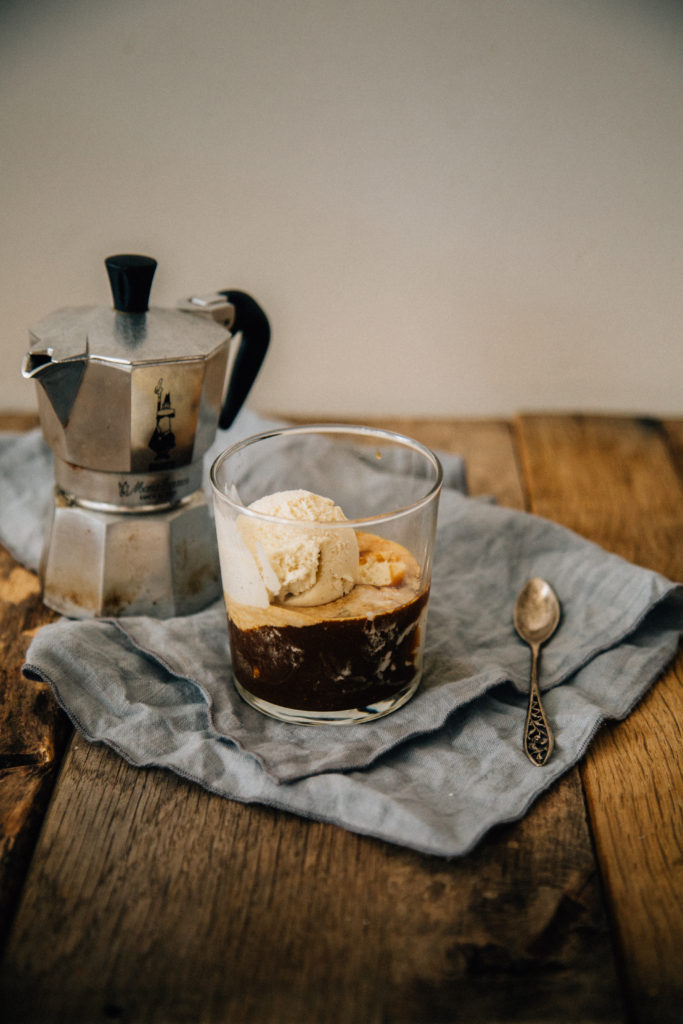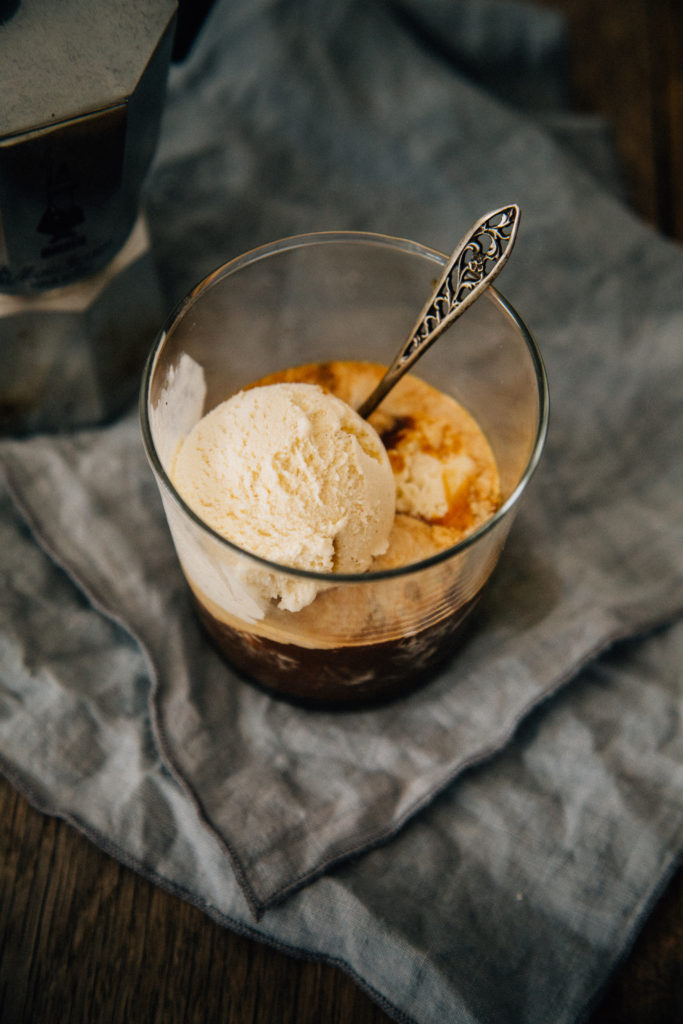 I don't even know if I should call this a recipe, but this is just too good not to be shared.
Affogato al caffè (for two)
One tub of dairy free vanilla ice cream
Freshly made espresso (three shots)
Toppings (pistachios, molten dark chocolate,..)
Make espresso and place aside to cool.
Put two scoops of vanilla ice cream in a tall glass.
Pour cooled espresso over it and decorate.
---
Pesto, an untraditional recipe – Vegan
Monday, August 22nd, 2016
Whenever I smell basil or ripe organic tomatoes my thoughts wander to all the hot Italian summers of my youth. Roberto and I come from Liguria, the Italian region where pesto is made, and together with the fresh pesto leaves, August is characterised by ripening tomatoes. The smell fills the evening air, especially when watering the plants after a long sunny day. This is the kind of feeling that made us take the decision to go back and settle down in Italy, despite all the economical and organisational problems of the country.
This year we've tried to grow both tomatoes and basil in our apartment in Holland. We don't have any outside space, not even a balcony, so we've used our window sills as a garden. The whole experiment has been a success, as both are still growing and giving us beautiful and delicious tomatoes and bright green basil leaves. We're kind of proud of our little inside garden.
We add basil to our tomato sauces and to many of our mediterranean vegetable dishes (soups, ratatouille,..). But we had never made pesto with it, so it was high time we did.
The original recipe contains two cheeses, parmigiano reggiano and pecorino, which I substituted with nutritional yeast for the taste (and the B vitamins). And I also substituted the pine nuts with raw cashew nuts. The result was amazing, just as tasting as the original, and even tough some people back at home would hate me if they read this, there's no need for cheese in pesto, it's absolutely delicious like this.
I was planning on being the super healthy version of me and use this pesto on zucchini pasta, but then Roberto came home super hungry and I knew he wasn't going to be very happy about it, so I just made pasta instead. After you boiled your pasta al dente, add one tablespoon of the boiling water to the pesto, then drain the pasta and put it back in the pan. Add the pesto and sauté on high heat for another minute.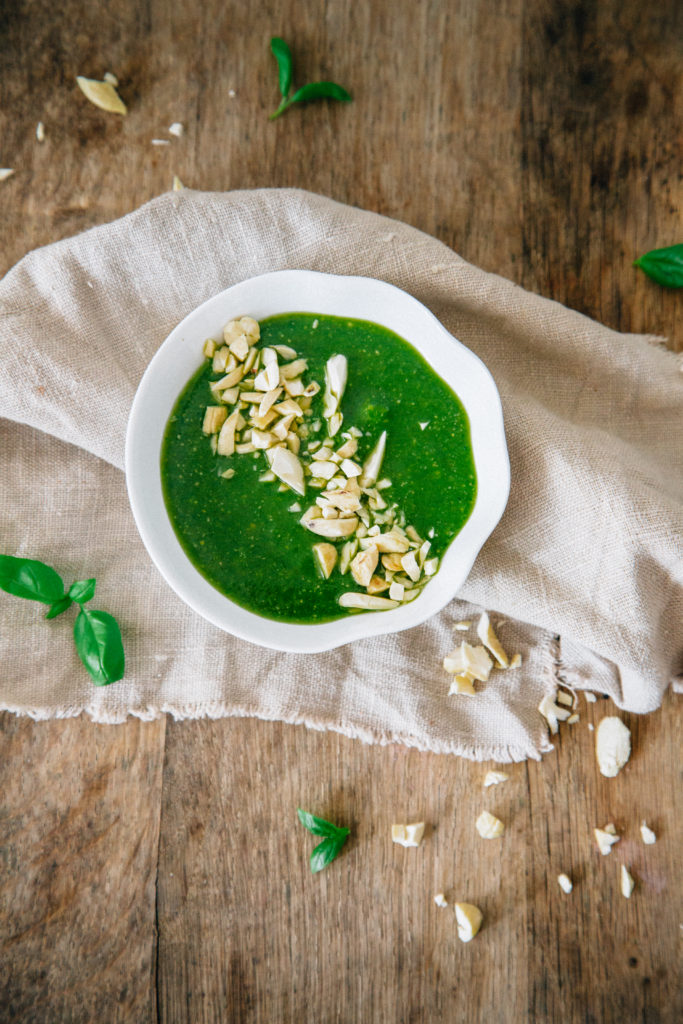 Pesto, the vegan version
(makes about 80 ml, enough for two dishes of pasta)
20 g fresh basil leaves
one garlic clove
1/4 cup (20 g) raw cashew nuts
2 TBSP extra virgin olive oil
1 TBSP nutritional yeast
a pinch of salt
Traditionally, you should never cut basil with a knife because it could ruin its taste. So, if you have mortar and pestel at home, dust it off and make good use of it at least this time.
Mix the basil leaves and the garlic. Cut the cashew nuts on a cutting board with a cook knife. Then add the cashew nuts to the basil and keep mixing. Add nutritional yeast and then slowly the olive oil. Add salt to taste when everything is well mixed together.
If you have a food processor (and don't own a mortar and pestle), mix all ingredients together until well blended. I suggest you use the smallest "cup" part to make this pesto, so the blades will manage to mix everything.
---
Vegan chocolate mousse with coconut cream
Saturday, August 20th, 2016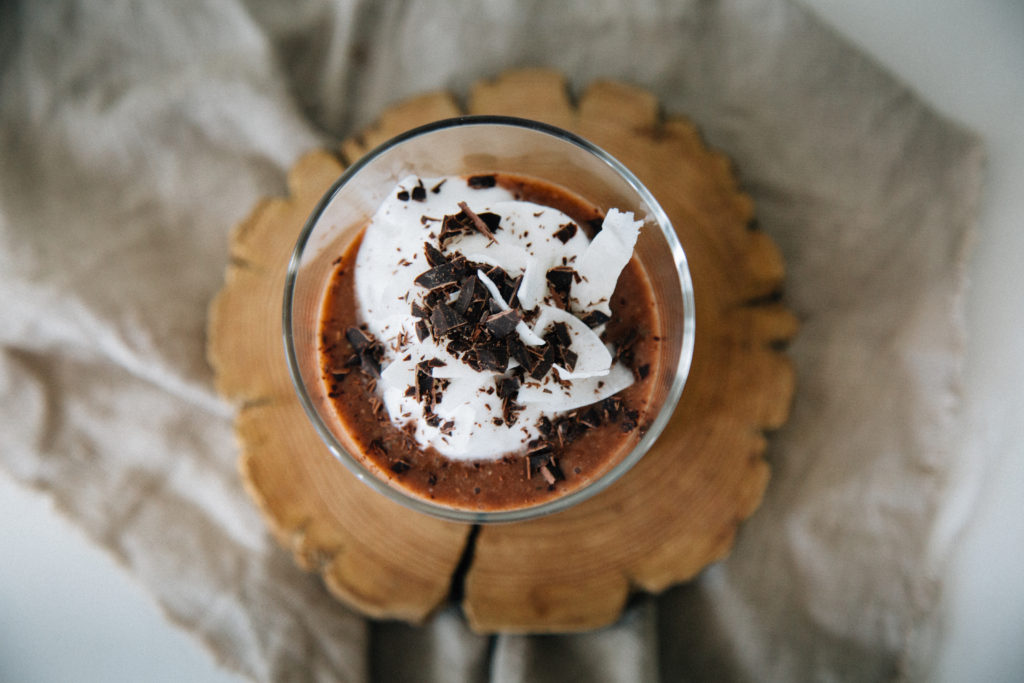 Do you ever have one of those days when you're so tired you just want to sit down and cry? Well, I know I had one of those days yesterday and it was hilarious.
My colleague and I have both been working quite a lot lately, we work in a shop and aside from customers, we also have to make sure everything is unpacked, priced and put on the right shelf at the right time. Many of the other girls of the team have gone on holiday, so we've been left working a bit more than usual. Aside from that we both have our small businesses to run on the side. So yesterday came the day we both couldn't  function properly anymore.
She was styling one corner of the shop when she asked me half laughing, but about to cry "what can I put aside from the mortal and pestle?" and I just wanted to cry because I didn't know, so I just said "don't cry, otherwise I will cry as well!" and we both started laughing with tears in our eyes.
Later on I was arranging some terracotta pots when the whole pile fell on the floor, and just like them I sat down and broke into yet another half-laugh-half-cry moment.
Then a customer asked her "do you sell butter brushes?" but we've always referred to them as "baking brushes", so she turned to me desperate with another tear in her eye and said "do we sell butter brushes?" and I answered "don't cry!". And there we were, all three of us, my colleague, me, and the customer laughing the situation away.
I think everyone has some days like that. The important thing is to remember we are as happy as we make up our mind to be. So yesterday I came home late and soaking wet as it starting raining while I was walking home on my flip-flops, and I remembered the time my friend Omar and I came home under a storm after judo when we were eight; and we stopped under a drainpipe to shower under the rain water and we were so happy, so so happy that I have never forgotten that moment.
So today I woke up happy. My day off started with me thinking about how great and hilarious yesterday actually was. I felt inspired to create and I quickly made something that turned out pretty damn good. I made a completely made up smoothie which turned out to be more of a mousse. And for the first time I tried to whip some coconut cream and, surprise!, it works! So here's the recipe for this chocolate and peach mousse, topped with coconut cream, chocolate and coconut flakes.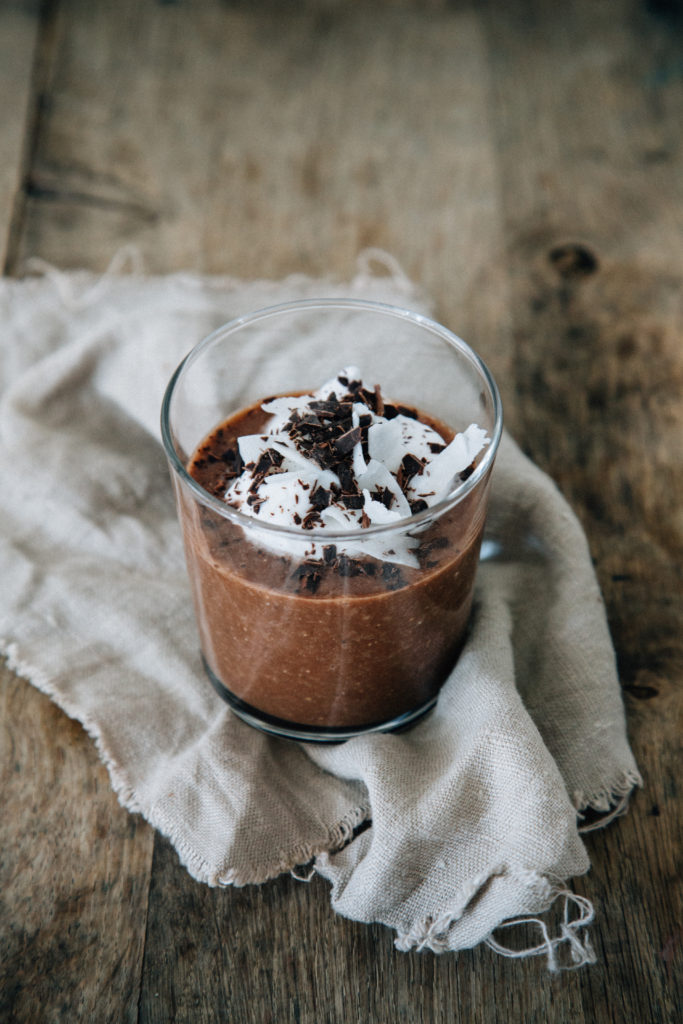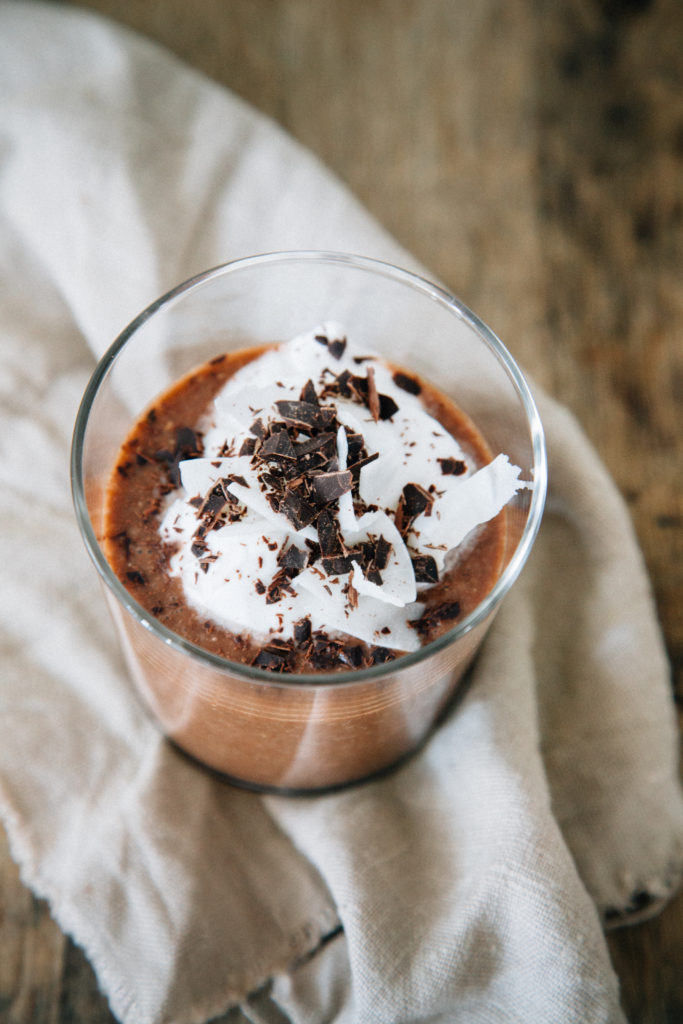 Chocolate mousse (makes to glasses)
two big bananas (or three small ones)
One peach or nectarine
two teaspoons cacao (or cocoa) powder
one tablespoon hemp seeds
a splash of oat milk

For the coconut cream
1 1/2 cups coconut cream
1 teaspoon agave nectar
Toppings:
vegan dark chocolate, shaved
coconut flakes
Mix all the ingredients for the mousse in a blender. Add oat milk as last, just enough to make blending easier. In a bowl add some agave nectar to the coconut cream and whip. Top the mousse with the coconut cream and top with chocolate and coconut flakes.
PS: I was unsure if calling this a smoothie or a mousse, because of the consistency which is halfway between the two. Still, I think it's a bit more of a dessert to be honest, so I went for mousse, hope you will agree.
---
Hazelnut cinnamon granola and raspberry parfait
Monday, August 8th, 2016
It's funny. We moved here five years ago with no money, no place to stay and absolutely no clue if we would find a job. We didn't care, we trusted the future would bring us what we deserved if we worked hard to obtain it. Five years later we both have a good job, a cute little apartment, a handful friends, and yet we don't often look back at what we achieved and were we got. Do you ever do that? Just not giving yourself enough credit?
Soon we'll be traveling for a while and then move back to Italy. It's all so very exciting and we want to document and show you what we see along the way.
As for next year, we'll probably have no home and no stability, so I thought let's take advantage of that now that we have it. Routines like a good breakfast will be hard to create on the road, so homemade and home cooked will be on the menu for a few more months on this blog until we'll leave.
Starting this morning with a homemade granola parfait.
We made this hazelnut cinnamon granola yesterday evening. It's very simple to make and you can make a batch you can store in a jar for a while. We topped the granola with natural soya yoghurt and blended bananas and raspberries. Best breakfast I have had in a while.
HAZELNUT AND CINNAMON GRANOLA
6 cups rolled oats
1/2 cup hazelnuts
1/2 cup coconut oil
3 TBSP cinnamon
1 TBSP grated coconut
1/2 cup dried cranberries
2 TBSP agave nectar
3 TBSP flax seeds
Preheat oven at 160 C. Melt the coconut oil in a small pan on low heat (if it's not already liquid). Add all ingredients in a bowl until well combined. Line a baking tray and spread mixture evenly on the tray.
Bake for 12 minutes at 160 C.
PARFAIT (for two glasses)
Put four tablespoons of granola in each glass. Pour 100 ml non-dairy yoghurt over it in each glass. Mix two bananas and 1 1/2 cup frozen raspberries with a little bit of water for the smoothie. Pour smoothie on top of the yoghurt layer. Top with mixed nuts and seeds.
---
Nine years of summer days
Sunday, August 7th, 2016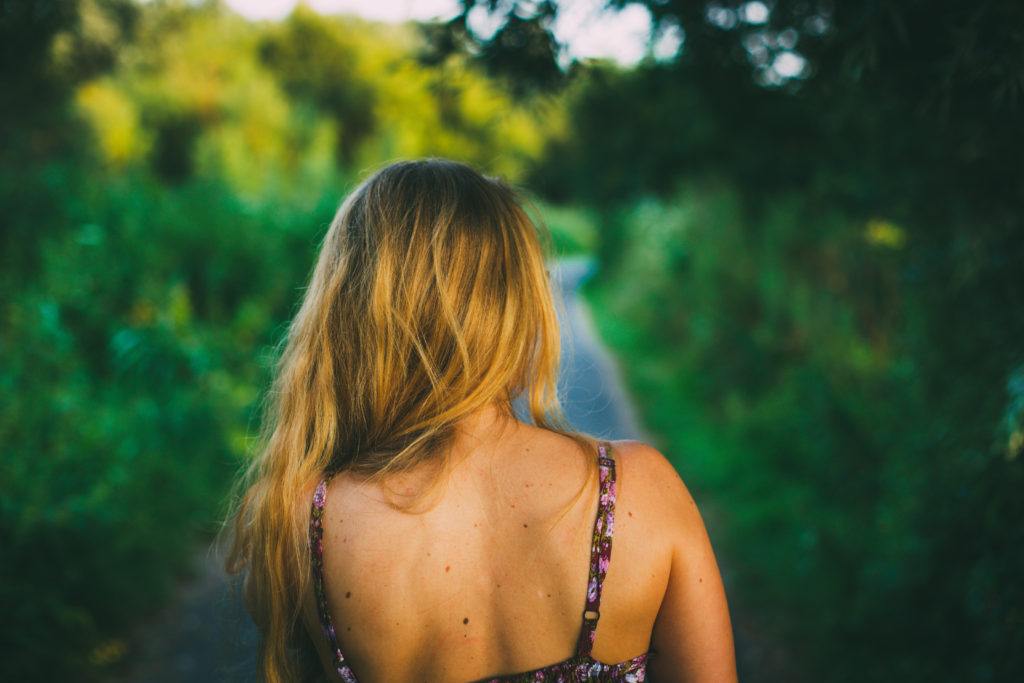 5th august 2016. This morning I woke up at 5 am and couldn't fall back asleep. Like a child I listened to the sounds outside our bedroom window, and the more I listened, the more excited I got for this day. I waited until 7 to wake Roberto up, I hugged him and told him I love him. He looked at me and told me I was beautiful.
This day nine years ago I had just fallen madly in love. Uncertain if I was going or wanted at all to open up and trust someone, I soon discovered that Roberto was everything I could wish for and I wanted nothing more.
The title of this post doesn't implicate these years have been all love, happiness and heart-shaped eyes; but summer storms come and go leaving a fresh and clean air. Next year, our tenth year together, will be a big one: we'll travel an extended period of time, we'll move back to Italy, we'll have to find new jobs, a place to call home, and figure out if we'll be able to make our dreams come true in Italy.
This is all very scary, yet so exciting. I cannot wait to face these fears together and jump in all the adventures we've been waiting for.
Listening to: Una mattina – Ludovico Einaudi
---
Life / May in review
Thursday, June 2nd, 2016
May has been a good month, it has flown by so fast I barely noticed we're pretty munch in summer, despite the weather. Let's see, what have we done?
Climbing. Oh man, I have been telling over and over again to Roberto I would never like climbing. Because I hate heights, and because I couldn't see the fun in it. Then I tried it, and now I am hooked. He has been climbing for over a year now, so he was able to teach me a lot. The first day we went, I didn't trust myself to do anything but a few very simple routes. Now, a few weeks later, I am challenging myself more and more and I love it. I have proved myself to be so wrong in the first place. Anyway, we're now going to our local boulder gym about 5 times a week. Roberto is really killing it, he's climbing 5c and starting 6a now (for our own future reference, he's starting the mint coloured routes). I am at about 5a/b (finishing the yellow routes) now.
Vegetarianism/Veganism. Roberto has openly affirmed he is vegetarian now and I am relieved about it. Nevertheless, I am trying to guide everyone to veganism with a gentle honesty, just by reminding people how immensely cruel the meat and dairy industry is. We've also been replacing all our cosmetics, and cleaning products with cruelty-free ones. It's a long process, because it's expensive, but we are well on our way.
Movies and Series. We've been pretty much devouring The Blacklist on Netflix this month. We have a love/hate relationship with series, because they're so good, but so addictive. I guess, we're not the only ones..
Meditation. Along with climbing, we have started meditating again. Crazily enough, this helps with climbing as well, because sometimes you have to force your mind more that your body to do something. Also, meditating for me some nights means I just fall asleep on the couch, and Roberto wakes me up saying "So, you've been meditating again, uh?".
Roberto's Osteria. Roberto has hosted his first dinner of the series "Roberto Osteria". But more on that in this previous post.
So we're starting a new month with lots of energy 🙂
---