Three layered vanilla and chocolate cake
Saturday, September 3rd, 2016
A few days ago someone commented on one of my posts "you cannot live without milk, eggs, meat, fish and cake". And he was damn right, I cannot live without cake. Vegan cake that is.
Aside from this guy's *fail* moment, which both made me laugh hysterically and cringe because I cannot believe some people criticise without actually even knowing what veganism is, I actually really can't live without cake.
So to celebrate being alive that day I made cake, a three layered vanilla and chocolate cake that, my dears, will make you dream. It's creamy, it's soft and so good I can't wait to celebrate my next few dozen birthdays by making one.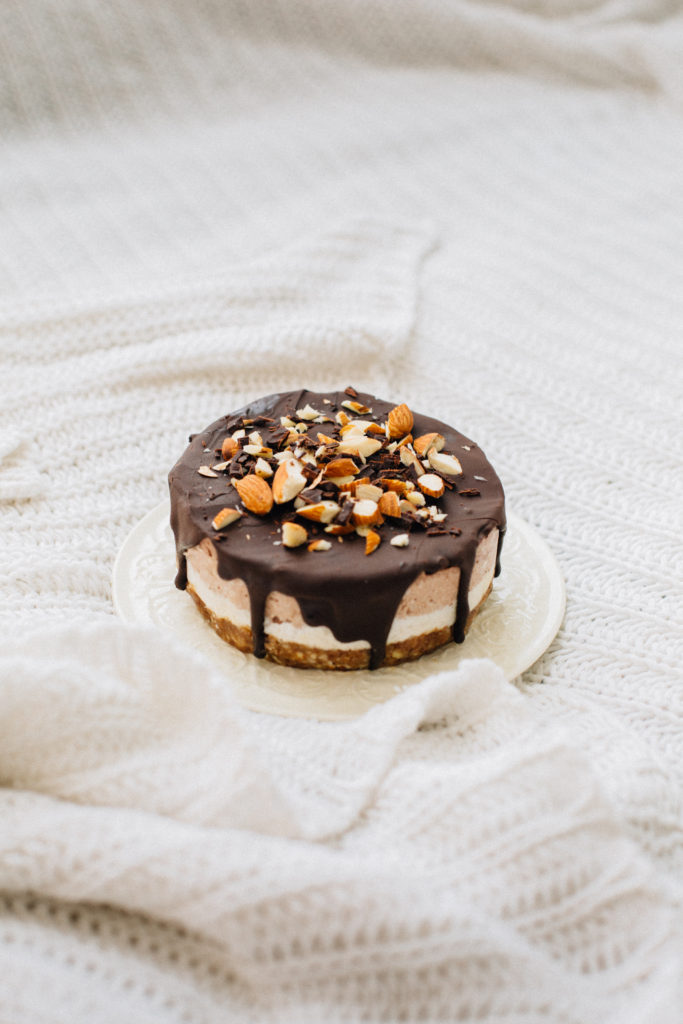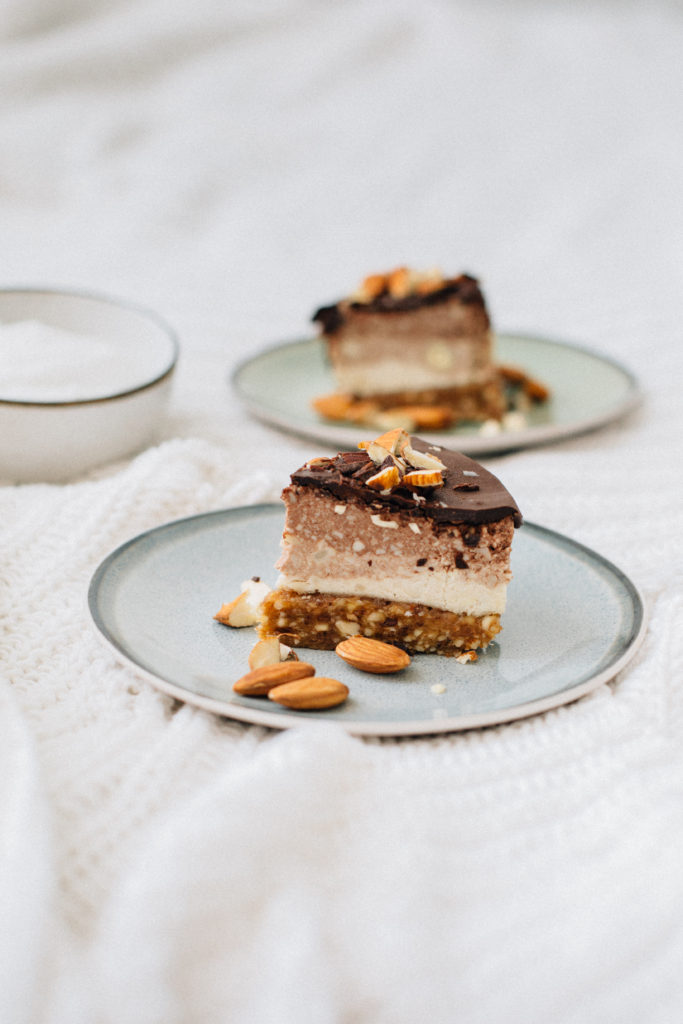 Three layered vanilla chocolate cake
(makes one 16cm / 6,3 inch springform pan)
Bottom layer
150 g almonds, natural
10 medjool dates
Top layers
250 g raw cashew nuts
150 ml coconut cream
2 tbsp agave nectar
1 tsp vanilla extract
4 tbsp cocoa powder
Toppings
150 g dark vegan chocolate
50 g almonds, natural
Soak cashew nuts overnight or at least for four hours. Rinse well and drain.
To make the crust, mix almonds in a blender (roughly if you want a more crispy crust), add medjool dates and mix until doughy.
Line a 16 cm springform pan with parchment paper (note: you can use a bigger pan, but your cake will be flatter). Press the date and almond mixture into it, press well and flatten it, then set aside.
In the blender mix all the cashew nuts with the coconut cream, agave nectar and vanilla extract. Mix until smooth and pour in a bowl. Take one third of the mixture and pour over the date and almond layer of the cake.
Pour the mixture back into the blender. Add two tablespoons of cocoa powder. Blend and pour in a bowl. Take half of the mixture and pour over the first white layer of the cake.
Pour left mixture back into the blender and add two more tablespoons of cocoa powder. Blend and pour on top of the second layer.
Put the cake tin in the freezer for at least two hours.
Take out of the freezer one hour before serving. Wait until the cake gets to room temperature (or at least until it's not frozen anymore) to take our of the pan, otherwise it will break.
To decorate, melt the dark chocolate au bain marie. Chop almonds roughly.Pour the chocolate over the cake and top with almonds.
---
Affogato al caffè – vegan dessert
Tuesday, August 30th, 2016
Whenever I visit my parents in Italy, my mum always likes to take one afternoon just for the two of us and go to our favourite gelato place. Imagine this place, just near the beach, with a view on the sea, where you can sit outside in the hot summer days; it's just perfect to spend some time together with mum and talk about the everythings and nothings on our minds.
The past few years I've been ordering some sorbet or something not containing dairy or eggs, while she has been ordering these huge, amazing-looking, affogato al cioccolato or affogato al caffé. It looks like she's just won a prize when this big cup in coffee "drowned" ice cream arrives and honestly, although I don't feel the urge to have one as well, I feel like it's a shame they don't make a vegan version.
But veganism is not very popular in Italy just yet, and since today marks T – 2 weeks to our next trip to the land of pasta and gelato, I decided to make my own affogato al caffé, to celebrate summer and the fact that in a little over two weeks I'll see my parents again.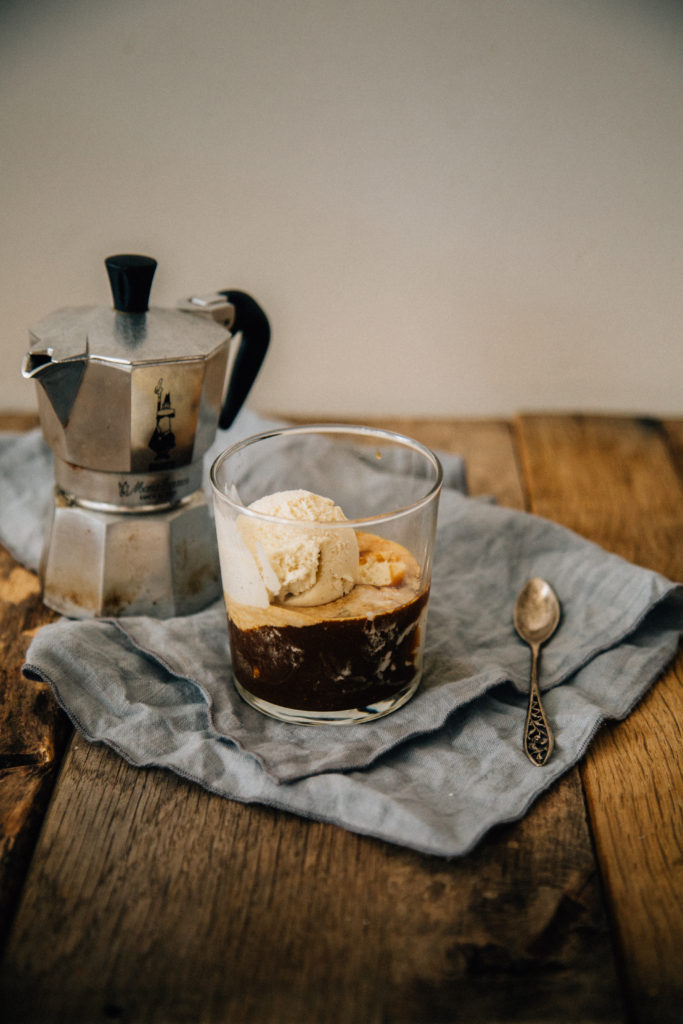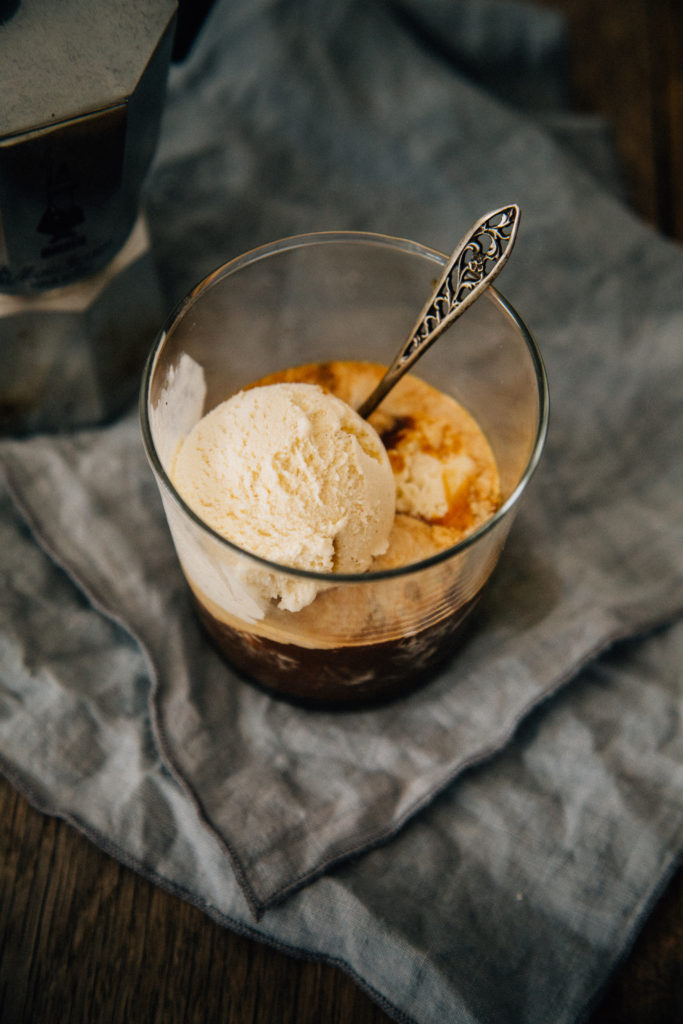 I don't even know if I should call this a recipe, but this is just too good not to be shared.
Affogato al caffè (for two)
One tub of dairy free vanilla ice cream
Freshly made espresso (three shots)
Toppings (pistachios, molten dark chocolate,..)
Make espresso and place aside to cool.
Put two scoops of vanilla ice cream in a tall glass.
Pour cooled espresso over it and decorate.
---
Pesto, an untraditional recipe – Vegan
Monday, August 22nd, 2016
Whenever I smell basil or ripe organic tomatoes my thoughts wander to all the hot Italian summers of my youth. Roberto and I come from Liguria, the Italian region where pesto is made, and together with the fresh pesto leaves, August is characterised by ripening tomatoes. The smell fills the evening air, especially when watering the plants after a long sunny day. This is the kind of feeling that made us take the decision to go back and settle down in Italy, despite all the economical and organisational problems of the country.
This year we've tried to grow both tomatoes and basil in our apartment in Holland. We don't have any outside space, not even a balcony, so we've used our window sills as a garden. The whole experiment has been a success, as both are still growing and giving us beautiful and delicious tomatoes and bright green basil leaves. We're kind of proud of our little inside garden.
We add basil to our tomato sauces and to many of our mediterranean vegetable dishes (soups, ratatouille,..). But we had never made pesto with it, so it was high time we did.
The original recipe contains two cheeses, parmigiano reggiano and pecorino, which I substituted with nutritional yeast for the taste (and the B vitamins). And I also substituted the pine nuts with raw cashew nuts. The result was amazing, just as tasting as the original, and even tough some people back at home would hate me if they read this, there's no need for cheese in pesto, it's absolutely delicious like this.
I was planning on being the super healthy version of me and use this pesto on zucchini pasta, but then Roberto came home super hungry and I knew he wasn't going to be very happy about it, so I just made pasta instead. After you boiled your pasta al dente, add one tablespoon of the boiling water to the pesto, then drain the pasta and put it back in the pan. Add the pesto and sauté on high heat for another minute.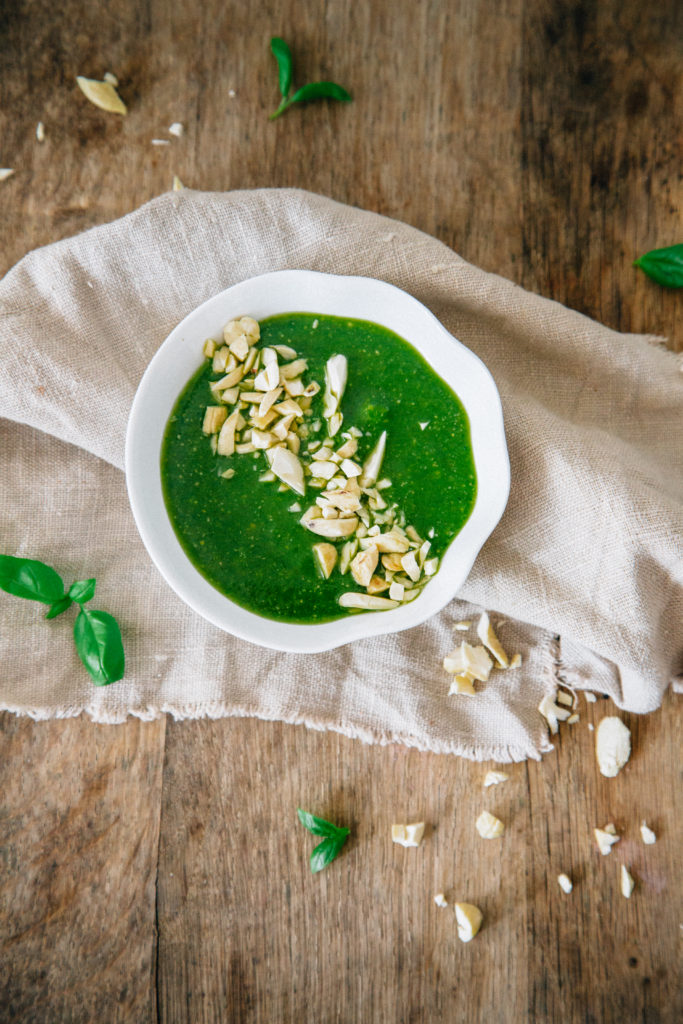 Pesto, the vegan version
(makes about 80 ml, enough for two dishes of pasta)
20 g fresh basil leaves
one garlic clove
1/4 cup (20 g) raw cashew nuts
2 TBSP extra virgin olive oil
1 TBSP nutritional yeast
a pinch of salt
Traditionally, you should never cut basil with a knife because it could ruin its taste. So, if you have mortar and pestel at home, dust it off and make good use of it at least this time.
Mix the basil leaves and the garlic. Cut the cashew nuts on a cutting board with a cook knife. Then add the cashew nuts to the basil and keep mixing. Add nutritional yeast and then slowly the olive oil. Add salt to taste when everything is well mixed together.
If you have a food processor (and don't own a mortar and pestle), mix all ingredients together until well blended. I suggest you use the smallest "cup" part to make this pesto, so the blades will manage to mix everything.
---
Vegan chocolate mousse with coconut cream
Saturday, August 20th, 2016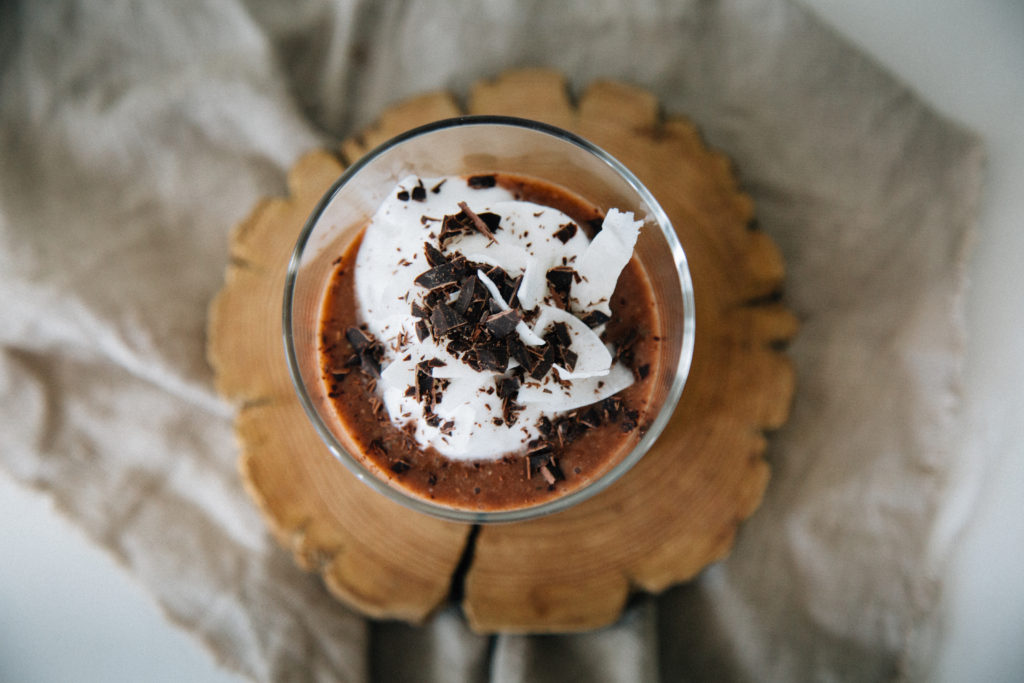 Do you ever have one of those days when you're so tired you just want to sit down and cry? Well, I know I had one of those days yesterday and it was hilarious.
My colleague and I have both been working quite a lot lately, we work in a shop and aside from customers, we also have to make sure everything is unpacked, priced and put on the right shelf at the right time. Many of the other girls of the team have gone on holiday, so we've been left working a bit more than usual. Aside from that we both have our small businesses to run on the side. So yesterday came the day we both couldn't  function properly anymore.
She was styling one corner of the shop when she asked me half laughing, but about to cry "what can I put aside from the mortal and pestle?" and I just wanted to cry because I didn't know, so I just said "don't cry, otherwise I will cry as well!" and we both started laughing with tears in our eyes.
Later on I was arranging some terracotta pots when the whole pile fell on the floor, and just like them I sat down and broke into yet another half-laugh-half-cry moment.
Then a customer asked her "do you sell butter brushes?" but we've always referred to them as "baking brushes", so she turned to me desperate with another tear in her eye and said "do we sell butter brushes?" and I answered "don't cry!". And there we were, all three of us, my colleague, me, and the customer laughing the situation away.
I think everyone has some days like that. The important thing is to remember we are as happy as we make up our mind to be. So yesterday I came home late and soaking wet as it starting raining while I was walking home on my flip-flops, and I remembered the time my friend Omar and I came home under a storm after judo when we were eight; and we stopped under a drainpipe to shower under the rain water and we were so happy, so so happy that I have never forgotten that moment.
So today I woke up happy. My day off started with me thinking about how great and hilarious yesterday actually was. I felt inspired to create and I quickly made something that turned out pretty damn good. I made a completely made up smoothie which turned out to be more of a mousse. And for the first time I tried to whip some coconut cream and, surprise!, it works! So here's the recipe for this chocolate and peach mousse, topped with coconut cream, chocolate and coconut flakes.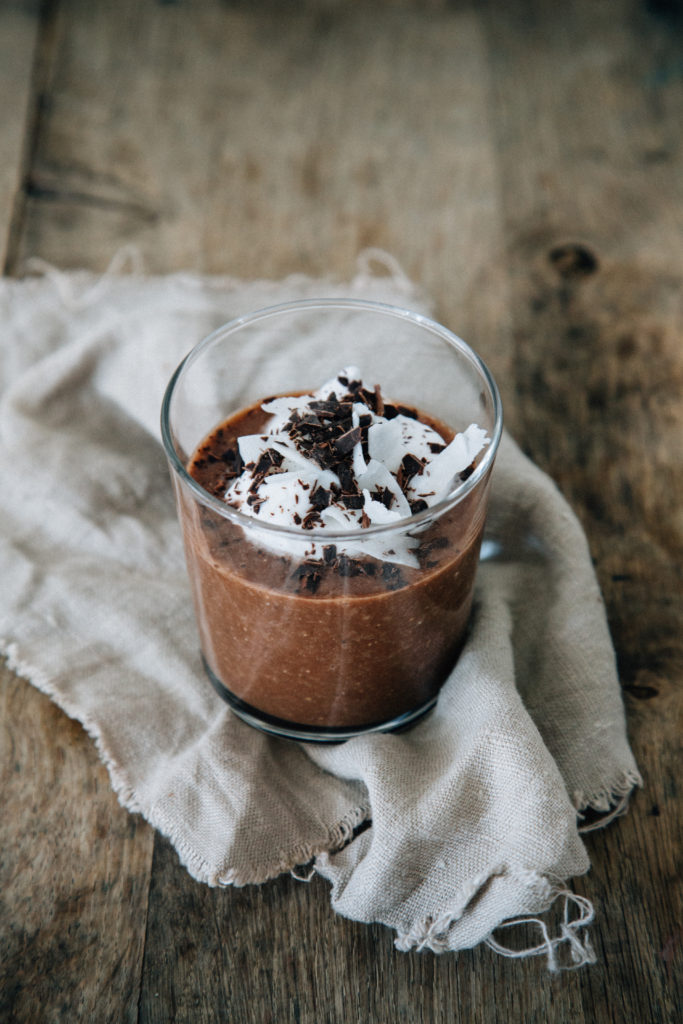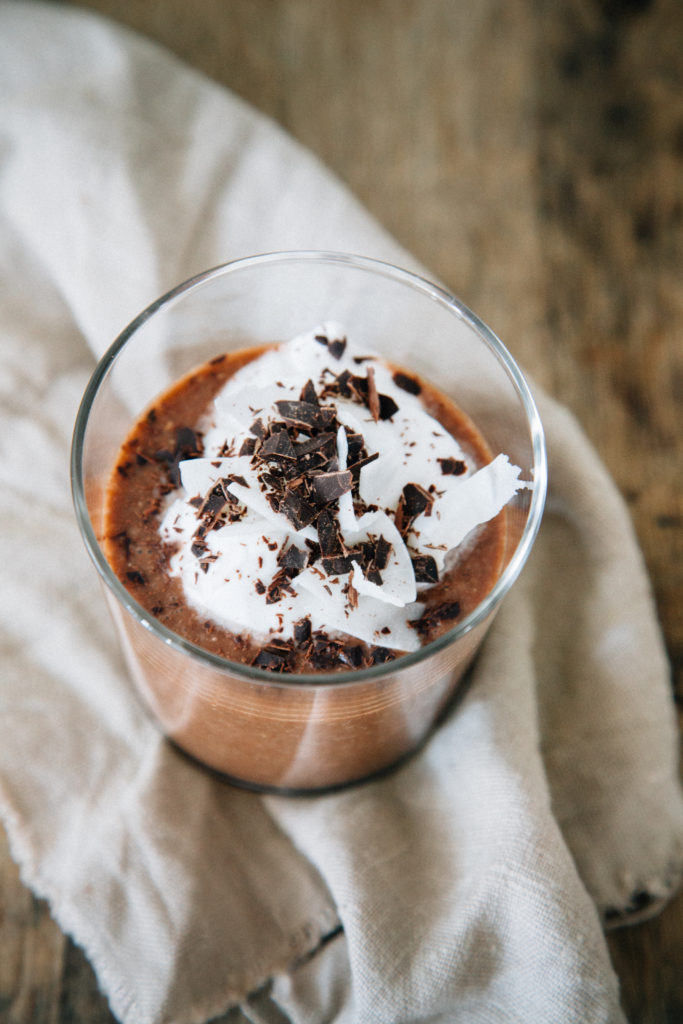 Chocolate mousse (makes to glasses)
two big bananas (or three small ones)
One peach or nectarine
two teaspoons cacao (or cocoa) powder
one tablespoon hemp seeds
a splash of oat milk

For the coconut cream
1 1/2 cups coconut cream
1 teaspoon agave nectar
Toppings:
vegan dark chocolate, shaved
coconut flakes
Mix all the ingredients for the mousse in a blender. Add oat milk as last, just enough to make blending easier. In a bowl add some agave nectar to the coconut cream and whip. Top the mousse with the coconut cream and top with chocolate and coconut flakes.
PS: I was unsure if calling this a smoothie or a mousse, because of the consistency which is halfway between the two. Still, I think it's a bit more of a dessert to be honest, so I went for mousse, hope you will agree.
---
Hazelnut cinnamon granola and raspberry parfait
Monday, August 8th, 2016
It's funny. We moved here five years ago with no money, no place to stay and absolutely no clue if we would find a job. We didn't care, we trusted the future would bring us what we deserved if we worked hard to obtain it. Five years later we both have a good job, a cute little apartment, a handful friends, and yet we don't often look back at what we achieved and were we got. Do you ever do that? Just not giving yourself enough credit?
Soon we'll be traveling for a while and then move back to Italy. It's all so very exciting and we want to document and show you what we see along the way.
As for next year, we'll probably have no home and no stability, so I thought let's take advantage of that now that we have it. Routines like a good breakfast will be hard to create on the road, so homemade and home cooked will be on the menu for a few more months on this blog until we'll leave.
Starting this morning with a homemade granola parfait.
We made this hazelnut cinnamon granola yesterday evening. It's very simple to make and you can make a batch you can store in a jar for a while. We topped the granola with natural soya yoghurt and blended bananas and raspberries. Best breakfast I have had in a while.
HAZELNUT AND CINNAMON GRANOLA
6 cups rolled oats
1/2 cup hazelnuts
1/2 cup coconut oil
3 TBSP cinnamon
1 TBSP grated coconut
1/2 cup dried cranberries
2 TBSP agave nectar
3 TBSP flax seeds
Preheat oven at 160 C. Melt the coconut oil in a small pan on low heat (if it's not already liquid). Add all ingredients in a bowl until well combined. Line a baking tray and spread mixture evenly on the tray.
Bake for 12 minutes at 160 C.
PARFAIT (for two glasses)
Put four tablespoons of granola in each glass. Pour 100 ml non-dairy yoghurt over it in each glass. Mix two bananas and 1 1/2 cup frozen raspberries with a little bit of water for the smoothie. Pour smoothie on top of the yoghurt layer. Top with mixed nuts and seeds.
---
Nine years of summer days
Sunday, August 7th, 2016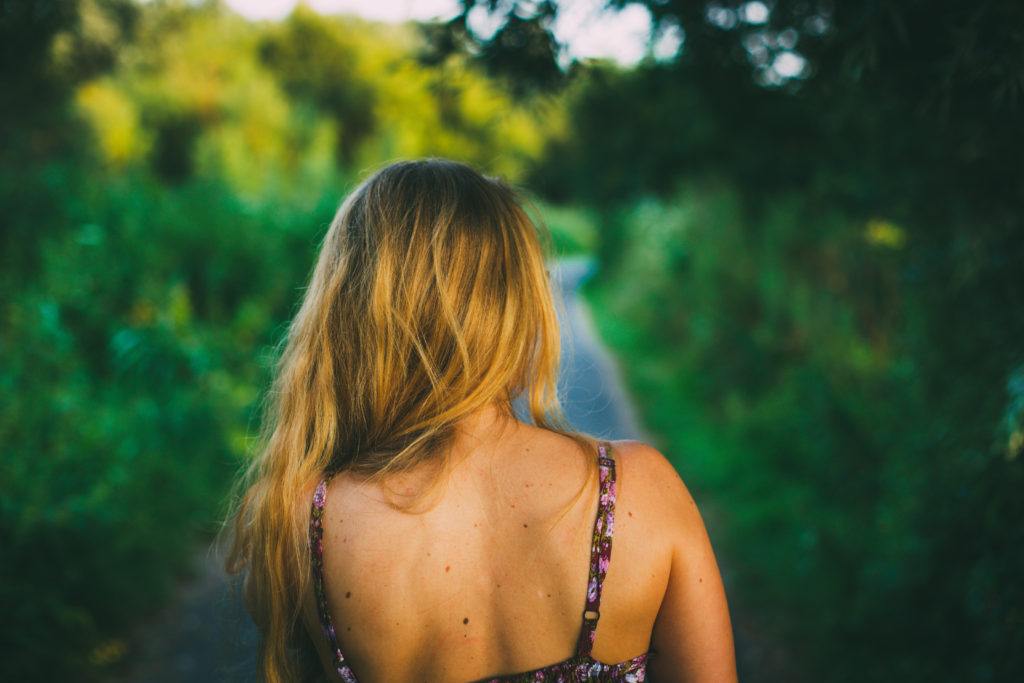 5th august 2016. This morning I woke up at 5 am and couldn't fall back asleep. Like a child I listened to the sounds outside our bedroom window, and the more I listened, the more excited I got for this day. I waited until 7 to wake Roberto up, I hugged him and told him I love him. He looked at me and told me I was beautiful.
This day nine years ago I had just fallen madly in love. Uncertain if I was going or wanted at all to open up and trust someone, I soon discovered that Roberto was everything I could wish for and I wanted nothing more.
The title of this post doesn't implicate these years have been all love, happiness and heart-shaped eyes; but summer storms come and go leaving a fresh and clean air. Next year, our tenth year together, will be a big one: we'll travel an extended period of time, we'll move back to Italy, we'll have to find new jobs, a place to call home, and figure out if we'll be able to make our dreams come true in Italy.
This is all very scary, yet so exciting. I cannot wait to face these fears together and jump in all the adventures we've been waiting for.
Listening to: Una mattina – Ludovico Einaudi
---
Life / May in review
Thursday, June 2nd, 2016
May has been a good month, it has flown by so fast I barely noticed we're pretty munch in summer, despite the weather. Let's see, what have we done?
Climbing. Oh man, I have been telling over and over again to Roberto I would never like climbing. Because I hate heights, and because I couldn't see the fun in it. Then I tried it, and now I am hooked. He has been climbing for over a year now, so he was able to teach me a lot. The first day we went, I didn't trust myself to do anything but a few very simple routes. Now, a few weeks later, I am challenging myself more and more and I love it. I have proved myself to be so wrong in the first place. Anyway, we're now going to our local boulder gym about 5 times a week. Roberto is really killing it, he's climbing 5c and starting 6a now (for our own future reference, he's starting the mint coloured routes). I am at about 5a/b (finishing the yellow routes) now.
Vegetarianism/Veganism. Roberto has openly affirmed he is vegetarian now and I am relieved about it. Nevertheless, I am trying to guide everyone to veganism with a gentle honesty, just by reminding people how immensely cruel the meat and dairy industry is. We've also been replacing all our cosmetics, and cleaning products with cruelty-free ones. It's a long process, because it's expensive, but we are well on our way.
Movies and Series. We've been pretty much devouring The Blacklist on Netflix this month. We have a love/hate relationship with series, because they're so good, but so addictive. I guess, we're not the only ones..
Meditation. Along with climbing, we have started meditating again. Crazily enough, this helps with climbing as well, because sometimes you have to force your mind more that your body to do something. Also, meditating for me some nights means I just fall asleep on the couch, and Roberto wakes me up saying "So, you've been meditating again, uh?".
Roberto's Osteria. Roberto has hosted his first dinner of the series "Roberto Osteria". But more on that in this previous post.
So we're starting a new month with lots of energy 🙂
---
May playlist | The Blacklist
Thursday, June 2nd, 2016
Hi there! So June has started, but time should just calm down and slow down for a second, because I haven't posted our monthly playlist yet, nor have I written a month in review post. Anyway, I guess today is the day to do it.
You will read in our review that this month we've been pretty much watching The Blacklist or gone climbing every day. Either one or the other. So, this month's playlist is about that.
Most of the songs are from the series, the Nothing but Thieves songs are from our days climbing, we have been playing these songs on repeat in the car. And then my favourite of this month: "To Build a Home" by the Cinematic Orchestra, which brings me back to Italy in a second.
---
Roberto's Osteria
Monday, May 23rd, 2016
Last week Roberto hosted the first edition of Roberto's Osteria at De Keuken van Greendelicious. He cooked vegetarian Italian dishes, mostly from our region, Liguria, for twelve people who had reserved a place.
It was such a nice day, it was a test in a way of how we work together and also to me it was amazing to see how this guy manages stress.
This season is quite the low season in Italy's vegetable world, so we had to pick the few things people eat while waiting for the richness of the warmer days: nettle, turnip tops, broad beans, and of course, asparagus.
ON THE MENU:
bruschette with nettle pesto and broad beans
farinata (made by me)
olives from Roberto's dad
turnip tops and potato soup
asparagus risotto
spring salad
tiramisù
We spend the day cooking and preparing and when the guests came it was showtime for Roberto. The guests were happy and liked the dishes. Hopeing there will be a second edition, here is a glimpse into the first one.
---
A cook dating a vegan
Friday, May 6th, 2016
I have been vegan for five months now and I thought it would be a good idea to evaluate how that has of hasn't affected our life and relationship, because after all a cook dating a vegan sounds pretty crazy, doesn't it?
The meat eater stage.
Roberto and I met almost nine years ago. When we first met we were both meat eaters. I had been vegetarian for a couple of years during my childhood, but since doctors told my parents meat was important for my growth and health (*facepalm*), I figured they were right and, despite being reluctant, I ate meat every now and then.
The first summer we spent together, we used to go out and very often and we would end up at a kebab place in the middle of the night, having a big fat kebab, usually with fries. I still kept in the back of my head that those were animals who had been slaughtered, so I often felt guilty afterwards; however, I wanted to fit in and being the shy girl I was, I didn't want to expose myself and my beliefs.
Becoming vegetarian.
Around the end of my first year at university I decided to stop acting so hypocritically, the thought of animals being killed kept haunting me, so I decided I would never have meat again. Unfortunately, next to that decision I developed an eating disorder, which lasted three years. I ate very little and run on coffee, I exercised compulsively and kept comparing myself to any other girl I saw. Roberto was there for me all those year, during the worst moments, and I will never thank him enough for that.
To get out of the disordered routine I had created for myself I knew I had to make a drastic change. After I graduated Roberto and I moved to the Netherlands and I slowly started gaining the faith in myself and the love of life back (along with some weight).
When we moved Roberto started working as a cook. It was out of necessity, but he realised he actually liked it. His passion for cooking grew as he could express his creativity  through it. He worked at several restaurants and he started learning more and more.
During that period we talked about vegetarianism a lot and quite honestly I confronted him with the facts, and he decided to give it a try. At that time he was working 16 hours a day, 6 days a week and the new lifestyle he didn't even know how to manage yet made him become very weak and thin. We know now that he wasn't eating enough, but actually we both really thought that maybe some people couldn't handle being a vegetarian. With some pressure from the families he jumped back on the meat wagon.
Into veganism. 
People used to say "but you're not vegan, right? Because that's pretty crazy, that's so restrictive!"; and I totally agreed with them! I would say I would never become a vegan, and I really didn't understand why you would ever get to the point of becoming a vegan. And yet, here I am.
I started watching some videos about veganism and vegan people and they all seemed to make sense. So I watched a few documentaries (Forks over Knives, Earthlings, Cowspiracy) and I felt so stupid for not seeing it all along, for not realising that the baby cow is taken away from the cow for us to get milk, that animals live in terrible conditions even for our eggs and cheese, and that animal agriculture is causing more pollution than anything else.
The first month I challenged myself to live vegan for some time; I wasn't sure I could do it, I thought I loved cheese, eggs and ice cream too much to let them go. But it was exactly the opposite, it was so easy. Literally anything can be replaced, and after realising the truth, I just couldn't have animal products anymore without feeling guilty. This time I wasn't a shy adolescent and I just started living a happy vegan life.
Meanwhile, Roberto watched those documentaries with me. He stopped eating meat a while ago, but when in social circumstances he will still have some every now and then, especially around the family (he's Italian, and vegetarianism is almost not an option in the mind of many Italians). At work he still has to prepare dishes with meat and fish. He loves his job and I love that he dreams of working in a vegetarian restaurant.
What does he think about veganism and what do I think about working with meat.
When I went vegetarian I did it for ethical reasons only. I wasn't really involved with the vegetarian community and I just ate everything except the meat or fish. Veganism made me much more involved and informed. I want to know so that I can spread the message, with kindness. I am so passionate I sometimes am overwhelmed, I want people to see the truth, to realise killing animals is not normal, it is an atrocity.
Roberto silently watched me make all these changes. He has accepted and understood why I did it, and guys, he cooks vegan for us every evening. Sometimes he will add some cheese to his meal or bake an egg. I will look at him with crazy eyes, but I cannot force him to do something he doesn't want to.
Veganism made me a happier person, and I hope I can share it with as many people as possible. Secretly I hope Roberto will be confident enough to make that extra step. I know it's not the ethical connection he hasn't made, for him it's a lot about culture and habits (still, that is not an excuse). It makes me really angry sometimes, seeing how people react to my choice, because I feel that it's not me who has to justify herself.
Roberto still works with meat and serves it, that's the part I like the least. But he loves his job, he loves his colleagues and I cannot force them to become a vegan restaurant 🙂 So I am just doing my best to spread the word.
I see Roberto and I as an amazing team, despite our differences. We have both made big changes over the past few years and more are to come. Meanwhile, we will be sharing mostly vegan recipes over here and maybe some tips and tricks on traveling as a vegan/vegetarian.
---